The Changing Role of an Administrative Professional
Job duties extend beyond answering calls and emails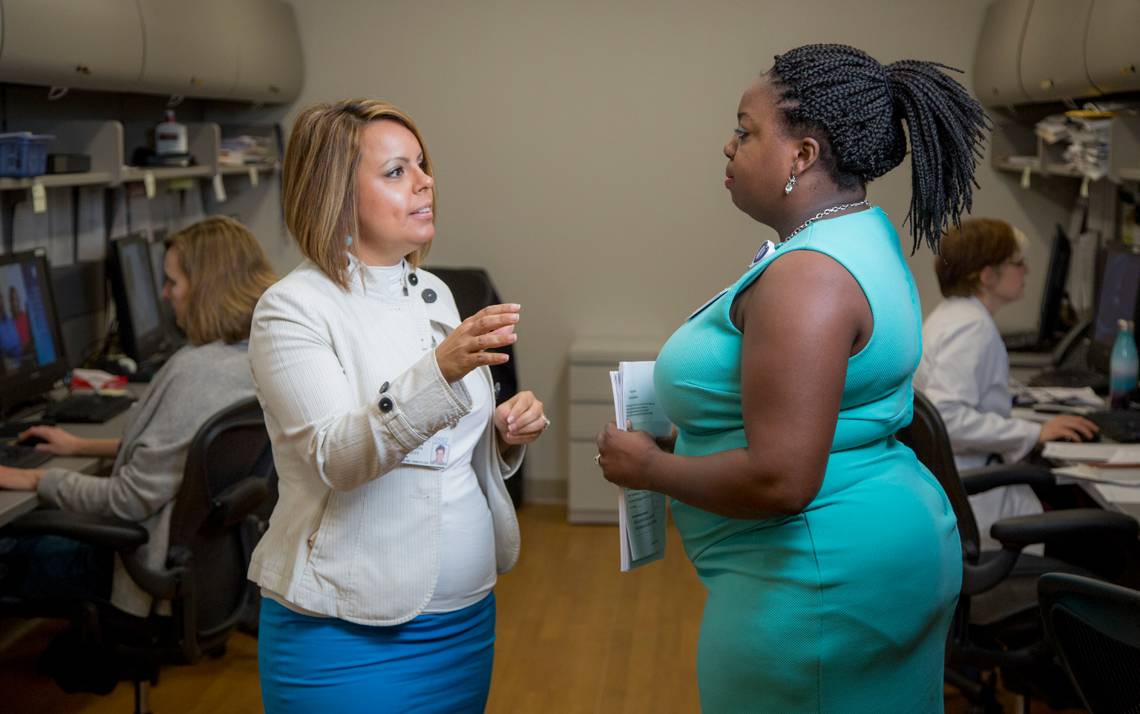 Amid lining up conference speakers, crafting a monthly e-newsletter and arranging meeting schedules, Cinnamon Ruth Leggett is also answering calls from patients on a daily basis.
As a staff assistant for the Division of Hematology in Duke's Department of Medicine, Leggett draws upon her training as a licensed practical nurse. In addition to serving as the organizer for the Division of Hematology chief Dr. Thomas Ortel, she takes calls for the 1E Hematology Clinic and answers patient questions about blood disorder symptoms, prescription side effects and appointment changes.
"I'm a problem solver by nature, so I think that's what made me a great nurse," said Leggett, who has worked at Duke for five years, first as a nurse for Duke Urology. "So when I came to the administrative side, there were so many other great challenges and puzzles to try and figure out, to problem solve. I'm a solution finder."
Like Leggett, 3,561 employees serve in an office support role across the University and Health System. Within that number, the administrative professional role is constantly evolving both at Duke and on a national level. The term "secretary," which conjures up a "Mad Men"-esque image of a woman at a typewriter, has been outdated for nearly two decades.
According to the American Society of Administrative Professionals, the administrative professional job has evolved to require skillsets such as project management, front line tech support and financial skills. Also, instead of working with one manager, today's administrative professional could work with an entire team of colleagues.
"The profession is continuously expanding to encompass higher levels of responsibilities and broader, dynamic opportunities," said Dinetta Richardson, assistant director of Organization Development for Duke's Learning & Organization Development. "Nowadays, administrative professionals are in step with the leader. They are partners with the leader. They're the ones who have the ears of the leaders."
To keep up with this changing role, Learning & Organization Development created a new, semester-long professional development program for administrative professionals that will debut this fall. The program will cover time management, prioritization and meeting preparation.
Like Leggett, staff assistant Nathan Swanson uses diversified skills in his role.
Swanson prepares budgetary reports for meetings in the Duke Department of Psychiatry. He also spends time updating nearly 500 Psychiatry faculty members' biographies on the Scholars@Duke website and attends School of Medicine Inclusion Council meetings.
"We're behind the scenes freeing up the faculties' time and the clinicians' so they can devote their time to either helping patients or doing research," Swanson said. "We are freeing up their time so they don't have to worry about the details."
Staff Assistant Nathan Swanson, left, attends a Duke School of Medicine Inclusion Council meeting.