Showing Your Best Side Online
Five tips for building and maintaining the right online presence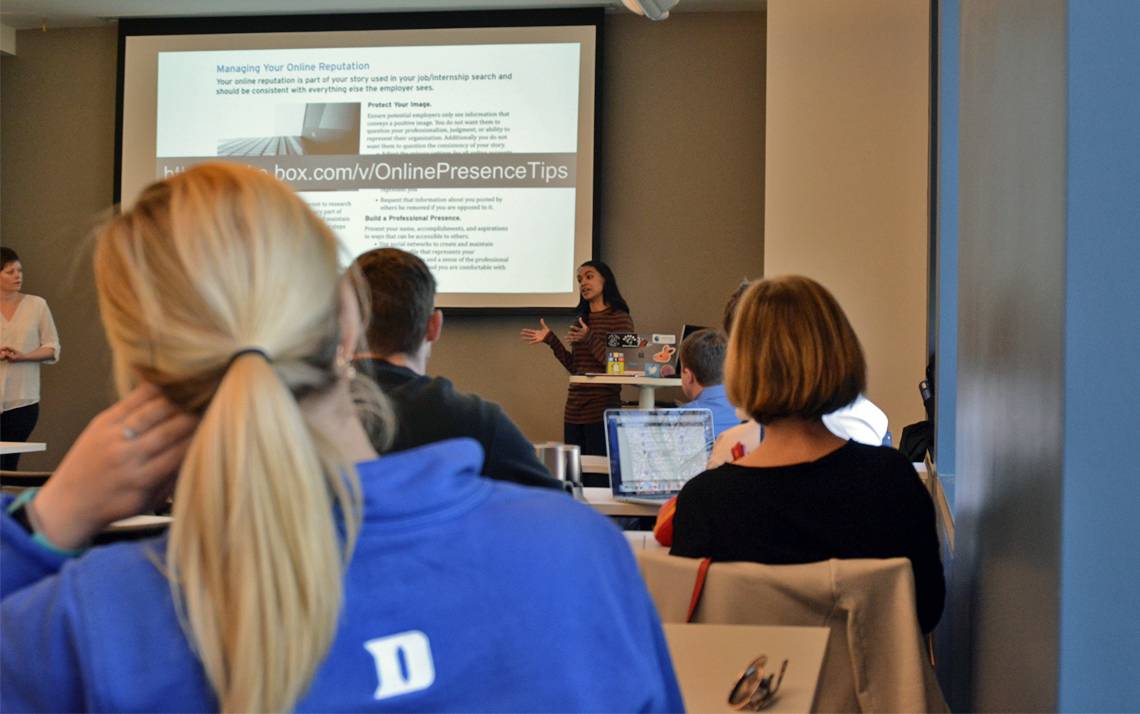 Julia Trimmer gave LinkedIn a shot. But that's about as far as she went.
Trimmer, director of faculty data systems in the Office of the Provost, put information about her two decades at Duke on the professional networking site but admits her page wasn't much of a priority.
She'd taken on new challenges, presented at conferences and even edited a book, but none of that made it on LinkedIn.
"I think I've always been pretty cursory with my LinkedIn page," Trimmer said. "It's just the basics."
As an instructor in an upcoming training event, Trimmer felt it was time to breathe life into her neglected profile.
"I know that people have looked me up and tried to find out 'Who the heck is she?'" said Trimmer, who helps manage Scholars@Duke.
That's what brought Trimmer to the Office of Information Technology's Learn IT @ Lunch seminar, "Managing Your Online Presence."
Led by Cameo Hartz, assistant director of career services at the Pratt School of Engineering, and Lyndsi Lewis, senior digital media specialist for the Office of News & Communications, the presentation on a recent Wednesday attracted about two dozen Duke community members to The Edge in Bostock Library.
Here are five tips from the discussion:
1. Keep your LinkedIn page fresh
Don't be shy. Present as much as you can about yourself and keep the information current. Your page will likely be the first thing people find when searching your name.
"This is something that, with low effort, you can have something that shows up and represents you positively that you have a decent level of control over," Hartz said.
2. Don't be afraid of Twitter
People are often intimidated by Twitter. The pressure of coming up with engaging content can be daunting. But Lewis points out that crafting your own tweets is just a small part of using the site.
"As great as it is for pushing out information, it is even better for taking in information and keeping yourself informed on not only what is going on in the world, but also in your particular field or industry," Lewis said. "Twitter is that over caffeinated, super hyped-up, know-it-all friend that we all have. It's the new place to be for breaking news."
3. Keep it simple
From maintaining a blog to churning out Tweets, there are many ways to showcase what you do online. Don't feel pressure to take on all of them. Find the space where you feel most comfortable and don't stress too much about the others.
"You don't have to do everything at once," Lewis said. "It's almost impossible for you to maintain a presence on every single social network, especially to start, while also keeping it fresh and updated. The key here is to be strategic and start out with a couple profiles on networks that make sense for you personally. You can always build on your social presence as you become more comfortable."
4. Use the same rules you would offline
It can be tricky, especially on LinkedIn, to determine whom to connect with. Should you link with someone you've never met face-to-face? Should you have a wide network or a tight circle? There are arguments for different approaches, but an easy rule to follow is to treat each situation the same way you would elsewhere.
"If you wouldn't do it in real life, maybe that's not the right habit for you online," Hartz said.
5. Don't say something you'll regret
Lewis said that she's constantly reminding students and young professionals to be careful about what they post on social media. The Internet is forever. Be conscious of what future employers and colleagues might take issue with.
"I think there's a balance to be struck between allowing your personality and your views and opinions to show but not going over that line," Lewis said.
Want more resources?
Information on everything from social media to web design and content strategy to search engine optimization can be found at training.oit.duke.edu/lynda. The site, which features basic and advanced tutorials, is free for Duke staff, faculty and students.