Duke Lifelong Learning Institute, in 40th Year, Expands to Fourth Location
At OLLI, learners thrill in next intellectual adventure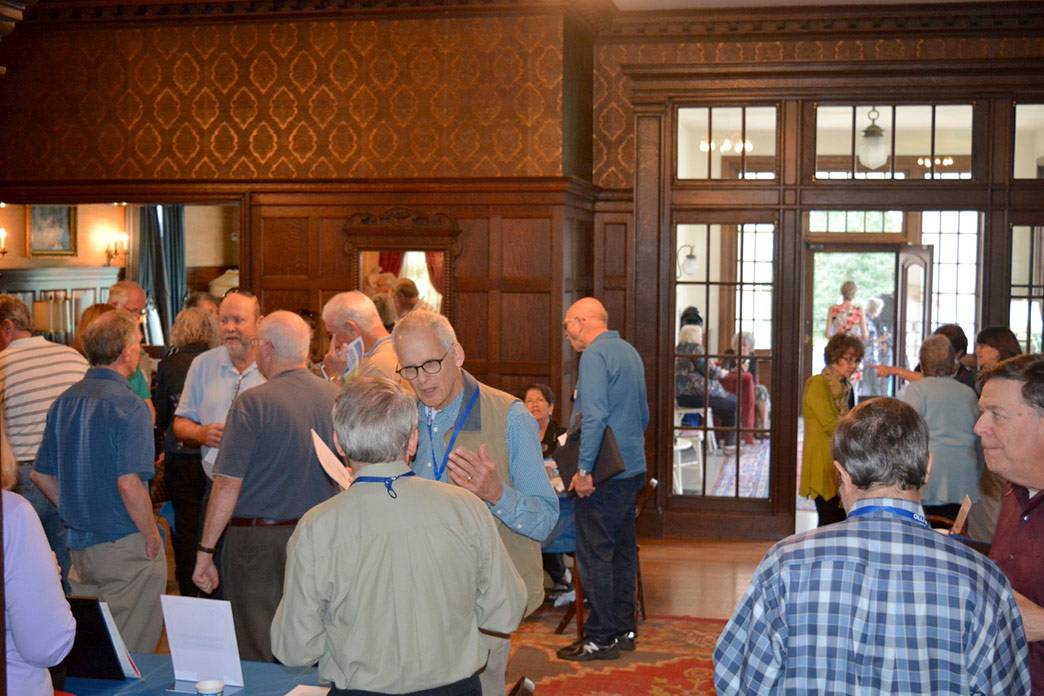 Chelley Gutin, a retired corporate trainer, is making plans to take more art classes through the Osher Lifelong Learning Institute at Duke -- while she takes a breather from politics.
"I was taking the World Today, which is basically current events, and I took that every semester," said Gutin, pausing during OLLI's recent Volunteer Faire at the John Sprunt Hill House in Durham. "It becomes a social thing, as well. But I decided with the current political situation, I couldn't bear to discuss that."
"I want to learn more about art, the way art influences our lives and the background on the artists," says Gutin, who has been an OLLI member for 10 years. "I just love art, and I don't get enough of it."
In the meantime, Gutin is enjoying A New Lens, an OLLI winter course that encourages reflection on the issues of the day. "That is wonderful," Gutin said. "People have a very focused subject. So far, we've had someone on ageism. We had two sessions examining Brexit by a Brit who knows all about it."
She says the course planners coordinate the subjects so they link in some way. "It's what's new in the world that we should know about and what the consequences might be."
The New Lens course, the brainchild of former Associated Press editor Dick Chady, generated so much interest -- more than 60 registrations -- that it had to be moved from the original venue to accommodate everyone.
OLLI at Duke is part of a national network of 120 campus-based chapters. Volunteer instructors share their expertise and passions in courses spanning diverse topics such as art, finance, film, health, politics, music, dance, history, technology, writing and more. There are no tests, papers or grades. The classroom environment is casual and relaxed.
Lise Jenkins was attending the fair to help spread the word about OLLI's expansion to Carolina Arbors retirement community in the growing Briar Creek area on the eastern edge of Durham County. OLLI has already offered one class in the recreation center there and plans to offer more courses in the fall.
"The implications for OLLI growth are tremendous," said Jenkins, who has helped to organize an instructor information session to generate additional interest in the new venue.
To keep up with the growing demand for its classes, OLLI at Duke also expanded its classroom space -- mostly concentrated at The Bishop's House on East Campus and Judea Reform Congregation -- with the help of Westminster Presbyterian Church on Old Chapel Hill Road (where Shannon Road dead-ends into Old Chapel Hill). OLLI Director Garry Crites says Westminster is a nice facility and the response from members to holding several Monday-meeting classes there was "overwhelmingly positive."
Crites says the space crunch has even led OLLI to experiment with new ways of doing courses. "We've done night courses and now we're starting to look at courses away from campus," he says. "We had one course last fall with Orrin Pilkey and Alex Glass on how to read a beach – held at the beach. That model seemed to work very well. It's not just a retreat. You sign up for a class, but it's just taught in a different place."
Virginia Knight, who heads OLLI's curriculum committee, says the institute's strategic plan calls for meeting the surge in demand. "We have some courses that have long waiting lists and that is something we would like to get down," she said. "We like it that these courses are filled, of course, but we don't want people to be frustrated and not be able to take the courses that they want."
On average OLLI members take one or two courses, but one member recently took six, Knight said.
Courses in the arts, history and astronomy are especially popular. "We have a new course in playing the harp and we're glad that the course was filled," Knight said. The instructor, Winifred Garrett, performed live at the fair.
"We have a course lined up for the fall on renewing your ability to play chess and keep your mind active," Knight said. "And we hope to have a course, that's being organized now, on Pauli Murray and her commitment to desegregation."
Knight says OLLI is run mostly by volunteers. "With just two full-time staff members we couldn't have a program with 140 courses, over fall and winter terms, and our many activities without our many volunteers," she says. "I would hope that we would develop a culture where everyone who can will give back to the organization."
Since joining OLLI in 2013, Jeanne Yocum has tried to take a course every term on a science topic "because I ignored that most of my life." But now, as part of her effort to keep her mind active, she said "taking in topics that you've ignored for 50 years is very helpful. I took the Big Bang Theory and I loved that class, and if they offer it again, I'll take it again."
Yocum says she moved from Massachusetts to Durham in part because she had read a Money magazine article touting OLLI at Duke. "I've always wanted to be a student," she says. "If I had been rich, that is what I would have done, just gone to school all the time."
For more information about OLLI at Duke offerings, go to http://www.learnmore.duke.edu/olli/. Registration for spring courses starts on March 30.