PUBLISHED
A Cartoon and a Laugh: Professor Wins Weekly New Yorker Caption Contest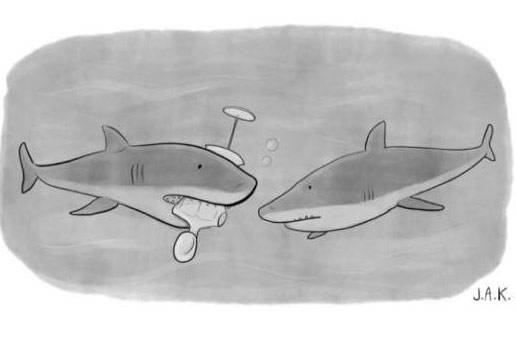 For nearly a century, the cartoons in The New Yorker have been the standard for urbane wit. Now a Duke professor of computer science has shown he meets that standard.
For the past decade, the magazine has sponsored a weekly contest in which readers send in suggested captions to a certain drawing. Finalists are selected and put up to a popular vote online.
At the end of January, the cartoon showed a shark swimming with a mannequin in its mouth. Vincent Conitzer, Kimberly J. Jenkins University Professor of New Technologies and professor of Computer Science and economics, saw it and had an inspiration.
It's the first New Yorker triumph for Conitzer, who regularly enters the contest. 
"I don't remember how I first found out about this contest, but I occasionally remember about it and check the site, and see if some kind of inspiration strikes," Conitzer said. "Sometimes it doesn't and I don't submit anything; but if it does I try to think a little bit about how to word the idea most effectively.  
"It's an enjoyable process even not expecting to ever hear back about a submission.  I was quite surprised when I did hear back this time!  I don't expect to ever win again, but I do still plan to keep submitting when I think of it (in fact I just did for the new contest)."
Conitzer said he was pleased and excited about his new title, but added, "I haven't had time to celebrate -- this is a busy time of the year for faculty!"