5 Free, Fun Things to Do at Duke in March
Art, films and music ring in spring on campus this month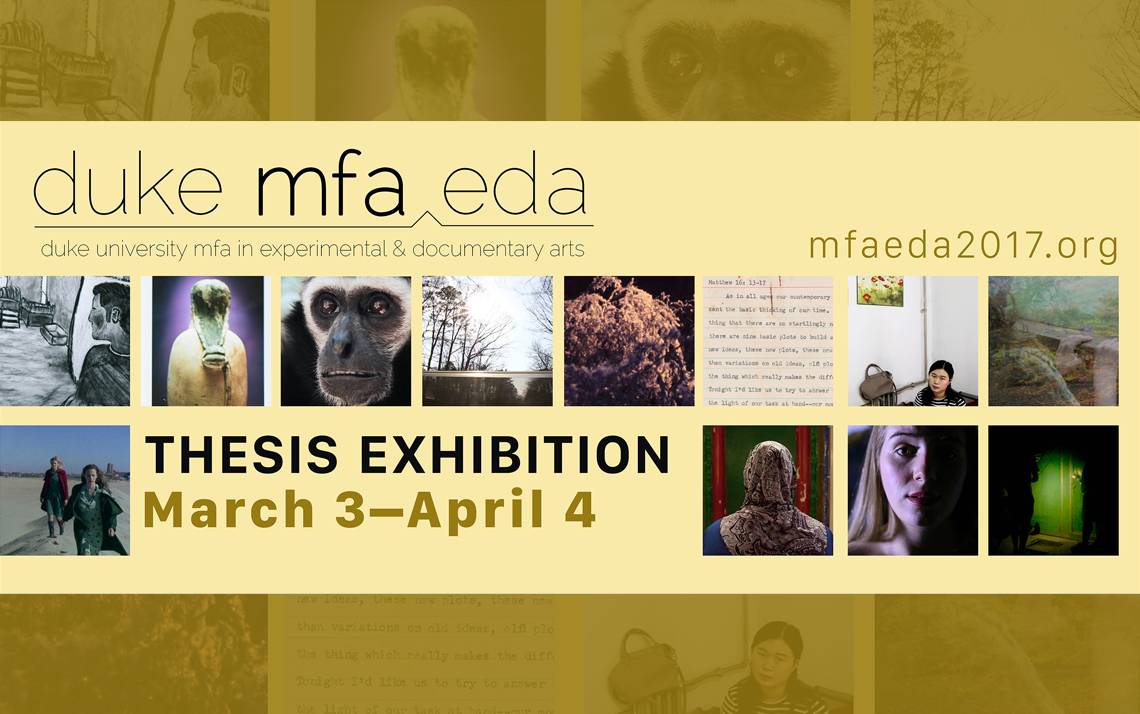 The Working@Duke editorial team searches the Duke Events Calendar to bring you five things to do at Duke each month during the academic year. This month, enjoy music, film and art as the spring season begins March 20.
March 3 to April 4 - Thesis Exhibits in Experimental and Documentary Arts
Students in the Master of Fine Arts in Experimental & Documentary Arts at Duke University will present their thesis exhibitions at various galleries and venues in Durham. The MFA in Experimental and Documentary Arts program brings together two forms of artistic activity — the documentary approach and experimental production in analog, digital, and computational media. Students in the class of 2017 will exhibit or screen at Spectre Arts, Full Frame Theater, Shadowbox Studio, Fredric Jameson Gallery, and the Power Plant Gallery. The MFA|EDA thesis shows kick off at the Power Plant Gallery at American Tobacco Campus in Durham on Friday, March 3, with a reception from 5-7:30 p.m. and screening at 7:30 p.m. Food and beverages will be served. For a full list of artists, their work, and venues, visit the class of 2017 MFA|EDA website.
March 8 – Catch the Ciompi Quartet over Lunch
During this noon event, one piece of chamber music will be performed by the Ciompi Quartet, accompanied by a short introduction that gives insight into the shape and brilliance of some of the canonical works of classical music. The performance is in the Rubenstein Library Holsti-Anderson Family Assembly Room 153.
March 12 – Alice Fest Film Festival
In recognition of Women's History Month, the sixth annual ALICE FEST film festival will showcase curated and submitted works by female filmmakers from all over the world, with half of the program devoted to local filmmakers. ALICE FEST features short documentaries, experimental films, works-in-progress, animation, narrative films, and multimedia projects. Films are screened at the Full Frame Theater in the Power Plant at the American Tobacco Campus in Durham. Doors open at 1:30 p.m. Films screen beginning at 2 p.m.
March 16 – Yoga for Runners and Walkers
LIVE FOR LIFE, Duke's employee wellness program, will host yoga sessions on East Campus on March 16 and March 30. Sessions begin at 5:30 p.m. and are held across from Whole Foods by the wall. Please bring an exercise mat or towel. Parking at East Campus is available after 5 p.m. at the Duke HR building at 705 Broad Street (next to Whole Foods) and along Broad Street. Parking at Whole Foods is discouraged due to strict towing enforcement. For more information on the yoga training, please see here.
March 26 – Family Day at the Nasher Museum of Art
Take advange of Family Day at the Nasher Museum of Art at Duke University to see the Nina Chanel Abney: Royal Flush, which is on view now at the museum. The exhibition is a 10-year survey of approximately 30 of Abney's paintings, watercolors and collages. Abney has also painted a large wall mural on the entrance wall of the exhibition. Admission to the museum is free from 12 p.m. to 4 p.m. on Family Day.
For more Duke events, visit the calendar.