A Duke Immigrant's Story
Visiting research scholar changes plans due to immigration ban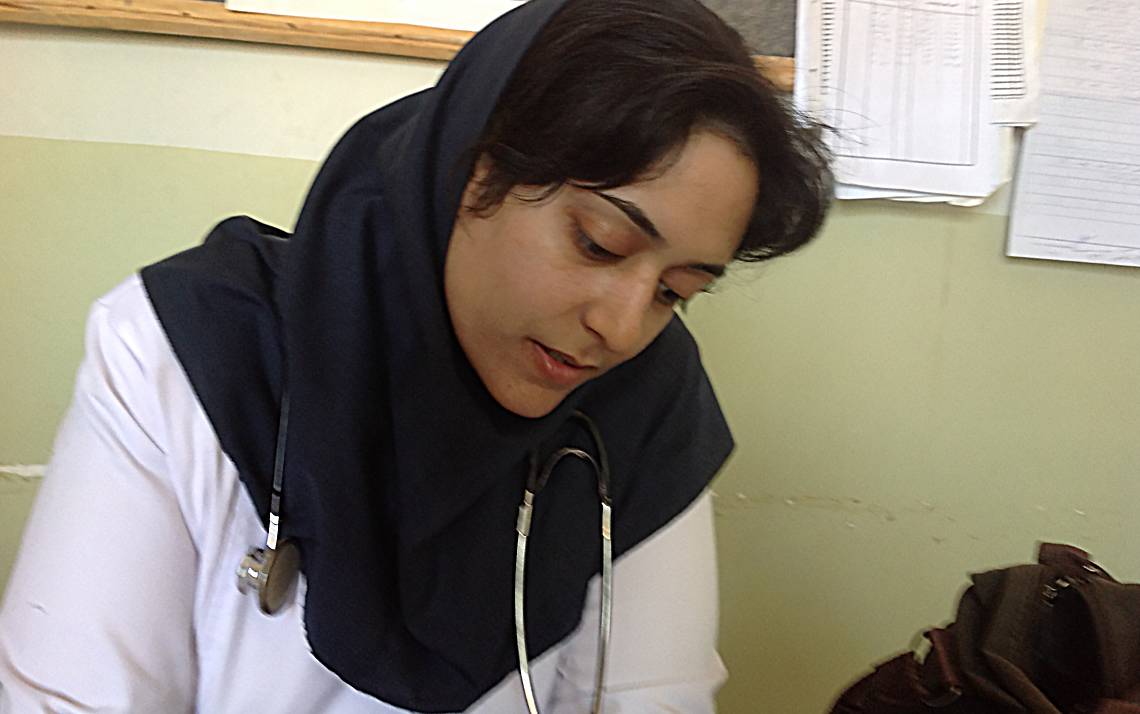 After spending a year as a visiting research scholar at the Duke Fertility Center, Maryam Baikpour was scheduled to return home to visit family on Feb. 1.
Her plans changed once President Donald Trump issued an executive order closing the country's borders to immigrants and others from seven majority-Muslim countries, which included Baikpour's home country of Iran.
Baikpour is one of 41 students, faculty, and staff at Duke from one of the countries included in the travel ban, which raised uncertainty about their future at Duke and in the U.S.
Duke President Richard H. Brodhead and Provost Sally Kornbluth immediately denounced the ban and encouraged individuals from the countries to avoid international travel for the immediate future. While the ban was later halted by a federal judge's emergency stay, it has already led to a fundamental shift in perception among immigrants working and studying at Duke.
"We gave up a lot to come here because we felt our values were closer to Americans compared to people from our own country," Baikpour said. "We felt we could be more appreciated here and make more social and scientific progress in a country like the U.S. Now, we really feel unappreciated. Many people here don't realize how fortunate they have been in attracting talented people from all over the world. Talents from other countries are now going to consider places like Australia, Germany, Canada, or New Zealand."
Coming to America
Baikpour spent years planning and working toward her goal of becoming a physician and coming to the United States.
"Every step I've taken since high school was to come to America," she said.
In high school in Iran, Baikpour realized she was behind many of her classmates in learning English, so she took a focused study and began watching American movies and TV shows to catch up. Her favorite show – the 90s sitcom Friends.
In Iran, the cost of her education was covered by the government. But after she completed medical school, Baikpour had to work for two years to earn enough money to make the trip to America. She served in the impoverished county of Kouhrang, Iran, where she was one of 10 physicians for a population of 42,000, not including nomads.
"I saw about 100 patients a day," she said. "Some physicians didn't even let their patients sit down to evaluate them. I once had a whole family of 10 people try to come into the exam room, and I had to push them all out. It was exhausting, but there just aren't enough physicians."
After two years, Baikpour had saved enough money to make the trip to America to pursue research experience in obstetrics and gynecology. She was accepted at Harvard and Duke. After talking with the faculty advisor at both schools, she chose Duke and arrived in January 2016.
"What really grabbed my attention at Duke was my mentor Dr. William Hurd," she said. "He has an amazing CV that reads like a book. But he also asked questions about things other than research and helped me understand how I could get around and where I could live while here."
At Duke, Baikpour has participated in a research study about treatment of unexplained, recurring pregnancy loss and written a book chapter about tumors that grow in the uterus called fibroma. Participating in research studies and publishing findings has more credibility in the U.S. due to the peer-review process, she said.
"Even if I do a good research study in Iran, it is not valued as much due to issues with fabrication of data that have occurred in the past," Baikpour said.
A Different Path
Gaining such experience was what drove her to the U.S., but now Baikpour has different advice for her younger brother Masoud, who had planned to follow in her footsteps to practice medicine in the U.S. Baikpour said her brother has finished medical school and was looking to participate in a residency training program in the U.S after he completes two years of required military service in Iran. But she said the climate surrounding immigration in the U.S. has changed during the last six months, and she worries about the negative perceptions people have of her because she is from Iran.
"In reading online comments I feel like 50 percent of people here hate me just because of where I come from," she said. "When people learn I'm from Iran, I tell them, 'Don't worry, I left all my bombs at the airport before coming' just to make a joke and put them at ease."
At the same time, her personal experience with people she has encountered in Durham and at Duke have left her with a more positive impression.
"I told my parents that the U.S. isn't that different, but the people are nicer," she said.
When she arrived in the United States, Baikpour rented a room through Airbnb, the online booking service. When she began searching for where to buy a bed, she discovered that they could be quite expensive. So, she asked her landlords, a local couple in their 60s, for recommendations on where to find a less expensive option.
"They rented a truck and brought over a bed they had for me to use," she said.
At the Duke Fertility Center, Baikpour typically keeps to herself while working and studying. But Robin Stone, a radiology technician at the center, made an effort to involve her in activities at the center.
"The office always has pastries for some event or other, like when someone has a baby, and she always comes and gets me out," Baikpour said. "Now, we're really good friends."
The difference between her personal interactions and the interactions she has read online reflect the two responses Baikpour has seen related to the travel ban.
"I saw two reactions with the ban," she said. "The first was when the President announced the travel ban, which was very disappointing. But then, I saw how people reacted and how judges stepped in to make it right. That's why I think this is a great country. We don't have those kinds of checks and balances in Iran."
Despite the positive personal connections Baikpour has made locally, she said the tenor of the national conversation about immigration worries her. She plans to recommend her brother explore options for residency training in other countries so he isn't exposed to the animosity toward immigrants she sees expressed in online forums.
After having her path planned out since high school, Baikpour now finds herself in unfamiliar territory. Since high school, her dream has been to practice medicine in the U.S., which is facing a physician shortage in the next decade according to a report last year by the Association of American Medical Colleges. Now, she's considering other options after completing a residency training program.
"I don't know what's next," she said. "I may go back and serve the underprivileged in Iran. Having seen how the Duke Fertility Center is set up, I would love to set one up in Iran. There is such a shortage of physicians in the region I served before coming here."
In the end, Baikpour may end up rescheduling her flight back to Iran, but it looks more and more likely to be a one-way trip.