Artist Nina Chanel Abney Opens With a 'Royal Flush'
Nasher Museum of Art presents first solo exhibit for rising Chicago-born artist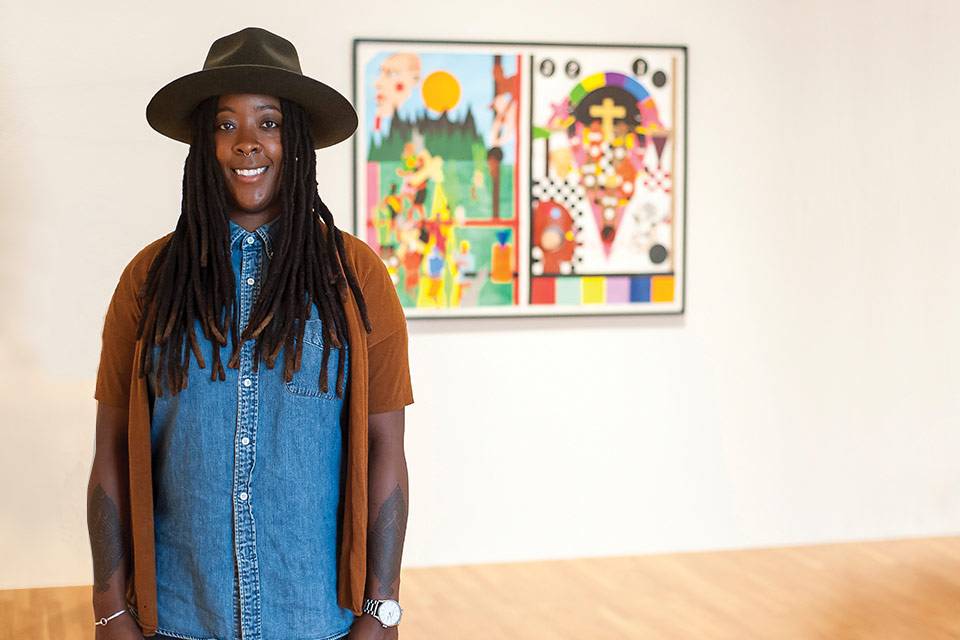 "Nina Chanel Abney: Royal Flush," a 10-year survey of approximately 30 of the artist's paintings, watercolors and collages, will go on view Feb. 16 at the Nasher Museum of Art at Duke University.
This marks the first solo exhibition for the Chicago-born artist, who will also create a large, temporary wall drawing specifically for the museum.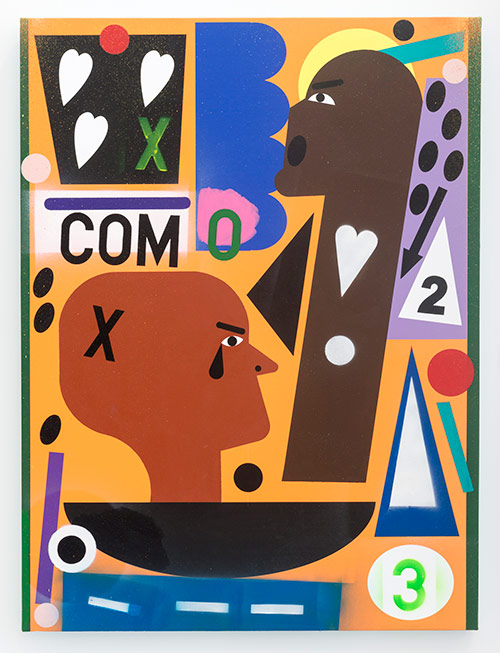 Nina Chanel Abney, Incite (COM), 2015. Unique ultrachrome pigmented print, acrylic, and spray paint on canvas; 48 x 36 inches (121.92 x 91.44 cm). Collection of Isis Heslin and Jacqueline T. Martin. Image courtesy of Kravets | Wehby Gallery, New York, New York. © Nina Chanel Abney.
Abney, born in 1982, is at the forefront of a generation of artists that is unapologetically revitalizing narrative figurative painting. A skillful storyteller, Abney visually articulates the complex social dynamics of contemporary urban life.
"We are so excited to introduce this important young artist to wider audiences," said Marshall N. Price, Nancy Hanks Curator of Modern and Contemporary Art at the Nasher Museum, and curator of the exhibition. "In her monumental paintings, Abney takes on some of the most pressing issues today, from racial dynamics and criminal justice to consumerism and celebrity culture.
"Her seductive visual language is comprised of a jumble of figures, words and shapes to the point of information overload. With this as her backdrop, Abney creates paintings that explore some of the deeper recesses of human nature."
"Nina Chanel Abney: Royal Flush" will be on view at the Nasher until July 16, then travel to the Chicago Cultural Center and then to Los Angeles, where it will be jointly presented by the Institute of Contemporary Art and the California African American Museum.
Nina Chanel Abney, Ivy and the Janitor in January, 2009. Acrylic on canvas, 54 × 60 inches (137.2 × 152.4 cm) overall. Collection of Noel Kirnon and Michael Paley. Image courtesy of Kravets Wehby Gallery, New York, New York. © Nina Chanel Abney.
The artist has said that her work is "easy to swallow, hard to digest." She was identified by Vanity Fair magazine as one of the many artists championing the Black Lives Matter movement. Several of her early paintings directly confront interracial violence. Often based on real events, Abney's works take the viewer on occasionally uncomfortable existential investigations of an imperfect humanity.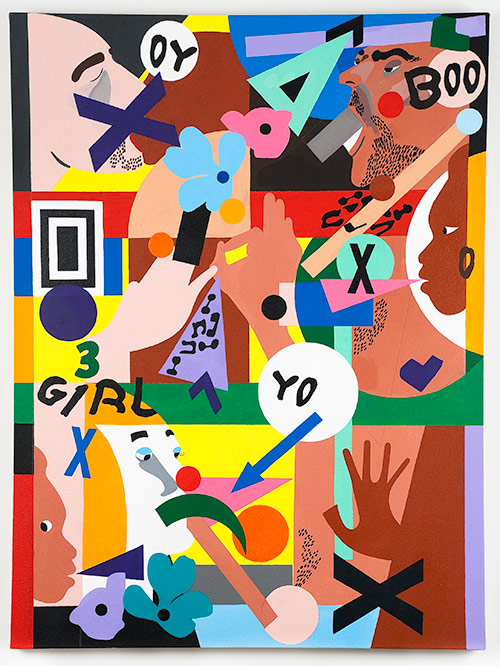 Nina Chanel Abney, Mad 51st, 2012. Acrylic on canvas, 40 x 30 inches (101.6 x 76.2 cm). Collection of Jeanne Williams and Jason Greenman. Image courtesy of Kravets Wehby Gallery, New York, New York. © Nina Chanel Abney
The title of the exhibition is taken from a player's most valuable hand in the game of poker, but "Royal Flush" is something of a double entendre. "It refers to Abney's work, which contains iconography reminiscent of playing cards and the four different suits," Price said. "But the title 'Royal Flush' also suggests that the artist holds a valuable hand. When Abney 'lays her cards on the table,' she presents paintings rich in critical commentary and meaningful metaphor."
The exhibition will be accompanied by a full-color catalogue published by the Nasher Museum and distributed by Duke University Press.
Additional information is available here.
*     *     *                 
This project is supported in part by an award from the National Endowment for the Arts. The exhibition is also supported by Ann Chanler and Andrew Scheman; Parker & Otis; Susan Rosenthal and Michael Hershfield; and Gail Belvett.
The Nasher Museum, at the intersection of Campus Drive and Anderson Street on the Duke campus, is open 10 a.m. to 5 p.m. Tuesday, Wednesday, Friday and Saturday; 10 a.m. to 9 p.m. Thursday; and noon to 5 p.m. Sunday. The museum is closed Mondays.
Below, Nina Chanel Abney, Untitled (FUCK T*E *OP) (detail), 2014. Acrylic on canvas, 72 × 108 inches (182.88 × 274.32 cm). Collection of Kamaal Fareed. Image courtesy of Kravets Wehby Gallery, New York, New York. © Nina Chanel Abney.​