Apply to Duke's Office Staff Development Program
During the 44-week professional development training program, participants take a wide range of courses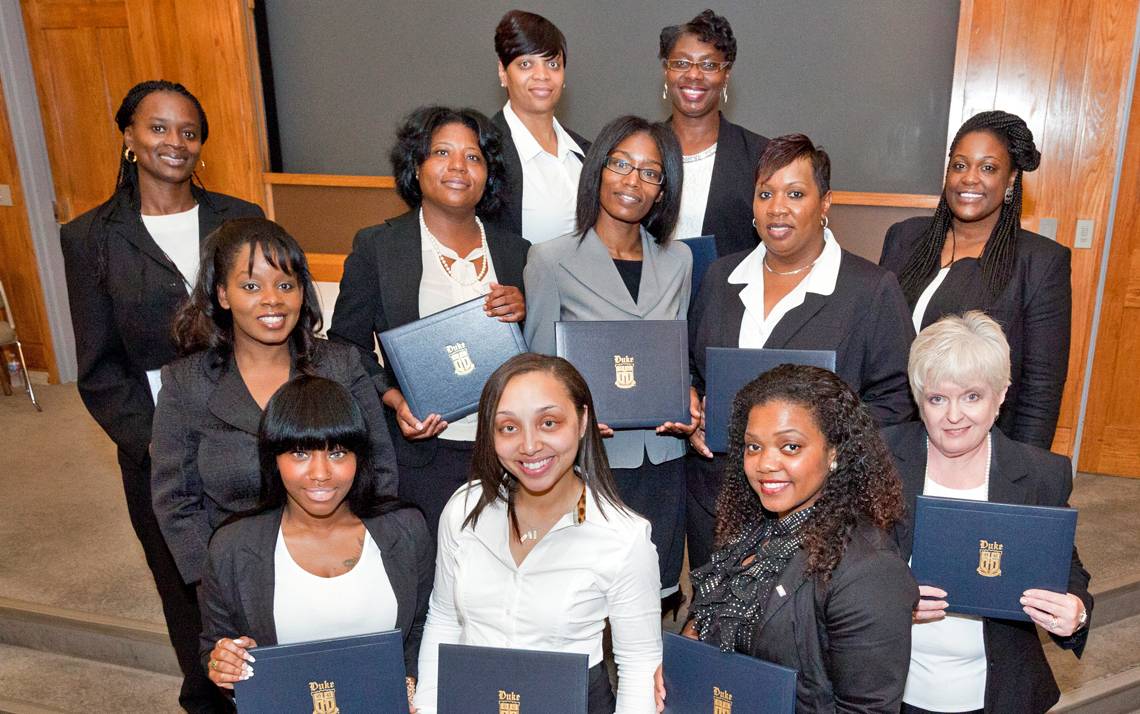 As a staff assistant, Sharena Ballard juggles general office and accounting duties at Duke-UNC Brain Imaging and Analysis Center.
She orders office and research supplies, coordinates meetings for faculty members, and processes monthly credits and debits.
Ballard said she feels strongly equipped to perform these duties after participating in Duke's Office Staff Development Program, an 11-month training/development program offered by Duke's Professional Development Institute.
"I communicate more efficiently," said Ballard, who has worked at Duke for six years. She's also proficient in Microsoft Excel and knows more functions in Microsoft Word than she knew when hired.
Applications for the ninth class of the Office Staff Development Program are being accepted from eligible University and Health System staff with a manager recommendation through March 17. The program provides training and development in clerical office management skills with the aim of helping employees qualify for a variety of career advancement opportunities at the University and Health System.
Course topics range from customer service basics and work behaviors to over a 100-hour internship experience. Participants are also assigned a mentor and coach.
"It's a form of proactive recruitment," said Denise Motley, director of Recruitment and Duke Temporary Services. "You have to grow your own."
Duke's Office Staff Development Program started in February 2003 with the first class members graduating 10 months later.
C.T. Woods-Powell, education and training coordinator for Duke's Professional Development Institute, said the program training is based on the business needs of the university and the health system, which evolve from year to year. Current needs are for more patient service representatives, staff assistants, and medical secretaries.
"We added business English to help participants with their writing skills," said Woods-Powell. "Two years ago, we increased the amount of computer training with an all-day class once a month in addition to the night classes, which meet three times per week."
In exchange for the free professional development opportunity, employees agree to remain at Duke for at least 18 months after graduation. Program participants work with Duke Human Resources recruiters and the Professional Development Institute to explore opportunities for advancing at Duke.
Ballard, who started at Duke as a patient service associate, became a staff assistant midway through the program. Looking back, she said she wasn't quite ready for the new role that came with supervisory duties.
"I was, however, ready for a change and felt more comfortable within a staff assistant role following graduation," said Ballard, who transferred to her current department as staff assistant two months after graduation.
Ballard said her learning did not stop when the program ended because she keeps in touch with her coach, Woods-Powell.
"She sends me links for articles I can read or recommends books to assist me in ongoing learning and training," Ballard said.
For more information about Duke's Office Staff Development Program and those eligible to participate, visit the program's website.