Longtime Duke Broadcaster Reflects on Career
Bob Harris will finish a 41-year run with Duke this spring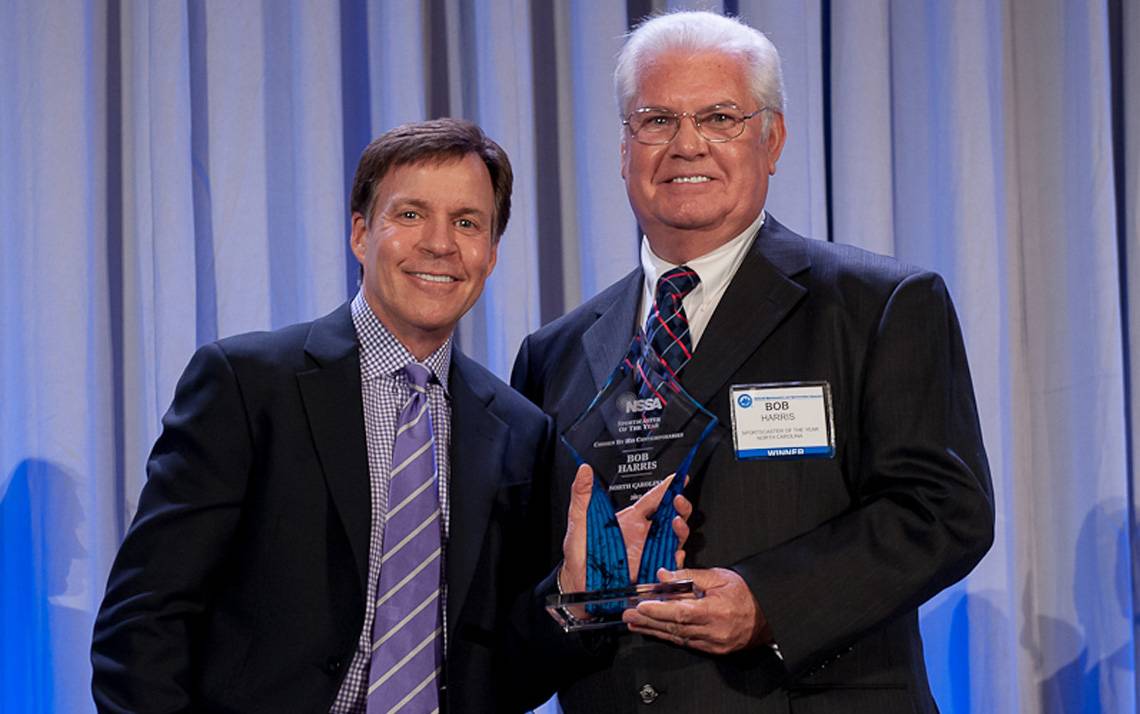 For 41 years, when Blue Devil fans turn on the radio to listen to Duke football and men's basketball games, they've been greeted by the same person.
"Bob Harris's voice is probably the most familiar and recognizable sound at Duke after the bells of the Chapel," said President Richard H. Brodhead.
After broadcasting nearly 1,900 football and men's basketball games for Duke since 1976, Harris will hang up his headset following the 2016-17 men's basketball season. He'll retire as the longest-tenured play-by-play announcer in the history of the Atlantic Coast Conference.
With Harris' time winding down and a special recognition Jan. 4 at Cameron Indoor Stadium, Working@Duke spoke with the broadcaster about his time calling Duke games and what it's meant to him.
What makes athletics at Duke special?
It starts with the coaching staff and the type of young men we recruit to the football and basketball programs. Players have to be the same type of person and show the same kind of character as our coaches, because those are the young people Duke tries to recruit.
That's probably a big reason why our programs have stayed as successful as they have: the kind of people on our teams.
What inspiration do you get from coaches and student-athletes?
I'm very conscious of who they are and what their goals are. When you have everyone on the same page, you're bound to be successful. Steve Spurrier (football head coach, 1987 to 1989) did a good job with that. Mike McGee (football head coach, 1971 to 1978), even though he didn't win that much, his staff did a good job. David Cutcliffe and his staff have done a great job recruiting the right kind of student.
I see the hard work and dedication they all put in, so it's easy for me to try just as hard to help listeners understand. Dealing with these kinds of coaches and players has helped me so much in getting things done in a classy manner.
You announced 471 consecutive Duke football games over four decades. What's the secret to calling so many games in a row?
The good Lord has given me good health for these 41 years. I've never missed a game, but I did miss several plays in this year's Pittsburgh football game because I got a bug from something I ate that morning. Luckily everyone else on the broadcast chipped in and things went as smooth as they could until I could get back on-air.
I got my work ethic from my dad. He worked at a cotton mill for 55 years and never missed a day because of illness and when you work five or six days a week, that's pretty good.
Is there a particular game or moment from your career that stands out the most?
The last home game at Brooks Field at Wallace Wade Stadium was very special for me because it was my last broadcast for a Duke home game. To beat North Carolina and go out that way was very special. It was emotional at the end, but I managed to hold it together and kept that excitement going on our broadcast.
I'll also remember beating UNC in Chapel Hill 41-0 with Steve Spurrier as a great afternoon and the bowl win against Indiana last year was exciting. I've only been able to do seven bowl games in my career and that was the only win.
What's something most people wouldn't know about your job?
Preparation is the key. A lot of people think you get to the microphone and just get the broadcast going, but I start prep a week before games and go to practices and press conferences. I think if someone had to follow me for a week, they'd find out very quickly it's not what they might think it is.
I try to watch the football and basketball teams as much as I can in preseason to see what new strategies are, but being a play-by-play broadcaster and not an analyst means I don't have to worry as much about things like what kind of defense is being run out there. I describe what I see in front of me.
What will you miss about calling Duke games?
The interaction with players and coaches.
When we announced my retirement back on July 6, one of the questions the media asked me was 'what are you going to miss?' The wins were great. The losses were dealt with. But it's about getting to know people.
I've gotten to know kids from all over the country and world and gotten to know them as people, not just a jersey with a number on the back. Those relationships are what I'll miss the most.
Watch this video of Harris being honored at halftime during the Jan. 4 Duke-Georgia Tech men's basketball game in Cameron.