Philanthropist David Rubenstein to Speak at Duke Commencement
Commencement will be held May 14, 2017, at Wallace Wade Stadium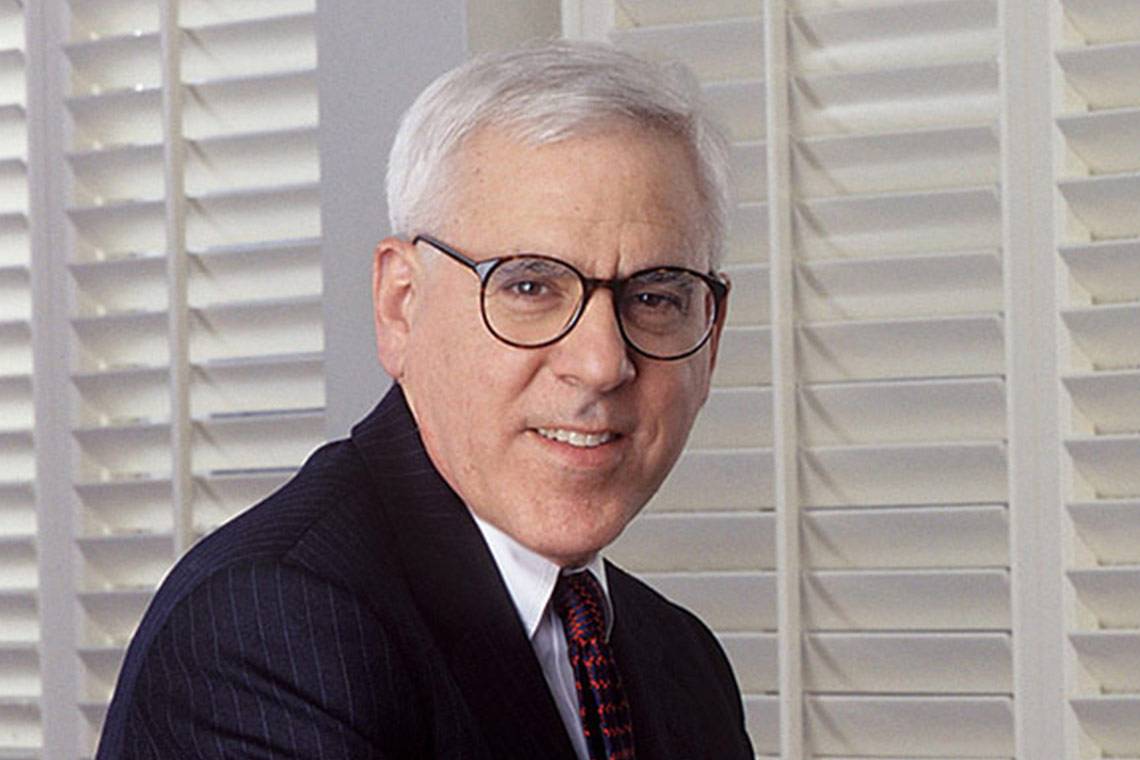 Philanthropist and financier David Rubenstein, a Duke alumnus and the current chair of the university's Board of Trustees, will deliver Duke's commencement address on Sunday, May 14, 2017, President Richard H. Brodhead announced Monday.
Commencement exercises are in Wallace Wade Stadium and are open to the public.
"David Rubenstein is a spectacular example of the power of education," Brodhead said. "He came to Duke on financial aid as the first member of his family to attend college. Later, he founded Carlyle as an entrepreneurial venture. His business success then enabled him to create a model of what he calls 'patriotic philanthropy' that has restored national treasures and made them accessible to the public. He is a famously brilliant and witty speaker, and I know that students and families will enjoy his remarks."
Rubenstein is a co-founder and co-CEO of The Carlyle Group, one of the world's largest private equity firms. He co-founded the firm in 1987, and since then Carlyle has grown into a firm managing more than $175 billion from 36 offices around the world.
Rubenstein has become one of the nation's leading and most innovative philanthropists. His gifts in his home city of Washington, D.C., have helped to restore Mount Vernon, the Kennedy Center and the Lincoln Memorial. He gave funds to repair the Washington Monument after a 2011 earthquake, and he purchased the last private copy of the Magna Carta, along with other significant documents of national importance, and made these available on permanent exhibition in a new gallery and visitor center he made possible at the National Archives.
He has been a generous donor to Duke as well as co-chair of the $3.25 billion Duke Forward campaign, supporting the Sanford School of Public Policy, the Duke Libraries, the Innovation and Entrepreneurship Initiative, Jewish Life at Duke, the arts, financial aid and athletics, as well as other activities.
Rubenstein has a TV show on Bloomberg Television called "The David Rubenstein Show: Peer-to-Peer Conversations," on which he has interviewed such figures as Bill Gates, Indra Nooyi and Warren Buffett.
"I am eager to celebrate the accomplishments and aspirations of the Class of 2017," Rubenstein said. "If you are a Duke graduate, being asked to give the commencement address is one of the greatest honors you can receive.
"In return, I look forward to offering some thoughts on life to the students who have worked so hard to get to get their degrees, the family and friends who supported them, and their faculty mentors. Most importantly, I recognize the obligation of a commencement speaker to be brief."
Rubenstein, a native of Baltimore, is a 1970 magna cum laude graduate of Duke, where he was elected Phi Beta Kappa. He earned a law degree in 1973 from The University of Chicago Law School, where he was an editor of the Law Review.
From 1973-75, Rubenstein practiced law in New York. From 1975-76, he served as chief counsel to the U.S. Senate Judiciary Committee's Subcommittee on Constitutional Amendments. From 1977-81, during the Carter Administration, he was deputy assistant to the president for domestic policy. After his White House service and before co-founding Carlyle, he practiced law in Washington.
Rubenstein has been a member of the Duke Board of Trustees since 2005, and has served as chair since 2013. His tenure as trustee and chair will conclude in June 2017.
He was among the initial 40 individuals who pledged to donate more than half of their wealth to philanthropic causes or charities as part of The Giving Pledge.
Students applauded the choice.
Krista Niemeier, a senior majoring in economics and public policy, said she has experienced first-hand the benefits of Rubenstein's support for Duke. She is earning a certificate from the Duke Innovation & Entrepreneurship Initiative, which Rubenstein helped launch with a $15 million donation.
"I think he is an incredible choice," Niemeier said. "I think his background coming into Duke and the success he forged for himself after leaving Duke speak volumes to the quality of a Duke education that we as undergradutes might not know fully yet, or be able to appreciate fully at this point and time."
"I think it's incredible … we are literally impacted by him here every day," added Kavita Jain, a senior pursuing a biology, evolutionary-anthropology double major.
In addition to his service at Duke, Rubenstein is chairman of the Boards of Trustees of the John F. Kennedy Center for the Performing Arts, a regent of the Smithsonian Institution, co-chairman of the Brookings Institution, vice-chairman of the Council on Foreign Relations, a trustee of the National Gallery of Art and president of the Economic Club of Washington. He also serves on the board of directors or trustees of the University of Chicago, the Lincoln Center for the Performing Arts, the Memorial Sloan-Kettering Cancer Center, Johns Hopkins Medicine, the Institute for Advanced Study, the Smithsonian Institution's National Museum of American History and the Smithsonian's National Museum of Natural History.
Rubenstein is a member of the American Academy of Arts and Sciences, the Business Council (vice-chairman), Visiting Committee of the Kennedy School of Government at Harvard, the Harvard Business School Board of Dean's Advisors, the Board of Trustees of the Young Global Leaders Foundation, Advisory Board of School of Economics and Management Tsinghua University (Chairman), the Madison Council of the Library of Congress (Chairman), and the International Business Council of the World Economic Forum.
Rubenstein and his wife, Alice Rogoff Rubenstein, have three grown children, including Andrew, a 2015 Duke graduate.
More information about Duke's commencement ceremony is available at: https://commencement.duke.edu/.