Learn New Professional Skills in 2017
Courses include 'Managing Across Generations' and 'Crucial Conversations'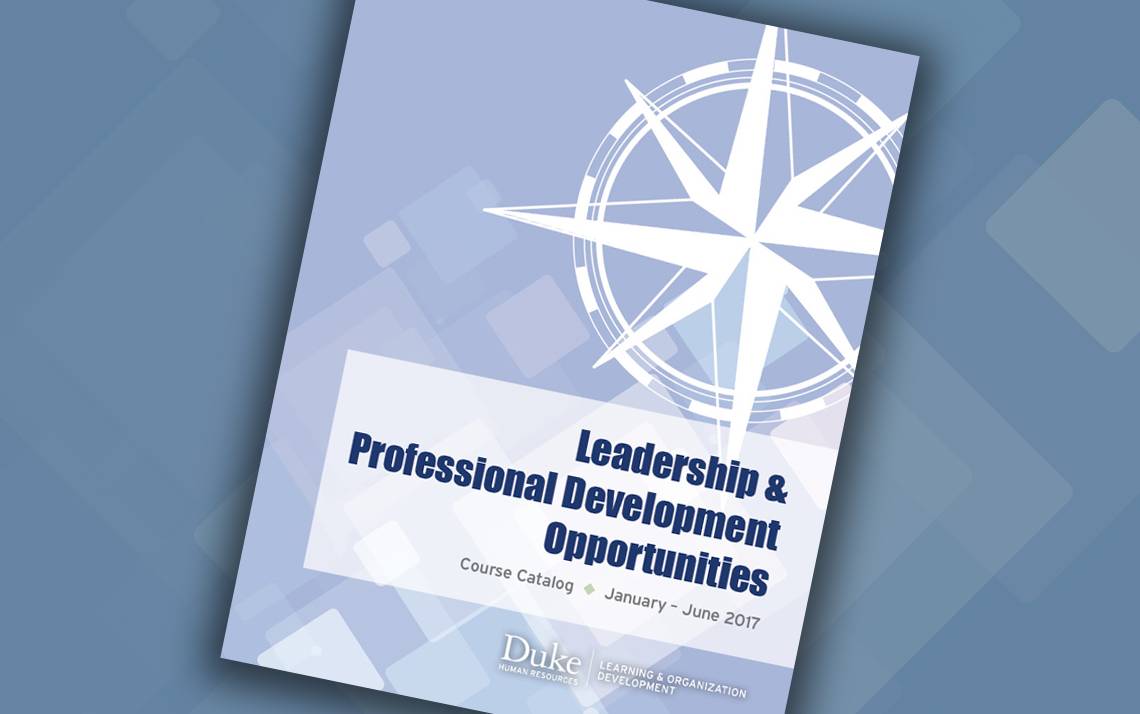 Learn how to provide feedback to employees from a different generation, constructively critique a colleague's work or be an inspiring leader by signing up for a professional development course.
Employees can select from 50 course topics offered through Duke's Learning & Organization Development (L&OD) from January through June of 2017. Three new courses cover managing generational differences, participating in crucial conversations and positive leadership in the workplace.
"People are speaking loudly and saying, 'I want to be effective.' 'I want to be a good leader.' 'I want to be a good manager.' 'I want to do this skill better,'" said Keisha Williams, L&OD's assistant vice president. "The new courses are really going to change the way people work with one another and the way they guide individuals in the workplace."
L&OD will continue to teach the courses that have proven to be popular among employees. L&OD practitioner Don Shortslef teaches one of L&OD's most popular courses, "Communicating with Diplomacy & Tact." He said part of the class shows employees how to use the Situation-Behavior-Impact (SBI) model, which addresses conflict without turning the conversation into a personal attack.
L&OD also offers "Communicating with Diplomacy & Tact 2," an advanced course that provides emotional and social intelligence tips.
"You can be very talented in the work that you do, but if you don't have good interpersonal skills, you have to ask how that is impacting the work and service that we provide to people," Shortslef said. "A lot of people want to come to the class because they want to brush up on skills such as learning how to give effective feedback."
Laura Miller, a clinical research associate III with the Duke Clinical Research Institute, took the first "Communicating the Diplomacy & Tact" course in November. As part of the Cardiovascular (CV) Megatrials team, Miller works with hospitals, clinics and doctor's offices on research trials, which involves coordination with thousands of trial subjects, data entry and regulatory documentation. She was interested in taking the L&OD course because she wanted to learn how to communicate messages clearly and professionally to colleagues.
"What's great is the class not only allowed me to understand how I impact people in the office but how I impact people over the phone with my tone, what I say and how I say it," Miller said. "We all need to remember how our actions impact others. Our actions are not just our words, but our verbal and nonverbal cues."
New Courses in 2017:
Crucial Conversations
Learn how to keep the conversation productive when "stakes are high." The course includes in-class practice, group participation and personal reflection.
Jan. 25-26; March 16-17; May 2-3
Managing Across Generations
Explore unique differences of five generations and identify solutions for navigating challenges presented by each group. "Our staff has received questions around managing generational differences through employee feedback and interaction," Williams said. "Younger employees entering the workforce need immediate feedback about their work. But what incentivizes them may be different for others."
March 29
Transformational Leadership
Discover the values of a transformational leader – inspirational vision, intellectual stimulation and individual consideration – and how that positively impacts strategy and results in the workplace.
March 14; May 17
Employees can register for all courses through Duke's Learning Management System.