PUBLISHED
Former Duke University President Keith Brodie Dies
Brodie oversaw Duke's development into a nationally known research institution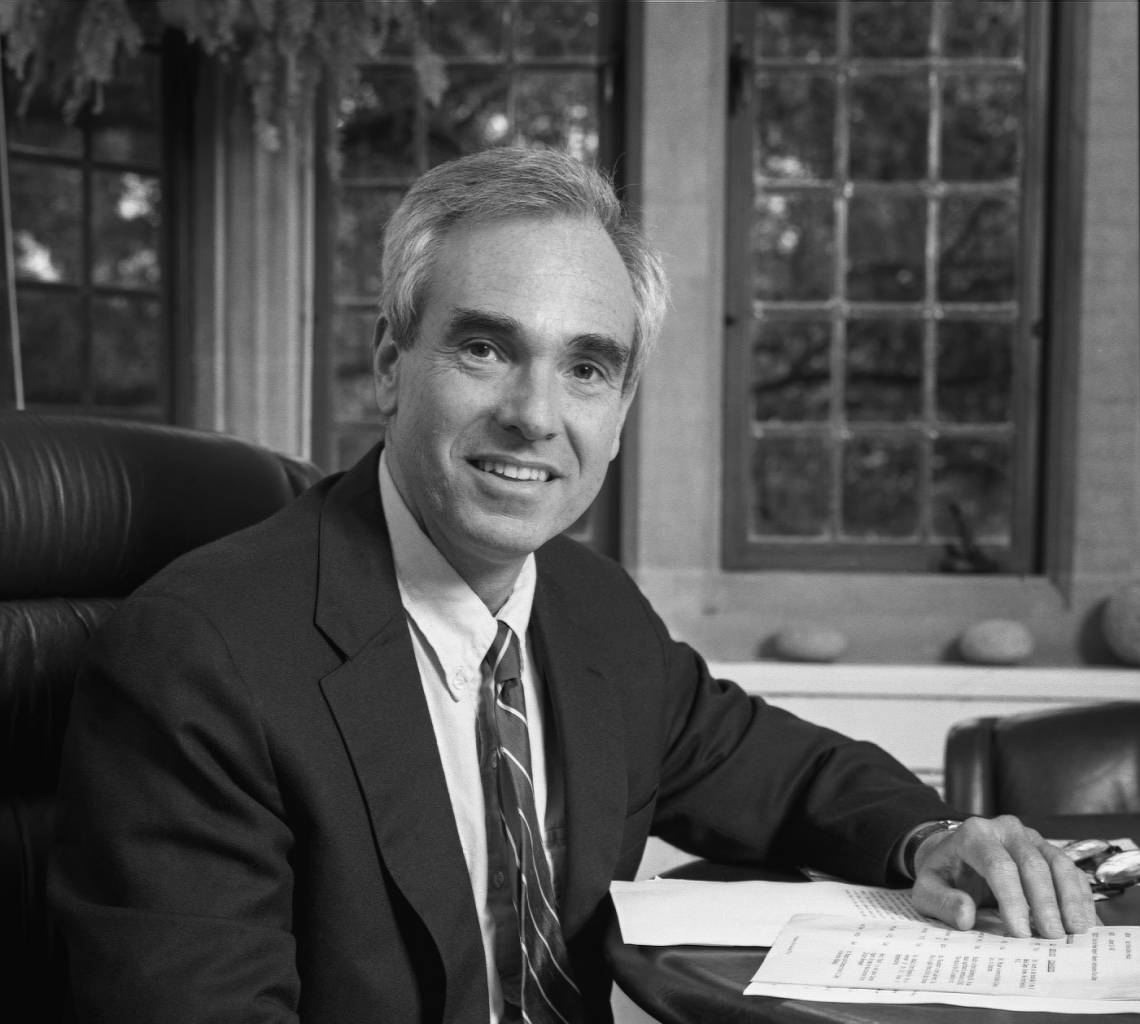 DURHAM, N.C. -- Dr. H. Keith H. Brodie, who as president oversaw Duke University's development into a nationally known research institution, died Friday. He was 77.
A memorial service will be held at 4 p.m. Monday, Dec. 5, in Duke Chapel.
Brodie, a professor emeritus of psychiatry, served as Duke's seventh president, succeeding Terry Sanford. During his tenure, applications to Duke's undergraduate and graduate schools increased greatly. The university also launched programs to recruit and retain minority faculty and added new academic initiatives, including a School of the Environment.
"Keith Brodie's term as president of Duke from 1985 to 1993 saw the beginning of Duke's rise to national recognition and reputation," President Richard Brodhead said in a message sent to the Duke community on Friday. "The initiatives Keith championed became signature qualities of Duke and remain part of our university's values today, including an emphasis on interdisciplinary scholarship, investments in medical research, and a commitment to a diverse and inclusive faculty and student body." 
Under Brodie's leadership, interdisciplinary inquiry and learning became a priority as a new science building -- the Levine Science Research Center -- brought together faculty from varied disciplines. Other capital projects added medical research buildings, the Sanford Institute of Public Policy (now a school) and the campuswide computer network, DukeNet, among other things.
Duke also made it a priority to increase the number of African-Americans in academia with a Black Faculty Initiative and a Program for Preparing Minorities for Academic Careers. Increased faculty participation in the governance of the university was made possible through the establishment of the President's Advisory Council on Resources.
Brodhead also noted in his email that Duke's first national championships in men's soccer (1986) and men's basketball (1991 and 1992) -- "accomplishments that signaled Duke's commitment to excellence and helped to put Duke on the map nationally" -- occurred during Brodie's presidency.
Men's Basketball Coach Mike Krzyzewski said, "Duke University lost one of its long-standing pillars with the passing of a truly exceptional man, Dr. Keith Brodie, who I, along with so many others, loved dearly. He was a mentor and role model to many of us. Dr. Brodie's guidance, wisdom, compassion and, most importantly, his deeply felt friendship had an immeasurable impact on countless people at Duke and within our basketball program.
"Personally, Dr. Brodie was the best man I've ever known at Duke. He was embraced by the entire Krzyzewski family, and always made us feel like we were a part of his as well. Both our immediate and basketball families are deeply saddened by this loss, and we extend our sincerest sympathy to his wife Brenda and their wonderful family."
"Former President Keith Brodie was an extraordinary leader, who helped build Duke's reputation as a world-leader in health care, research, and education," said Eugene Washington, M.D., chancellor for health affairs at Duke University and president and CEO of the Duke University Health System. "His enduring legacy lives on in the countless people he mentored, many of whom have assumed prominent leadership roles, and are shaping how knowledge is applied in service to society."
Brodie said in a 2004 interview that he had not planned on becoming a university president.
"If you knew you were going to suddenly end up there, (you) might have taken a little course in finance or speechwriting or public relations to get ready," Brodie said in an "oral history" interview posted by the Duke University Medical Center Archives Department. "As a chemist I was not really equipped. But I learned. It worked out, but it was quite challenging."
Brodie was born on Aug. 24, 1939, in New Canaan, Connecticut. He majored in chemistry at Princeton University, then attended Columbia University College of Physicians and Surgeons, where he received his medical degree in 1965. He served at hospitals in New Orleans and New York City before becoming a clinical associate with the National Institute of Mental Health in 1968. In 1970, he joined the medical faculty of Stanford University.
Brodie came to Duke in 1974 as professor and chairman of the Department of Psychiatry and director of psychiatric services at Duke University Medical Center. He became the James B. Duke Professor of Psychiatry, then served as Duke's chancellor from 1982 to 1985 before becoming president.
The Keith and Brenda Brodie Recreation Center, which serves the Duke community on the university's East Campus, is named for him and his wife.
In the 2004 interview, Brodie discussed efforts he was involved in as chancellor to create more joint opportunities between the university and health system.
"There are not too many universities where the medical school, the hospital and the university were all on the same campus," he said. "Stanford is that way. Duke is that way. But Harvard certainly is not that way. And it's the case that we, I felt, had a tremendous advantage by having everyone on the campus and in sort of the same community to forge dialogue and joint research and teaching and service programs. So I pushed very aggressively in the chancellorship for that."
After stepping down from the Duke presidency in 1993, Brodie continued teaching and clinical consultation.
As a researcher, Brodie primarily focused on biochemical substrates of mood disorders. He authored or co-authored more than 70 scientific articles; co-authored the book "Modern Clinical Psychiatry" and was the co-editor of the books "Controversy in Psychiatry," "Critical Problems in Psychiatry" and "Signs and Symptoms in Psychiatry." He also served as co-editor for a few volumes of the "American Handbook of Psychiatry," and served on the board of the American Journal of Psychiatry.
Brodie received the Society of Biological Psychiatry's A.E. Bennett Research Award, the psychopharmacology prize of the American Psychological Association, and the Edward A. Streck Award of the Pennsylvania Hospital and the University of Pennsylvania Health System. He was president of the American Psychiatric Association and chaired the Board of Mental Health and Behavioral Medicine of the Institute of Medicine, National Academy of Sciences.
In lieu of flowers, the family requests contributions to SEEDS or the Congregation at Duke Chapel.