PUBLISHED
A First Day as President-Elect Is a Memorable One
Price spends day learning about his new campus, meeting his new colleagues
Vincent Price spent his first day as president-elect of Duke University as he met with trustees, faculty, staff, students and alumni in a whirlwind series of events.
The current University of Pennsylvania provost began the day with Duke trustees, where he was officially elected the university's 10th president. Presidential search committee chair Jack Bovender introduced him as a man "who leads by example and embodies the highest standards of Duke University."
Vincent and Annette Price are greeted by Duke trustees following his election as president. Photos by Duke Photography
The day of great joy was tempered, however, with sadness.  As university leaders introduced Price as Duke's 10th president, they also took time to note the passing of Duke's seventh president, H. Keith H. Brodie on Thursday night.
"It's a sad day and a happy day for us," said David Rubenstein, chair of the Board of Trustees at a public event introducing Price. "The university is saddened by the loss of Keith Brodie, but as we remember everything he did, he's one in a long line of fabulous leaders Duke University has enjoyed."
Price will join that line of leaders on July 1, 2017. At the public event, he told around 200 people in Penn Pavilion that "what I look forward to most in my work as president will be the absolute pleasure of interacting with a world-class community of scholars, students, administrators and staff, as we work together to face the challenges and realize the opportunities of the 21st century."
During the day, he began the process of reaching out to the various constituencies around campus.  Following his election by trustees, he met with students then met with Dr. Eugene Washington, chancellor for health affairs, and toured Duke Health buildings.
Above, Price heads to Davison Building accompanied by trustee Jack Bovender and Dr. Eugene Washington. Below, Price meets with members of the Executive Committee of the Academic Council and other faculty members.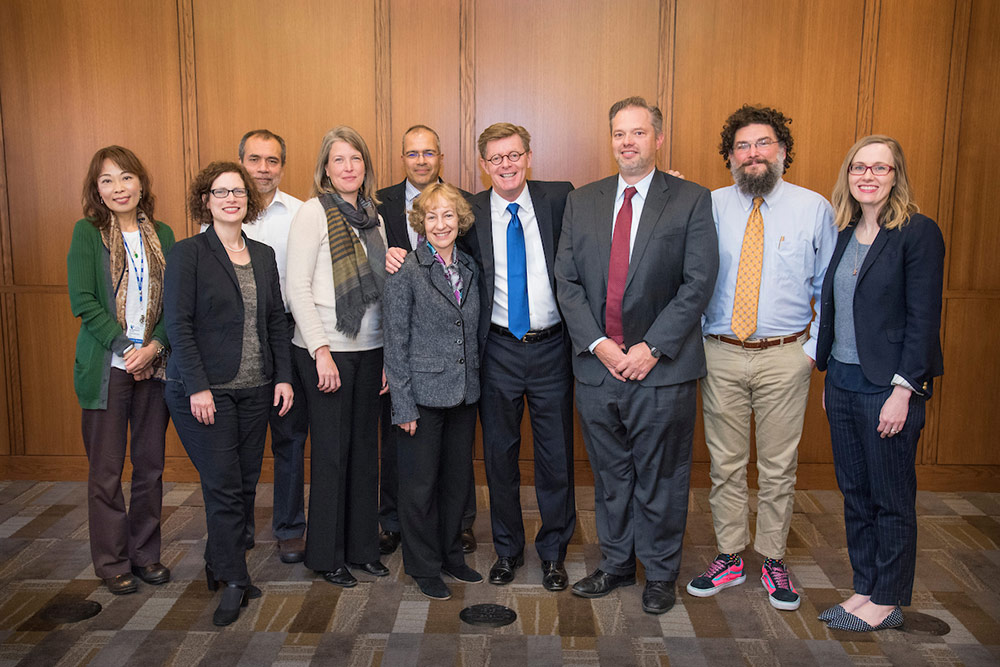 Reaction to the appointment came from far and wide. His current employer, the University of Pennsylvania, sent out a series of social media statements praising his leadership qualities, some referencing his "freestyling" skills in introducing "Hamilton" creator Lin-Manuel Miranda. 
My

Just so we're clear, @DukeU, this is what you're getting. @Lin_Manuel approved. https://t.co/zT9hPQSlDl

— Penn (@Penn) December 2, 2016
Price was greeted by many Duke departments sending out messages of welcome. The political science department offered greetings from some of Price's colleagues working in the field of public opinion.
The Sanford School of Public Policy also joined in with a video greeting.
Another person joining the praise was current President Richard H. Brodhead. At the public event Friday, Brodhead predicted great days ahead for Duke under Price's leadership. He said he had for years watched as Price developed a national reputation as an educational leader. "When I heard that Vince Price's name had entered into the sphere of discussion [for the Duke presidency], I thought I don't need to worry about this anymore."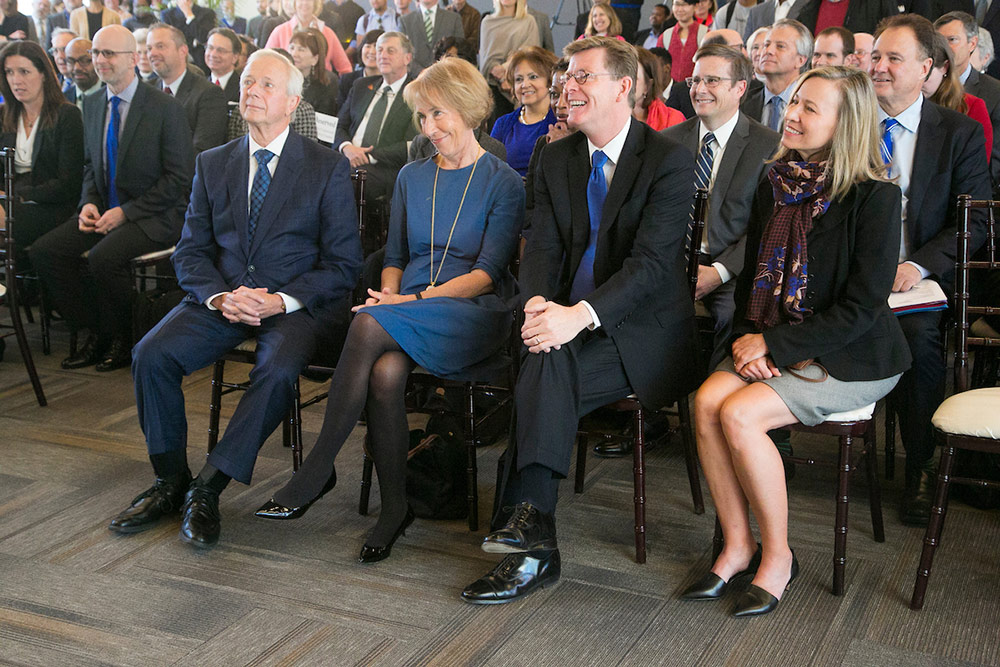 Cynthia and Richard Brodhead listen with Vincent and Annette Price during the public event in Penn Pavilion.
On social media, members of the Duke community shared their feelings. Jillian Warren of the Office of Information Technology said she was excited that a former teacher was now her new boss.
My @Penn major advisor is now my big boss at @DukeU. Welcome to Duke, Professor Price! https://t.co/Quq8SpDTh0

— Jillian Kuhn Warren (@jillyk) December 2, 2016