26 Graduate From Duke Leadership Academy
Duke employees completed a year-long professional development journey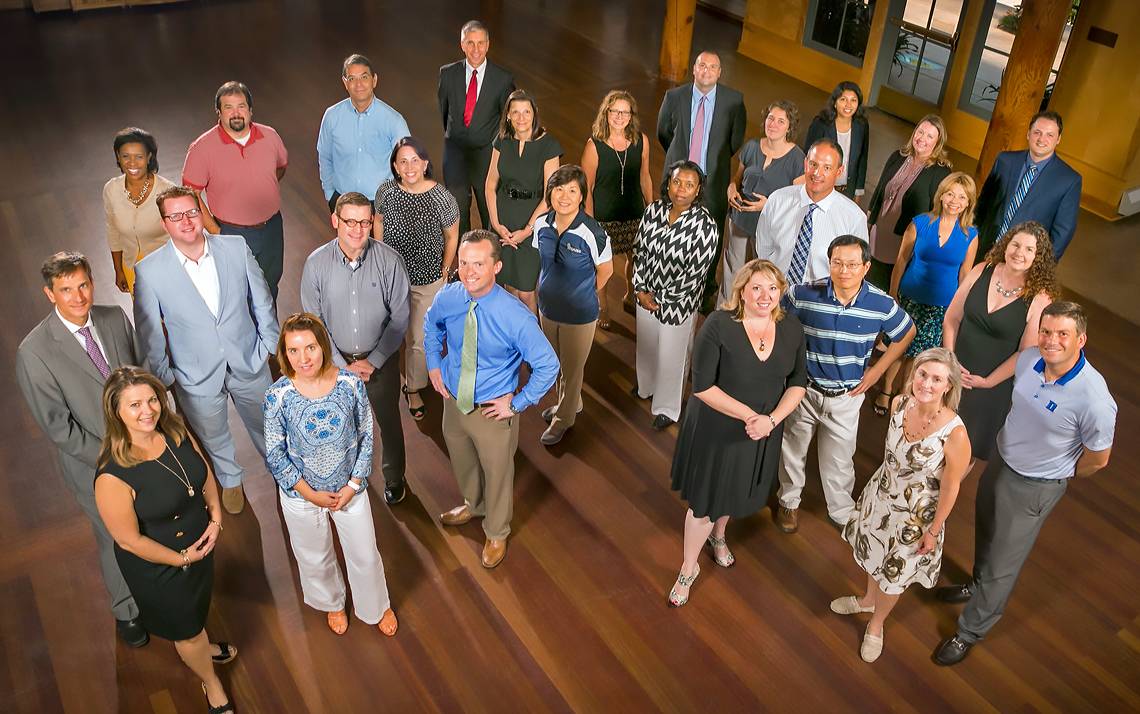 Maggie Epps has had a busy year.
Not only did she support Duke's presidential search committee by organizing meetings and traveling across the country, but she also examined her leadership skills and worked on a team project as part of the Duke Leadership Academy, a year-long professional development initiative.
Epps, along with 25 other Duke staff members, graduated from the Duke Leadership Academy in December. They were nominated to be part of the academy and spent the year reflecting and learning about leadership and management skills and behaviors.
"This past year, I was very fortunate to have had these two incredible experiences," said Epps, associate university secretary in Duke's Office of the University Secretary. "Every month I looked forward to going to the Duke Leadership Academy and spending the day with this terrific group of professionals. Not only did I learn a great deal from my classmates and instructors, but I also gained a much greater appreciation for Duke and all of the amazing work being done here every day."
Duke Leadership Academy participants are nominated by Duke vice presidents and deans and have to submit a resume and letter of intent to participate in the program, which is organized by Duke Learning & Organization Development (L&OD). Over the past year, staff have taken part in discussions with senior leadership, conducted a skills assessment, received coaching, and worked on a team project that examined Duke issues such as mentorship and volunteer opportunities at Duke as well as Duke and Durham transportation.
During the first academy session in February, staff received journals to document their journey, said Keisha Williams, assistant vice president of Learning & Organization Development.
"What I try to share with them throughout the entire year is that whole process of reflection," Williams said. "We're enhancing their awareness of leadership competencies and strengthening their skills, which they're able to apply to the workplace."
The participants received certificates during a graduation ceremony in the Freeman Center for Jewish Life on Dec. 6.
Epps said an important reminder she received from the program was to make it a priority to understand the strengths, talents and interests of colleagues and to solicit their ideas and feedback, as well as seek advice from mentors.
"There is so much to be learned from those around us," she said. "Duke is full of really smart people with great ideas. Making the time to get to know them and hear their ideas is so important."
Here are the 2016 employee graduates:
Karolina Angell – Departmental Business Manager, Electrical & Computer Engineering – Pratt School of Engineering
Ermal Bregu – Assistant Director – Duke Corporate Tax
Kristen Brown – Associate Vice President – Office of News & Communications
Jennifer Chambers – Senior Director, Alumni Education – Duke Alumni Association
Li-Chen Chin, Ph.D. – Assistant Vice President, Intercultural Programs – Student Affairs
Nick Dyslin – Associate Director, Major Gifts – University Development
Jennifer Ellis – Chief Administrative Officer – Department of Psychiatry
Maggie Epps – Associate University Secretary – Office of the University Secretary
Betsy Hames – Chief Human Resources Officer – School of Medicine
Phyllis Kennel – Director, Research Oversight & Compliance Core – School of Nursing
Girija Mahajan – Program Director – Duke Office of Civic Engagement
Iryna Merenbloom – Assistant Dean, Budgets & Finance – The Graduate School
Chris O'Neill – Senior Director, Regional Engagement – Duke Alumni Association
Rhonda Parker – Senior Director, Ministerial Formation & Student Life – Duke Divinity School
Christa S. Poe – Director, Electronic Commerce – Duke Financial Services
Ernie Rushing – Director, Admissions & Recruitment – School of Nursing
Jim Ruth – Senior Director, Major Gifts – Pratt School of Engineering
Tony Sales – Assistant Athletics Director, Student-Athlete External Affairs – Duke Athletics
Crystal Sheffield – Associate Dean for Finance & Administration – Law School
Natalie Spring – Director, Prospect Research, Management & Analytics – University Development
Hunter Stokes, J.D. – Assistant Vice Provost & Manager of Educational Compliance – Academic Affairs
Dylan Sugiyama – Associate Director – Duke Visa Services
Felicia Tittle – Executive Director, Recreation & Physical Education – Duke Athletics
Carl Weisner – Senior Director, Clergy Health Initiative – Duke Divinity School
Aaron Welborn – Director of Communications – Duke University Libraries
John Zhu – Senior Public Affairs Officer – The Graduate School
For more information about the Duke Leadership Academy, email Keisha Williams at mekeisha.williams@duke.edu.