PUBLISHED
Women Social Entrepreneurs Share Tips of the Trade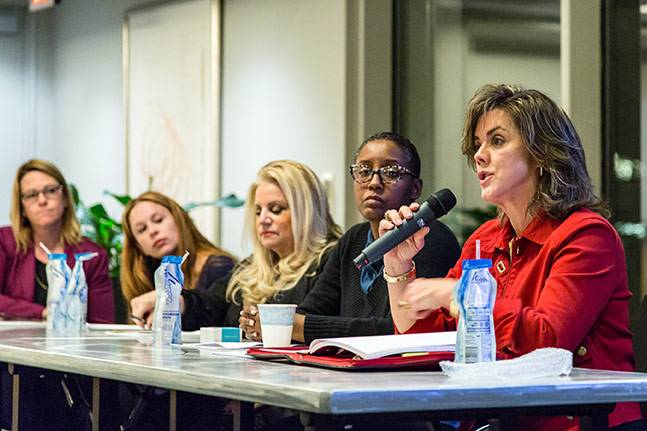 Four female innovators told a Duke audience last week that social entrepreneurship was a way for women to challenge the status quo.
The four entrepreneurs spoke Nov. 16 at a panel co-sponsored by Duke's Innovation & Entrepreneurship Initiative and the Duke Center for the Advancement of Social Entrepreneurship (CASE).
Sitting on the panel were Rebecca Ballard, founder of sustainable fashion company Maven Women; Gail Levy, founder of three different businesses, most recently molecular hydrogen company H Factor Water; Cicely Mitchell, the co-founder of local jazz festival The Art of Cool; and Stephanie Wilson, founder of ACCESS Global Healthcare.
Erin Worsham, executive director of Duke CASE, said the panel was particularly important as women evaluate their roles in the world and in leadership positions in the wake of the election.
The panelists agreed. "The status quo just isn't OK, and that's why social entrepreneurship exists," Ballard said.
Although women make up 75 percent of the nonprofit workforce, Worsham said, women hold 45 percent of leadership positions. And although there are 8.6 million women-owned businesses, only 2.7 percent of venture capital is going to companies with women CEOs.
There is some good news, Worsham said. Black women represent the fastest-growing entrepreneurship demographic and has grown by 322 percent since 1997.
The entrepreneurs shared with a majority-women audience tips on how to combat discrimination faced in the workforce.
"One, know (discrimination is) there, and two, fight forward and fight through it," Wilson said, adding that women shouldn't take in discrimination and let it weigh them down.
Levy added that women can build a network in the entrepreneurial realm. "We really have to form a sisterhood," she said. "We have to go out and support each other and be there for each other and mentor each other."
The women also had advice for dealing with potential burnout and raising capital.
Mitchell said she balances her day job as a statistician and her responsibilities with Art of Cool by reserving time during the day to work out or do something else for herself.
Wilson said that women are often not confident to go out and ask for capital and instead end up bootstrapping their companies with the support of family and friends.
Many women also try to start their companies alone, Wilson said, but angel investors and venture capitalists are looking for well-rounded teams.
"It's very important that you put that team together that presents multiple skillsets," Wilson said.
But the most common advice was, as Mitchell put it, "Just start your idea." That sentiment was repeated throughout the discussion.
"If you have an idea and you're passionate about it and you're willing to put 20 years into it 24/7, that's the kind of passion you need to start a business," Wilson said. "We as women lean toward the perfection area and want everything to be perfect before we step into anything. Don't be afraid of failure. You actually want to fail now and then so you can continue to grow."