Poet Laureate Juan Felipe Herrera Brings an Activist Voice to Poetry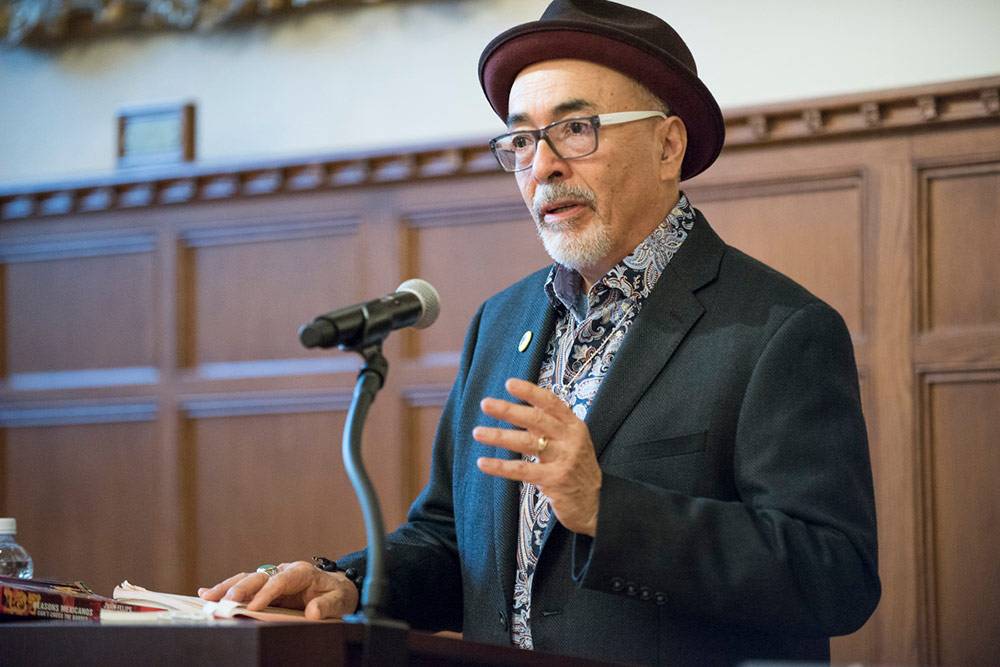 As a son of migrant farm worker, U.S. Poet Laureate Juan Felipe Herrera moved around frequently, but found stability in his love of words, writing and finding his voice.
Herrera came to Duke's Rubenstein Library Thursday to read several selections of his own work, ranging topics from Muhammad Ali to "187 reasons Mexicanos can't cross the border." He describes himself as "a poet concerned with the plight of people who suffer. If words can be of assistance, then that's what I'm going to use."
He is the first Mexican-American to hold the position of U.S. poet laureate, and he has used his platform to increase the national awareness of the reading and writing of poetry. He continues to advocate for indigenous communities and at-risk youth.
Herrera opened his talk by telling the audience, "you have a beautiful voice, you are free to express yourself, and express yourself in anyway you want." Herrera started his reading with a poem written in 1970, calling it "celebratory and ceremonious."
Translating most of his poems from Spanish to English, Herrera said that he does not attempt direct translations. He focuses on the rhythm and emotion of the words. When writing, he said he tries to "get words on the page and focus on trying to make the words move like an electric current by shifting words around and playing with structure."
"He is, at heart, an activist," said Trinity College Dean Valerie Ashby in introducing Herrera. "Through his words, Juan Herrera draws you in to the history, the struggles, and the challenges of our society. He brings a visceral and forceful voice to his work. You cannot remain a passive observer under the influence of his words."
Herrera's appearance and reception was co-sponsored by Duke's Office of the Provost, the Office of the Dean of Arts & Sciences, the Department of Romance Studies, and the Program in Latino/a Studies in the Global South.