Meet the Teamwork and Diversity Award Recipients
Honored staff and faculty encouraged race conversations and planned West Union's transformation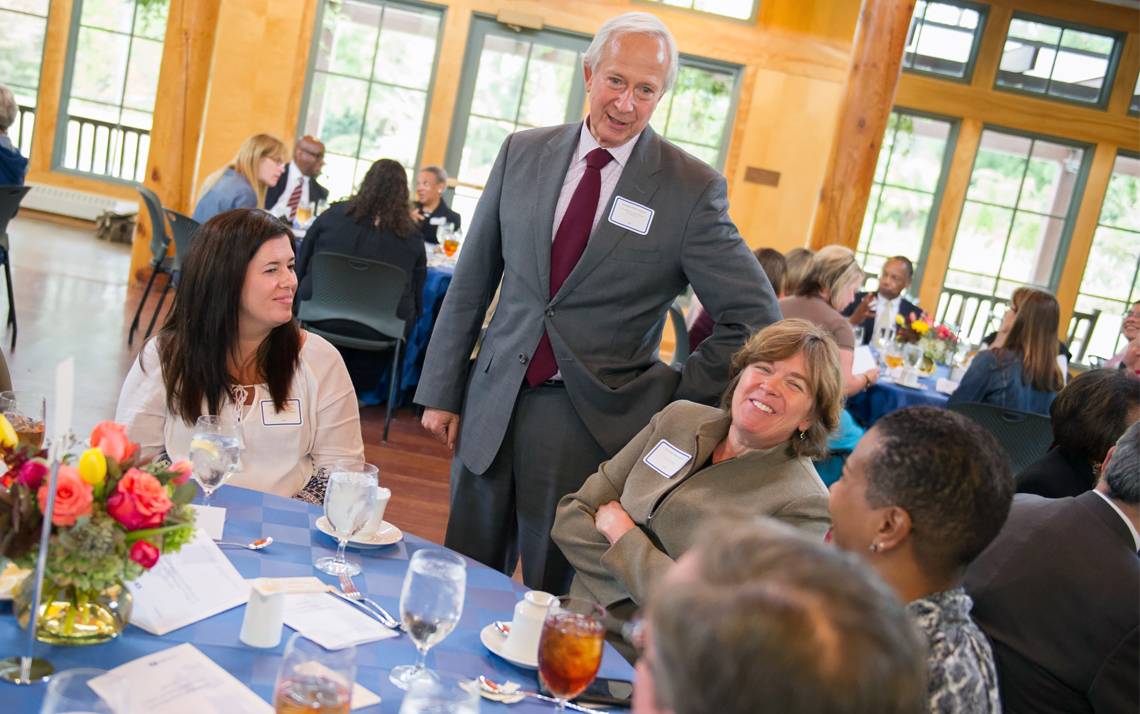 From breathing new life into the West Union to starting a departmental blog about diversity and inclusion, Duke employees are being recognized for their teamwork and diversity efforts over the past year.
Two of Duke's highest honors, the Teamwork and Diversity awards, are presented every year to employees who foster collaboration, cooperation and open communication as a team or demonstrate a respect and value for differing backgrounds and points of view.
Peers and department directors nominate University and Health System staff and faculty and a Duke Human Resources committee choses the finalists.
On Tuesday, the 2016 award recipients were honored during a luncheon at the Sarah P. Duke Gardens' Doris Duke Center. Diversity Award recipients received a $750 check and an engraved crystal bowl. Teamwork Award recipients receive a plaque and the choice of a team event not to exceed $1,000.
At the luncheon, Duke President Richard H. Brodhead discussed how Duke's nearly 37,000 employees continue to position Duke's reputation as the best in teaching, research and patient care.
"Once you hire 37,000 extremely skilled and motivated people, you still haven't solved the problem of how you're going to get the quality of work that we aspire to in this organization, and that's where teamwork and diversity come in," Brodhead said. "I salute everyone who is honored today for the way you exemplify the values we want everyone to care about in every workplace at this university."
Here are the award winners:
Teamwork Awards
West Union Renovation & Innovation Team
Paul Manning, Bobby Browning, Charles Catotti, Robert Coffey, Marcy Edenfield, Sara Garner, Chris Heltne, Leslye Kornegay, Barton Lawyer, William McCraw, Chris Roby
The transformation of the West Union building took about four years and 1.1 million staff hours of construction to complete, but it took a team to form ideas about the design, campus activities, technology and sense of community within the renovated campus hub.
The team, consisting of employees from Facilities Management, Student Affairs and the Office of Information Technology, tackled issues such as determining how students would use the space, developing a plan to operate the building and coordinating with various subcontractors during construction.
The West Union now welcomes about 8,000 visitors per day.
"This group engaged in an incredible number of meetings, solved many highly complex problems and supported each other's efforts in innumerable ways," Vice President for Student Affairs Larry Moneta wrote in a nomination letter. "They are an exemplar team and community reflecting the best of Duke and everything we could ask of any team of people covering so many areas of focus."
Lincoln Community Health Center Pharmacy
Carolyn "Lynn" Robbins, Tracy Stillwell, Heather Leonard, Paige Blackman, Leslie Cadd, David Cocchetto, Dan Dewitya, Christie Ferrell, Lynn Fitzgerald, Steve Lundeen, Anjana Patel, Rita Proctor, Bina Patel, Michael Taylor, Linda Ahmed, Jonathan Andrews, Alvin Ezuka, Javier Gonzalez, Shanikka Malone, Hilton Martinez Zelaya, Maria Martinez-Jimenez, Dian Pounds, Ingle Reid, LaKeisha Wilson

The pharmacy team poses with Duke Chancellor for Health Affairs A. Eugene Washington and Duke President Richard H. Brodhead.
At Lincoln Community Health Center meetings, Pharmacy Director Lynn Robbins and her team have put into practice "pause for applause," or taking time to recognize colleagues' efforts across the health center.
In addition to recognizing the good work of colleagues, the pharmacy team has participated in orientation for new providers and trainees, helped develop a medication-assisted treatment for people suffering from substance use disorder, and enhanced the effectiveness in treating Lincoln's most challenging diabetic patients, wrote Dr. Howard Eisenson, chief medical officer for Lincoln Community Health Center, in a nomination letter.
The team has shortened the time to fill prescriptions, educated non-English speakers about using the pharmacy and educated patients about health insurance.
"We can count on the pharmacy staff to lead the way, with warmth, good humor, and often with impressive creativity," Eisenson wrote. "…We never hear from our pharmacy colleagues, 'We can't help with that, it's not a pharmacy issue.' They are always there to help all of us reach our potential."
Diversity Awards
Lovest T. Alexander Jr.
Director of Diversity and Inclusion, Community and Family Medicine

From left to right, Benjamin Reese, vice president of the Duke Office for Institutional Equity, with Diversity Award recipient Lovest T. Alexander Jr.
The Duke Physician Assistant Program has strong recruitment partnerships with 17 historically black colleges and universities (HBCUs), from Morehouse College in Atlanta to North Carolina Central University in Durham, thanks to Lovest T. Alexander Jr.
Since 1986, Alexander has served as an intermediary between HBCUs and the program, as well as introduces the physician assistant profession to underrepresented students. Now, 25 percent of Duke Physician Assistant Program students are from underrepresented minority groups.
He also serves as an advocate for minority students in both the admissions process and after enrollment, and helps minority patients in his clinical practice and teaches physician assistant and medical students.
"Mr. Alexander is a role model and sought-out mentor for faculty, staff and students at Duke and beyond," Nicholas Hudak, an assistant professor and clinical coordinator for the Physician Assistant Program, wrote in a nomination letter. "(He) is steadfast and authentic in fostering positive interactions between people from different cultural backgrounds."
Jennifer A. Goins
Program coordinator, Department of Immunology

President Richard H. Brodhead with Diversity Award recipient Jennifer Goins.
"My friends and I don't have to talk about race. My race doesn't impact day to day life, really; gender maybe, but not race. This acknowledgement put the term white privilege into a real context for me."
This introspection is from Jennifer Goins' monthly blog for the Department of Immunology, which raises questions and shares personal revelations about race, diversity and inclusion. Goins shares stories about race conversations she has held with her young children to relevant videos and articles.
She has served as the Department of Immunology's representative on the School of Medicine Inclusion Council for three years, bringing important discussions back to her colleagues by holding in-person meetings and writing blog posts.
"Jennifer has been disarmingly open, sincere, and even courageous, in revealing to her audience her own struggles and insecurities in facing these issues, what she is learning, and how she is bringing those lessons to bear on her own young family," Michael Krangel, the Mary Bernheim Professor of Immunology and chair in the Duke Department of Immunology, wrote in a nomination letter. "In essence, she has made her personal journey a public one."