Duke Program Prepares Staff for Supervisory Roles
The fifth class of First-Time Supervisor Program graduates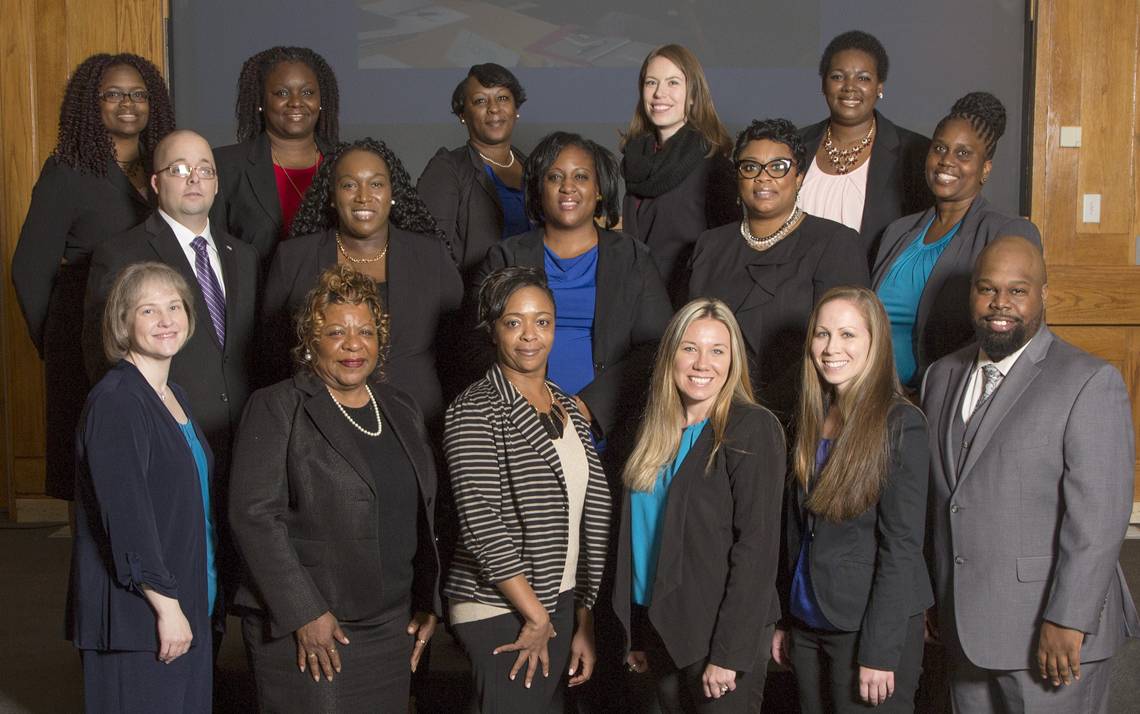 A group of 18 staff celebrated their graduation from Duke's First-Time Supervisor Program Nov. 18, marking the end of a yearlong professional development class to prepare them for new roles at Duke.
Over the course of the First-Time Supervisor Program, participants receive coaching and mentoring sessions to identify their strengths and weaknesses. They attend classroom sessions on topics like communication, project and budget management and managing difficult work relationships. In return for Duke's investment in their education, participants commit to staying at Duke for at least two years after the completion of the program. It was the fifth class of the program.
"The program set a fire underneath my feet to become more ambitious and hard-driven with things going on within my department," said Kiana Dailey, senior program coordinator and staff assistant team lead for Duke's Division of Gastroenterology. "It really took my engagement with my department to a whole other level."
While Dailey was taking the program and putting enhanced skills to work, she received a promotion in October. A big part of that, she said, was learning how to have more open communication with her peers and supervisors, which helped her become more honest and confident in her day-to-day role overseeing staff assistants. In a "360 assessment," which solicits insights from peers and managers, Dailey found out that others in her department had a more positive view of her work performance than herself, causing her to reevaluate her point of view.
"It opened my eyes to how I should have been feeling," Dailey said.
Participants in the First-Time Supervisor Program are selected after being nominated by a supervisor. The classes are taught every other year, so the next class will begin in fall 2018. A nomination process will take place that spring and summer.
"I'm proud of these new graduates who have used this program to further their understanding of respect, motivation and recognizing the differences of other points of view and experiences," said Denise Motley, director of recruitment, Duke Temporary Services and the Professional Development Institute. "All these things will help them inspire and motivate others in the future."
Amberly Adams, an advanced staff grants and contracts administrator in Biomedical Engineering, said the First-Time Supervisor Program convinced her to go back to school. She received an associate's degree in travel and tourism from Southern Ohio College in 1995 and recently enrolled to work toward a bachelor's degree in business from University of Mount Olive. She's using Duke's Employee Tuition Benefit to help cover the cost.
"When you're a grants administrator, you have to deal with different people from all over the world," Adams said. "The program helped me understand how to better handle conversations and situations where I can step back from my feelings and understand the point of view of others."
The full list of program graduates includes:
Amberly Adams, grants and contracts administrator, Biomedical Engineering
Vanessa Amos, financial care counselor, Patient Financial Services Pre-visit
Ranada Byrd, service access team lead, Clinic 2B/2C
La Chandra Chavis, service access team lead, Heart Center Communications
Sara Clark, director of communication and guest experiences, Duke Lemur Center
Kiana Dailey, senior program coordinator, Division of Gastroenterology
Sabrina Delaney, financial care counselor, Emergency Department Registration
Kay Johnson, patient service associate, Orthopaedic Clinic
Sherry Joseph, customer service associate , Patient Revenue Management Organization
Melissa Kernodle, administrative specialist, Speech Pathology and Audiology
Cynthia Lane, revenue cycle specialist, Patient Revenue Management Organization
Onette Shaw, computerized EKG technician, EKG Support Unit
Anderson Springfield, patient account team lead, Emergency Department Registration
Erica Stanley, service access manager, Duke Cardiology of Raleigh
Tikki Vaughan, financial care counselor and interim team lead, Duke Cancer Center
Brandon Walker, service access team lead, Otolaryngology