In Appalachia, Bass Connections Team Finds Untold Stories of Rural Development
In a region bypassed by the global economy, there are hopeful signs
From shuttered textile mills and furniture factories to dormant tobacco fields, the traditional industries of North Carolina's Appalachian region have drastically declined.
But new areas have emerged, says Lukas Brun of Duke's Center on Globalization, Governance & Competitiveness, who set out to show that the Appalachian economy is more than a tale of decline: "There are great stories that are not being told."
An Innovative Approach to Analyzing the State's Economy
A global value chain refers to all the people and activities involved in creating a product or service. Researchers typically apply the global value chain framework, created by Duke sociology professor Gary Gereffi, for international development purposes. Back in 2006, Gereffi and Stacey Frederick worked with undergraduates to apply the framework at the state level, resulting in the North Carolina in the Global Economy website. Their research and visualizations illustrate how the state compares with others and the rest of the world in seven industries.
Noting that the website was getting a lot of use, Gereffi and Brun focused their first Bass Connections team in 2013-14 on updating the site with new data. "It was an exciting way to involve undergraduates in research, which is rarely done in universities," Brun said.
Adding Defense and Aerospace to the Picture
Continuing in 2014-15, Brun and Gereffi worked with a new group of students to add defense and aerospace to the seven industries.
"By using a global value chain approach, the team was able to isolate the areas in which the state had strengths and in which they lacked support," said Shelley Wu '17. "This comprehensive process allowed us to present a well-rounded analysis and come up with specific recommendations for action and upgrading on a policy or legislative level."
Hannah McCracken '16 noted that the team presented its outputs to North Carolina stakeholders and members of the Duke community: "It was really fulfilling to see the research process through from start to finish."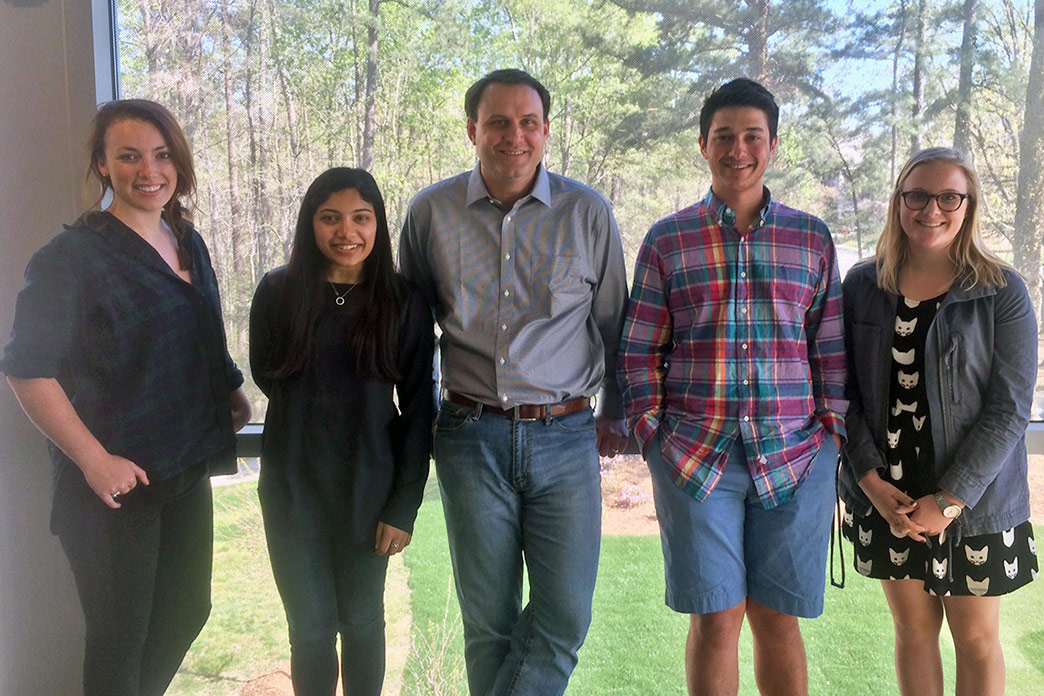 The Bass Connections team studying the Appalachian economy: Madeleine Roberts, Shruti Rao, Lukas Brun, Bryan Dinner and Laura Baker
Understanding a Regional Economy
In 2015-16, a new Bass Connections team focused on using the value chain framework in one part of the state. "The framework hadn't been applied to a region before," Brun noted, "and we wanted to understand what industries were taking root in a disadvantaged rural area. We picked Appalachia because the traditional industries of North Carolina—furniture, tobacco, textiles—all had a historic presence in the region, but had largely gone away. And we had connections with people at the Economic Development Partnership of North Carolina who were interested in better understanding the economy of that region."
The partnership guided the team to focus on the beverage and automotive industries and made introductions to the Department of Commerce and the Appalachian Regional Commission.
"Our goal was to show that there are new and exciting stories about the Appalachian economy that are not being told," said Brun. "The story on the beverage side is the craft brewing industry centered in Asheville and surrounding counties. The next wave is going to be craft distilleries. In the automotive industry, North Carolina punches above our weight in heavy duty trucks. Volvo, Mack, Freightliner...all have headquarters or a big presence here, and part of the supply chain is in the Appalachia region. We also have the leading manufacturer of ambulances and custom vehicles for emergency services."
"The framework gave me the tools and the perspective I needed to fully understand how rural economic development in a state like North Carolina is connected to the technology-intensive global trucking industry," said Shruti Rao '18. "Through interviews with manufacturing plant directors, industry specialists and direct exchange with the Appalachian Regional Commission, I was able to learn the importance of using a holistic perspective such as global value chains when approaching economic development." She developed her own Program II major focused on global value chains.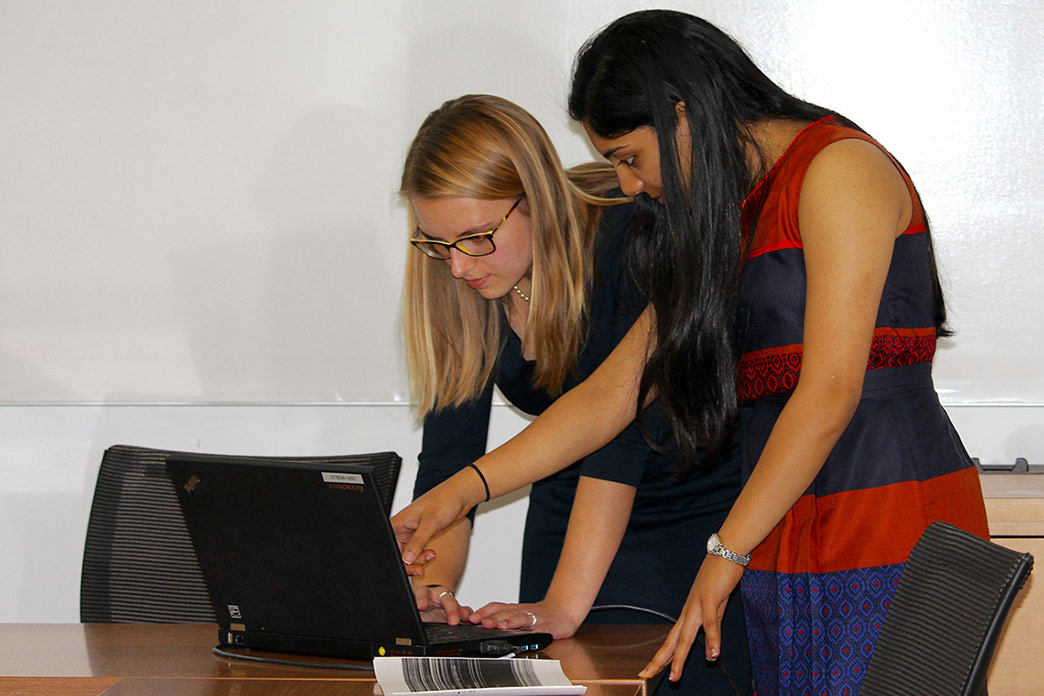 Melissa Piana and Shruti Rao go over data.
Presenting Research to Policymakers
In the fall the team produced industry reports and websites, and presented their findings to senior staff in North Carolina's congressional delegation. "I think it's those experiences for undergraduates that really makes their research and scholarship at Duke have new relevance," said Brun. "It's pretty neat to be an undergrad talking about a research project that you're doing with faculty to members of the North Carolina congressional delegation."
"Bass Connections was the most academically fulfilling experience of my four years at Duke," said Bryan Dinner '16. "I had the opportunity to work one-on-one with world-renowned scholars on economic development policies for rural Appalachian North Carolina. The work I was doing will impact people's lives."
This summer Dinner gave a talk to prospective Duke students in his home state of Arizona. "Bryan said he spent most of the time on Bass Connections, and to hear him say that this was his culminating experience underscores the value of engaged scholarship," said Brun.
For Brun, it's rewarding to witness students "turning on a light and realizing what the purpose of a university in society can be. What we were trying to do with our Bass Connections project is to demonstrate how the educational and research goals of a university can be aligned. Suddenly you have this output that has resonance in both the research community and society at large. That's a great experience for both students and instructors to have."
In the spring the team focused on turning their research reports into papers for academic journals. Rao submitted an article to Rural and Community Development, and Dinner and Brun are finalizing a submission to Rural Studies.