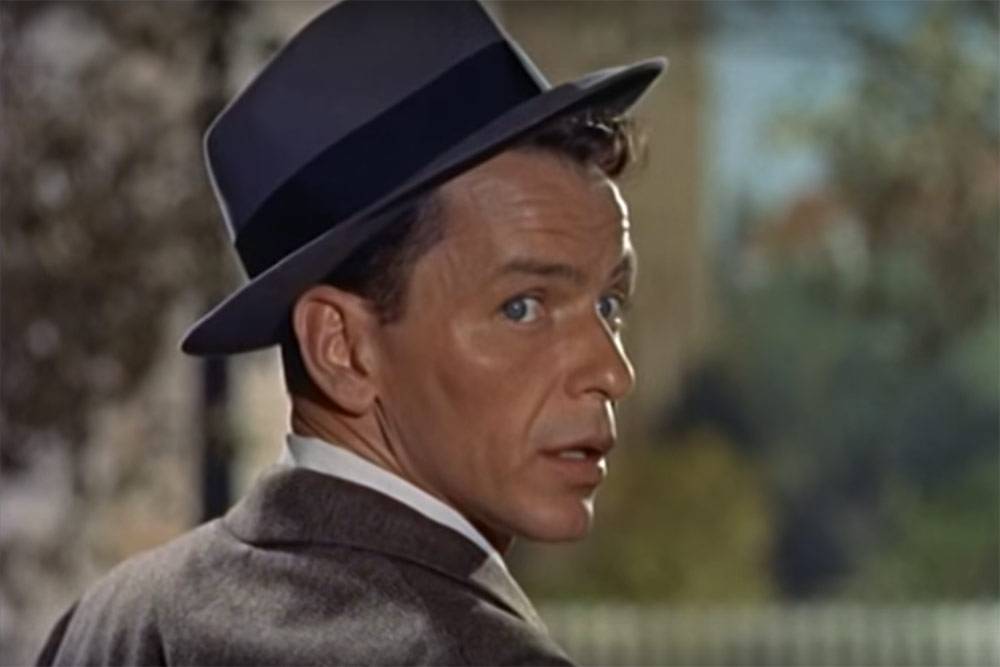 English Professor Thomas Ferraro pulled a fast one on his seminar students in a class on Frank Sinatra a few weeks ago. Knowing that he was working with a generation used to listening to music digitally through ear buds, he started the course playing Sinatra songs from CDs and mp3 files.
Then one class, without making a deal of it, he pulled out the vinyl. The song: "Fools Rush In (Where Angels Fear to Tread)."
Thomas Ferraro
"One student said, 'I thought this was just a story old folks told themselves, that music sounded differently on records,'" Ferraro recounted.  "Another said, 'You can hear it pressing against your ears' and recalled that I had said CDs eliminate sound that you can't 'hear.'"
In this one moment, the students got the purpose of the class, the point being why Frank Sinatra was a transformative artist. There were more talented male singers, Ferraro said, singers like Sammy Davis Jr. and even Bobby Darin, but Sinatra was the one who changed pop music. And he did it, Ferraro said, because he used the new recording technology of the time to change the way we, the audience, interact with popular song.
In an interview, Ferraro, Frances Hill Fox Professor of English, talks about his new course "Vinyl Sinatra" and the development of Sinatra as a legend, from a skinny boy from Hoboken, New Jersey, performing with Dorsey and James to a giant of music and film connected to presidents and the Mob.
Q: Why do you call this course "Vinyl Sinatra?"
FERRARO: I wanted to emphasize the history of the technology that produced this music and the difference in the way the music reaches the ear. It's not meant to be nostalgic; it doesn't assume there is a time before technology. It's just a different technology that is part of a particular manner in which music is listened to.
When Sinatra started, it was all dance music during the Depression, and one listened to it live, even on the radio. Analog (as opposed to electric recording) is being perfected at the beginning of Sinatra's career and by the late 1940s records go from brittle shellac to supple vinyl, then tape mastering and the LP. It is the microphone that first makes possible the kind of vocalization done by Sinatra, Holiday, Peggy Lee, Armstrong, Bennett, all the greats from this era.  It brings to an end to the need for the singer to project loudly, as was the case in opera and even vaudeville. Sinatra understood better than anyone how this could make for a more intimate, conversational style of singing.
We start with something E.Y. Harburg, the lyricist for "The Wizard of Oz," said: "Words make you think thoughts. Music makes you feel a feeling. But a song can make you feel a thought." When you approach songs with the kind of intimacy that Sinatra did, what happens is what we call the Great American Songbook -- songs all written on Tin Pan Alley under pressure for quick, catchy hits -- becomes something much more. The American popular song is a concentrated love lyric, dangerously sentimental but at times poetry of a sublime order, but only if you can hear the American vernacular. No one understood that vernacular better than Sinatra.
Q: Before Sinatra there was Crosby and others. What were they doing at this time?
FERRARO: Bing Crosby was a very technically accomplished singer and he had a great understanding of the microphone. He also showed that a singer could have a career as a solo artist.  But as the first dance era ends, his popular singing is crooning, which is what is sometimes said about Frank Sinatra but Sinatra, in fact, never croons. 
At this time, Sinatra is listening to Billie Holiday, and he picks up "bending the note" from her.  He also develops a series of remarkable technical effects, such as being able to breathe imperceptibly and hold notes longer than anyone else.  He listened to how Dorsey played his trombone, how Bunny Berigan played the trumpet, and he made his voice sound like an instrument while still being more clear and putting words first. That intimacy he brings puts the lyrics center. He actually wrote out the lyrics in long hand so that he understood them better and learned what the song was about.
Q. There's so much to talk about in relation to Sinatra and African-American music and performers. Where do you start that conversation?
FERRARO: Ken Wissoker of Duke Press used to be a DJ in Chicago, and he got to know a lot of the old R&B musicians there. Ken told me that when he looked at their records, if there was there was only one white singer in the collection, it was Sinatra.
Sinatra learned from black artists like Billie Holiday and Ella Fitzgerald, but he was smart enough to know he couldn't emulate them. He never tried to scat, for one.  But he sought out black artists to listen to and perform with throughout his career. In the mid-'60s he's touring everywhere with Count Basie and a young Quincy Jones doing the arrangements. And there were all these temper tantrums across the country when black guys in his band were not treated properly. So when talking about race, the first order of importance is about the musical borrowings and respect that was mutual.
On the second order of importance, you have to balance some things. You have Frank in the Rat Pack days making all the ethnic jokes we can't stand now and joking around with the phenomenally talented Sammy Davis Jr. But you also have things like "The House I Live In." At the end of World War II, there's a need to get the American domestic act together, and stop this racism and anti-Semitism crap, and he steps up to do this short film.
But Harry Belafonte actually tells a better story about Sinatra and race.  Vegas in the early 1960s was a terribly racist place, and the black members of Sinatra's band were consistently getting mistreated. This is how Frank solved the problem: He had the Mob assign a guy to each of the black guys in his entourage. And they were never mistreated after that.  To me, that sounds like a Sinatra-type solution.
Q. You and others make a connection between his singing style and his success in film. What was it that made Sinatra the singer so talented on screen, when so many other singers just don't have it?
FERRARO: He was a terrible comedian, couldn't deliver a joke, and therefore was never very good on TV. On the big screen he was. When Sinatra wanted to act he was uncannily good in it. He disappeared into the role.
Frank Sinatra and Bing Crosby perform "Well, Did You Evah?" from "High Society." Crosby said this was his favorite song he recorded.
I think some of this has to do that he was fantastic at being photographed, even though he said he hated being photographed. He makes similar entrances in two early films, one in black and white, "Higher and Higher" in 1943, and his 1954 breakout film "Young at Heart" which was released before "From Here to Eternity." In both films, the door opens, and there's Frank Sinatra. In the first, he says, "Hi, I'm Frank," so he's playing a version of himself.  In the later film, he's playing the down and out version of himself that Ava Gardner has turned over. The door opens, and he's wearing a hat. You see him from the back and he turns this way in color with blue eyes and the chiseled face. In both films, the face commands the screen.  It doesn't matter how tall he was, because this was the movies.
Even before he appeared in films, he already was something of an actor in the sense that he had figured out that the three-minute Tin Pan Alley song was a story monologue. That was different from even Billie Holiday, and it made all the difference in the world. He figured it out with Tommy Dorsey. He sings "Polka Dots and Moonbeams" and you can hear him act the story out. It was method singing.
Q: A question about Sinatra in concert. What was his relationship with the audience and did that pave the way for rock music?
FERRARO: I grew up in the '60s and '70s. I didn't discover Sinatra until my freshmen year of college, so my ears were formed by the music and technology of the '60s and '70s. So when my friends put on record by Billie Holiday in college, I had to retune my ears. 
But when I started listening to Frank Sinatra's Capitol Records recordings from 1954 onward, it was a different kind of music, but my ears didn't have to be retuned.  My theory is if you grew up on rock music, Sinatra in the '50s is the first thing you can hear that doesn't sound foreign. Part of it is the manner of his singing. He's not a rock singer, but his style is something rock singers get, especially the British rock singers who were all choir singers and could sing on tune.
As to Sinatra in concert, what drove Tommy Dorsey nuts is when Sinatra started singing -- crowds stopped dancing and listened.  Remember, the point of the music at the time was to dance to it.  Dorsey didn't know what to do at first.   Like Madonna, who in concert always has the time of her life, Sinatra knew not to look in the mirror but into the eyes of the crowd. I believe people like Madonna and Sinatra are most truly themselves when they are performing in front of an audience. In their public/private dichotomy, they come into themselves when they perform, and both come off as less admirable when they are not in public.