Staff Honored for Professional Development Excellence
Nearly 50 employees receive certificates at L&OD ceremony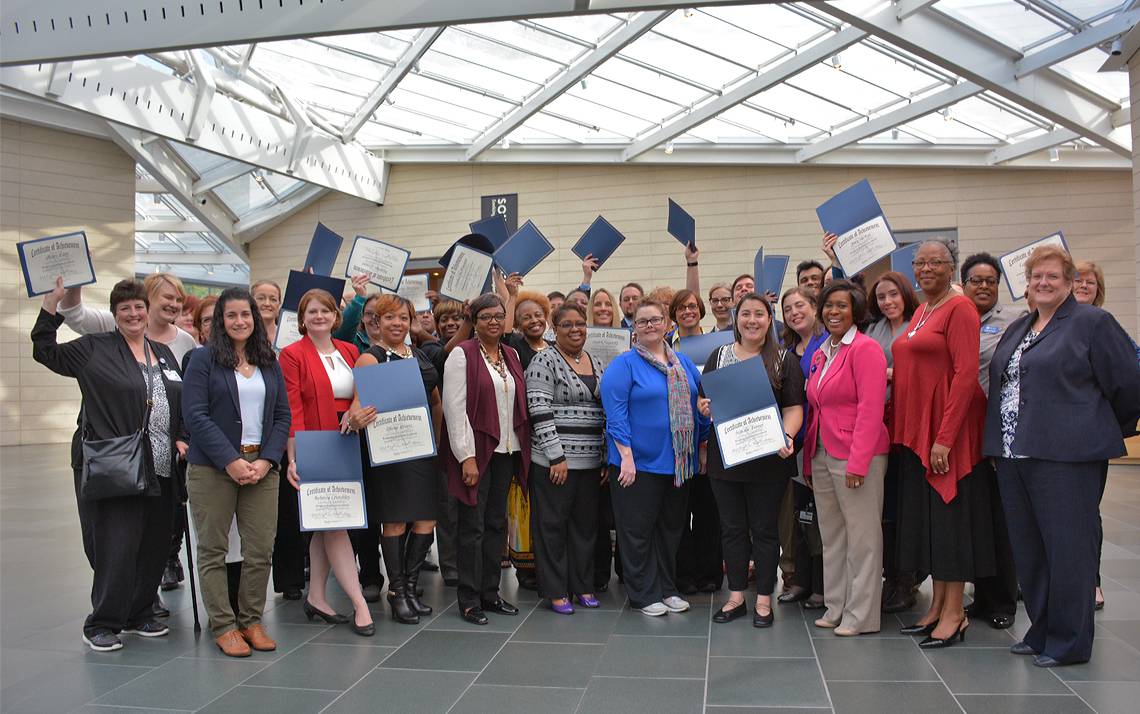 Learning & Organization Development (L&OD) recognized dozens of Duke staff last week as part of the department's inaugural certificate awards ceremony at the Nasher Museum of Art.
The event, which highlighted those who successfully completed different professional development tracks, celebrated 48 employees who took a variety of courses to earn marks of excellence in customer service, technical leadership, training and supervisory roles. This is the first class of certificate earners of 2,461 Duke employees currently pursuing professional development certificates through L&OD.
"The investment that's being placed in our employees to grow, to stretch and to learn is here and ever so present," said Keisha Williams, assistant vice president of L&OD. "It's an investment to grow in an intentional way."
To reach a level of excellence, employees must complete a set number of required and elective courses in each track. For example, to earn a certificate in leadership excellence, employees take classes like "Leading with Emotional Intelligence" and "Dimensions of Management for Successful Leaders," while customer service track staff take classes such as "Conflict Resolution" and "Communicating with Diplomacy & Tact."
"When people interact with me, I want to make sure they have the most positive interaction that shows our organization in a good light," said Karem Jackson, a workshop specialist with the Department of Statistics who earned a Customer Service Excellence certificate. "I hope I'm exhibiting behaviors that others want to mimic so they see I'm doing the best I can and they think it's worth modeling."
Jackson, who has worked at Duke since 2008, noted that setting an example for others is the best way to help Duke serve its mission.
"When you want to see more positive things in the world, you've got to gain the skills to make it happen," she said.
With 37,000 employees across the university and health system, Kyle Cavanaugh, vice president for administration, said programs through L&OD are pivotal for the continued development of Duke's workforce to learn skillsets of the future.
"No matter where you are and no matter what age you are, you're taking time on a regular basis to improve yourself," Cavanaugh said during the Oct. 27 ceremony. "We as an organization will benefit from what you've achieved."
Here's a list of this year's certificate recipients:
Supervisory Excellence
Kimberlee Beasley
Donna Blalock
Martha Brauer
Pratik Gandhi
Heather Genini
Deborah Hendrick
Gloria Hodges
Regina Leak
Anna Mazur
Sophia McKinnon
Laura Webb
Technical Excellence
Patricia Bryan
Rebecca Crutchley
Sherry Earp
Terry Hales
Khalil Itani
Anna Kourouniotis
Melisa Lemmons
Tracey Madrid
Shatanya McClure
Amy McKee
Susan Nagorski
Bill Newsome
Audrey Perry
Jeverra Thomas
Karen Whitesell
Customer Service Excellence
Lamont Burt
Sherry Earp
William Falls Jr.
Nicole Fleming
Tempie Fuller
LeAnn Fulton
Latishia Futrell
Heather Genini
Karem Jackson
Lindsay Johnson
Martha Grace Orman
Crystal Patterson
Cynthia Smith
Rometa Summerlin
Yolonda Wilder
Leadership Excellence
Ariel Fielding
Andrew George
Michelle Maynard
Dione Rivers
Ann Thurston
Training Excellence
Justin Travis
Natalie Turner