Why Trinity College Will Invest in 'Teaching for Equity' Fellows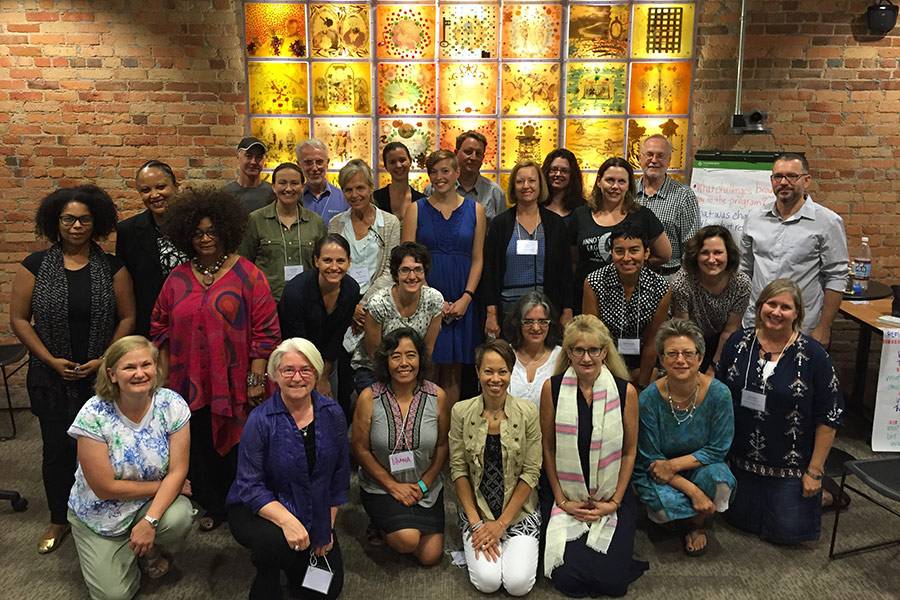 When issues of race, bias or other forms of prejudice come up in our classrooms, not all faculty feel well equipped to respond. Similarly, students may feel isolated in class because they feel different or unvalued.
These are issues of classroom culture, and now, Duke faculty members have an on-campus training opportunity to address them.
In August, 19 Trinity College faculty members began a year-long Teaching for Equity Fellows program to learn how to address challenging instances of identity, race and racial bias in their classrooms. The program is supported by the Provost Sally Kornbluth and Dean Valerie Ashby of Trinity College of Arts & Sciences through the Duke Human Rights Center at Franklin Humanities Institute.
Trinity piloted the program this past academic year with 13 faculty members.
"We each came to the program with particular goals and hopes and left equipped with a framework for approaching classroom changes," said Emily Braley, assistant professor of the practice of mathematics, and a member of the pilot program. "More importantly, we now have a community of peers with whom we can continue to work and reflect."
Valerie Ashby, dean of Trinity College of Arts & Sciences, plans to double the enrollment next academic year to reach 40 faculty members a year. "I am very pleased with how well this program has been received," Ashby said. "It is a real time, tangible way for us to shape campus culture, and it embodies our core values of diversity and inclusion."
"I am pleased to partner with Trinity on the pilot and to continue investing in this program," said Kornbluth. "It has the potential to change classroom dynamics for the better and to help ensure an inclusive classroom for all students."
Practical Skills & Strategies
The Teaching for Equity Fellows program cultivates practical skills and strategies. Led by education consultants who specialize in racial justice, educational equality and culturally relevant pedagogy, the classes help faculty examine how they teach and become more aware of their own assumptions.
Faculty said they also learn to recognize when students themselves may be adversely affecting others in class. The program teaches strategies for faculty to engage their class in a way that promotes respect for everyone, overcomes inadvertent biases and diffuses any tensions.
"We are responding to faculty desire for more skills and guidance," said program director Barbara Lau at the Duke Human Rights Center/Franklin Humanities Institute. "The program looks at how faculty recognize and understand all that students bring into the classroom—experiences, backgrounds and different learning styles."
Lau said the program helps faculty understand issues within their own classrooms they may not have realized were there.
Biologist and Associate Professor of the Practice Daniele Armaleo agrees: "Although I was aware that racial/social tensions can flare up in any classroom, I comfortably assumed that science teaching was better shielded overall from such problems than the humanities," Armaleo said. "What I came to realize is that occasionally those tensions were probably there, but in a way that I was not able to see."
Training sessions include developing classroom facilitation skills, designing culturally sensitive syllabuses, learning about student experience and classroom culture and promoting positive classroom learning strategies.
Student to Faculty to Student Feedback Loop
Students were also invited to assist faculty in the training. In one session, students representing various racial, ethnic and socio-economic backgrounds shared their classroom experiences. Afterward, faculty asked questions about the conversations to better understand why students said what they said, or felt the way they did.
In assessment feedback from last year's participants, faculty reported that the program gave them a deeper understanding of how racial dynamics impact classroom culture. Additionally, more than 90 percent of participants said the program made them a better teacher and gave them strategies they will use.
"I listen more carefully, respond more carefully and engage the students more during and outside of class," said Armaleo. "When issues of race, gender and power surface on campus, in the classroom, or are spontaneously raised by some students, I am willing to discuss them in class whenever the students want. Sometimes even if they may not appear to want to."