Durham Mayor Praises Lifelong Learning and OLLI Kickoff Convocation
William Bell urges program students to engage in civic life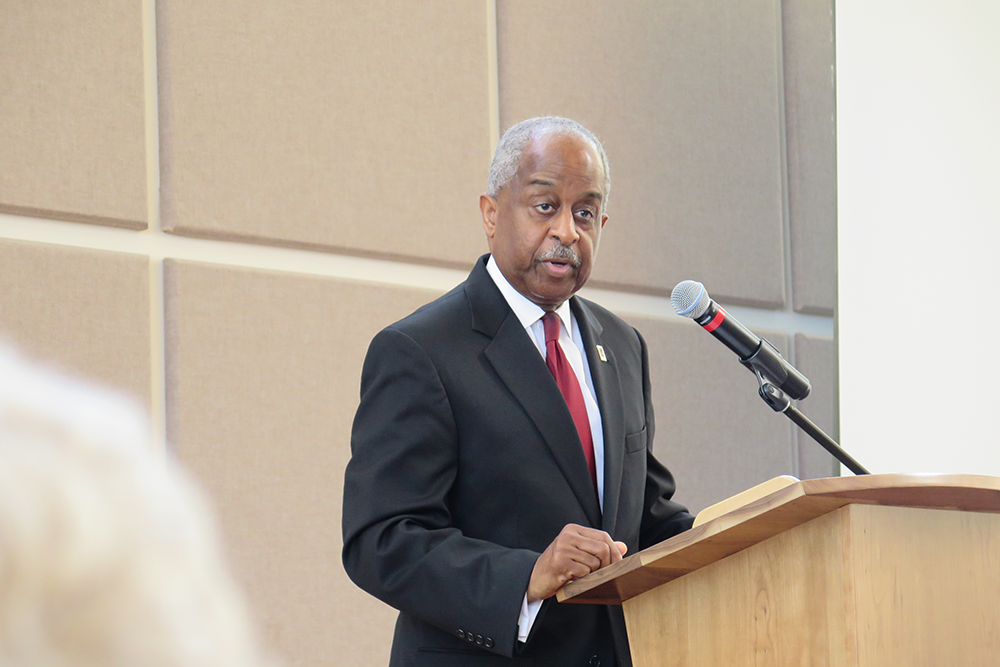 Durham Mayor Bill Bell touted the economic, social and spiritual benefits of lifelong learning during a talk at the opening convocation Sunday of the Osher Lifelong Learning Institute (OLLI) at Duke.
"The pursuit of lifelong learning has been an integral part of my ability to serve this community for so many years," Bell, 75, told an audience of more than 100 OLLI members who attended the convocation at Judea Reform Congregation.
Bell said his grandfather would tell him if you have a book you can go anywhere. He said his 3-year-old granddaughter JiJi recently phoned Mayor Pro-Tem Cora Cole-McFadden using the Facetime app, reminding him that young people are at the leading edge of using technology to learn and connect.
A big benefit to lifelong learning is spiritual, Bell said. "Learning, I believe, feeds our spirit. It gives us purpose, it gives us focus, and it fuels our sense of fulfillment."
Bell said learning is more than a matter of building skills and knowledge within the narrow scope of a profession. "It will be increasingly important to be well-rounded, to have a sense of perspective and to be able to leverage a variety of learning experiences into generating new ideas and ways of doing things," he said.
Bell, who is serving in his last term as mayor, invited OLLI members to engage in civic life, including joining some of the 23 boards, committees and commissions the city uses for citizen participation. "We need critical thinkers, dedicated to making our community a better place," he said. "Even if you don't live in Durham you can communicate your thoughts, ideas or suggestions as to how you think we can make our community a better place.
"We have so many critical issues that need our attention, from affordable housing to transit to well-managed growth to reducing crime to improving police-community relations, reducing poverty and to protecting our environment," Bell said. "Local government cannot function without engaged citizens at the helm."
During a question-and-answer period, Bell said he foresees improving relations between the city and Duke. The university's commitment to downtown development has been highly publicized, but it also has been involved in creation of an innovation center, the redevelopment of the West End community and the opening of a health clinic in the Holden Resource Center.
"They've been great partners," Bell said of the university. "We've all had to learn from each other, and we've been able to do that."
OLLI Director Garry Crites and Board President Gregg McPherson invited the mayor to join the 2,100-member OLLI community after he steps down from office at the end of next year.
The convocation came a day after more than 60 new OLLI members filled Bishop's House for an orientation session. Stephanie Johnson, OLLI's volunteer relations chair, said more than 400 volunteers teach, assist and organize the program's courses and learning activities. More than 125 others serve as program ambassadors and assistants to the instructors each term.
Joyce Smith, an OLLI member attending the convocation, said she has appreciated the great relationships she has made while taking classes, often on history, literary, culinary arts and music topics. Smith, a retired community development representative, said she is signed up for fall courses on the Sistine Chapel and "Great Films, Great Directors."