A Day of Autographs: Duke Awards University Medals at Founders' Day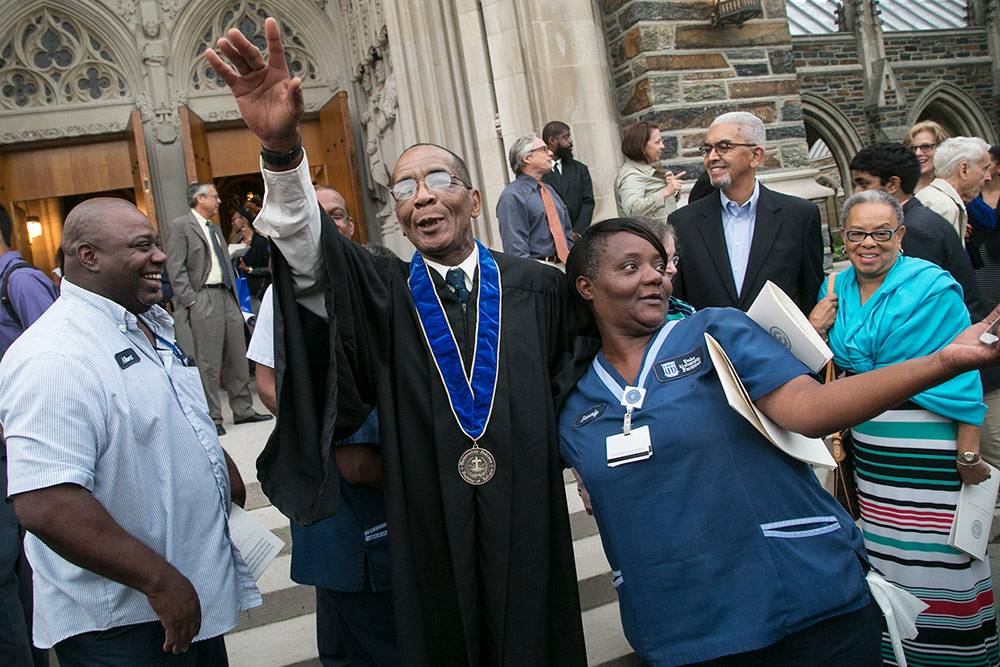 For one day, Duke Chapel custodian Oscar Dantzler stepped out of the background and became the campus celebrity that he is.  At the end of Thursday's Founders' Day ceremony, Dantzler was surrounded by co-workers and friends and spent several minutes signing autographs, posing for selfies and shaking hands.
It was a day of sharing stories about Dantzler, who arrives at the chapel at 5 each morning to make it clean and presentable for the thousands of visitors who come through the iconic building. And just about everyone, including Duke President Richard H. Brodhead, has a story about him.
In delivering the University Medal to Dantzler, Brodhead told of how one day early in his tenure as president, on a whim, he walked into the chapel alone. There, he said, was Dantzler "as if he had been waiting for me."
"Oscar asked me, 'Have you gone up the chapel tower?'" Brodhead said. "I told him no.  And he said, 'You are going to now.'"
During the ceremony, Dantzler and former Trustee Bruce Karsh received the University Medal, Duke's highest honor for meritorious service to the university.
Oscar Dantzler and Bruce Karsh wear their University Medals. Photo by Chris Hildreth/Duke Photography
Described by one student as "a campus celebrity who ironically happens to be one of Duke's best-kept secrets," Dantzler has for 19 years served as an unofficial historian and greeter at the chapel, helping visitors with needs and questions and being a friend and adviser to students as well.
As he received the medal, Dantzler received a standing ovation from the Duke Chapel audience. "After the ceremony, we will start a political campaign for Oscar's presidential run," Brodhead commented.
Karsh, who delivered the Founders' Day address, came to Duke as an undergraduate in 1974 and graduated in three years. His support for his alma mater have focused on increasing financial aid for students and improving accessibility to the university.
Karsh, who oversees more than $100 billion in assets as co-chair of Oaktree Capital Management, also helped manage Duke investments as a member of the DUMAC Board of Directors and is co-chair of the Duke Forward fund-raising campaign. In his address, Karsh praised the value of Duke's need-blind admissions and the role of DUMAC in maintaining that policy. He said that access to a university education is central to "a rise in the level of American higher education that makes it the envy of the world."
Karsh also noted that the ceremony marked Brodhead's last Founders' Day as president of the university. He credited Brodhead, who has announced he is stepping down next summer, with "taking a university that was on the rise and accelerating its growth and reputation."
Karsh added that his support for the financial aid and other initiatives came because of the strength of Brodhead's persuasiveness and commitment to making Duke accessible. "One of the joys of the job of being a trustee is coming to Duke and listening to the elegance of his words. The university is blessed to have him and his wife Cindy as its stewards."
"To sum up the takeaways from Bruce's speech: Whatever you make, you should give to Duke, and never every say no to Dick," Brodhead said to laughter. (See the full ceremony below)