What to Know for the Employee Kickoff Celebration
Ticket pick-up, where to park and security measures for Sept. 3 game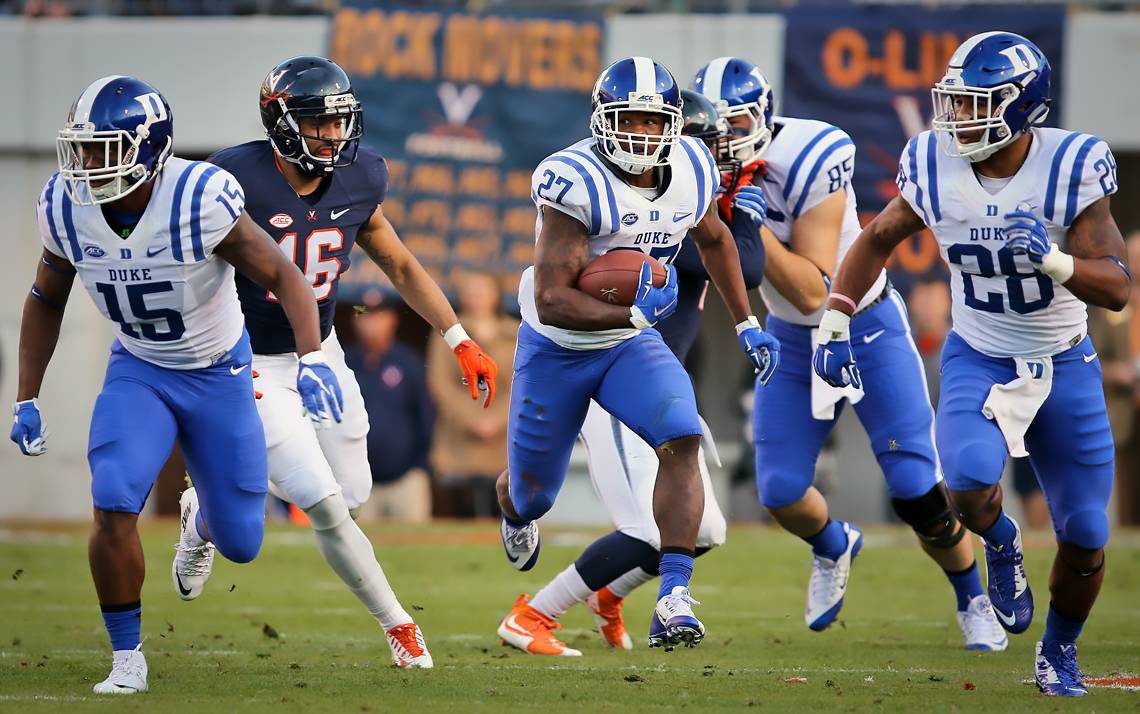 Duke faculty and staff who haven't already requested tickets to this year's Employee Kickoff Celebration will want to act fast to get into the Sept. 3 home opener against North Carolina Central University.
After two consecutive years of record ticket requests, employees are nearing the 25,000-ticket cap set for this year's game.
Employees can continue to register for up to four free tickets through noon Sept. 3. Each additional ticket after the first four is a discounted $5. If the 25,000 cap is met, faculty and staff will be able to take advantage of the gameday walkup price of $15 for an adult and $10 for children up to age 16.
Employee Kickoff festivities, which include a catered meal, inflatable games and face art, will run 3 to 5:30 p.m. Face painters will set up in the Hall of Champions on the second floor of Cameron Indoor Stadium while a DJ and inflatable bouncy houses will be outside near a food tent in Morton Plaza.
Kickoff is at 6 p.m.
Here are a few important things to know for the Sept. 3 game:
Early ticket pickup
If you pick up tickets early, you will not be able to access the Employee Kickoff catered meal on game day. Only employees who pick up tickets at the game have access to the meal.
Get your tickets the following locations this week:
Aug. 30, 11 a.m. to 1 p.m.
Bryan Center
Top floor, across from the Information Desk and Ticket Office
Aug. 31, 11 a.m. to 1 p.m.
705 Broad St.
Second floor, Conference Room 203
Sept. 1, 5 to 8 p.m.
Duke Clinic
Outside Employee Occupational Health and Wellness offices, Red Zone basement
A valid DukeCard ID is necessary to receive tickets at all locations, whether in advance or on game day.
Where to park
General Public parking lots will be open for fans starting at 2 p.m. and are free only for Duke employees who present a valid 2017 Duke parking permit. DukeCards cannot be used to access free parking.
Otherwise, parking costs $10 in cash only. No other form of payment is accepted. Duke Raleigh Hospital and Duke Regional Hospital parking pass holders will be required to pay the $10 parking fee.
To make it easier for fans to get to the game, Duke will run shuttles from off-site public parking lots, where employees are encouraged to park. Shuttles will travel between the H Lot and PGI to the Chapel Drive circle, in front of Duke Chapel.
Shuttles will run from 2 to 10 p.m. (or until one hour after the game) every 15 to 20 minutes, depending on traffic flow. Pick-up locations will be the intersections of Flowers Drive-Yearby Avenue and Flowers and Trent drives. The drop-off location will be the intersection of Flowers and Trent drives.
Additional public parking will be available in the Circuit Drive Lots, Research Drive Garage (PG9) and Campus Drive Gated Lot, but these lots will not include shuttle service. General public parking for persons with disabilities will be in the B-4 portion of the Blue Zone and the Edens Lots on Towerview Road. Accessible lift-equipped vans will be available for individuals needing wheelchair lift assistance.
Additional game day information – including directions, parking guidelines and more – can be found with Duke Athletics' "A-Z Game day Guide."
Where to pick up tickets on game day
Once employees and their guests arrive at Krzyzewskiville, they'll have two ways of picking up tickets if they did not get them early. A valid DukeCard ID is required.
If stopping for a catered meal on the K-Ville quad, faculty and staff can receive up to four free tickets while in line for food. If additional discounted tickets have been ordered, they can be picked up at the Rubenstein Ticket Booth in Cameron Indoor Stadium after getting food. There is no re-entry once a group leaves the food and drink area.
Employees who are also season ticket holders cannot enter the tent unless they are picking up tickets. Only an employee with guests can enter using the free Employee Kickoff tickets. No other form of entry is allowed.
Ticket distribution at the food tent runs from 3 to 5:30 p.m.
If employees don't plan to eat, faculty and staff can head directly to the Rubenstein Ticket Booth in Cameron Indoor Stadium. Staff will scan DukeCards and handout tickets to enter the game.
Ticket distribution at the ticket-only table will run from 3 p.m. through the end of the game's first quarter.
Arrive early: New security measures
In an effort to increase safety and security of campus visitors, fans attending Duke football games this season will take part in new security measures that include metal detectors, a no-bag policy and no re-entry once a fan has left Brooks Field at Wallace Wade Stadium.
Given the size crowd expected at the Employee Kickoff Celebration, Duke Athletics administrators encourage employees to start entering the stadium as early as possible, as estimates show it may take about 90 minutes to screen a maximum capacity crowd of about 34,000 using all available metal detectors at four gate locations.
For details about the measures and what can and can't be brought into the stadium, see this story.
Keep on cheering the Blue Devils
Employees receive more than 50 percent off the regular price for a season ticket to attend games at the newly renovated Brooks Field at Wallace Wade Stadium. Faculty and staff pay $125 per ticket, down from a normal price of $260. Duke will host six games at home this year, including matchups against ACC rivals like University of Virginia, Virginia Tech and University of North Carolina.
All reserved employee seats are in sections 3 to 10, which span the middle of Wallace Wade field between each 20-yard line. Visitors to the stadium will see completed upgrades after two years of renovations. New aspects include Blue Devil Tower, which includes press and luxury suites as well as enhancements to bathrooms. Last year, Duke Athletics added fold-down, Duke-blue chairs with armrests, seating closer to the field, and a new, state-of-the-art multimedia video board.
To purchase tickets with an employee discount, visit GoDuke.com or call the Duke Athletics Ticket Office at (919) 681-2583 and mention the employee discount.