Watch the Installation of Colorful Student-Painted 'Arts Beam' at New Arts Center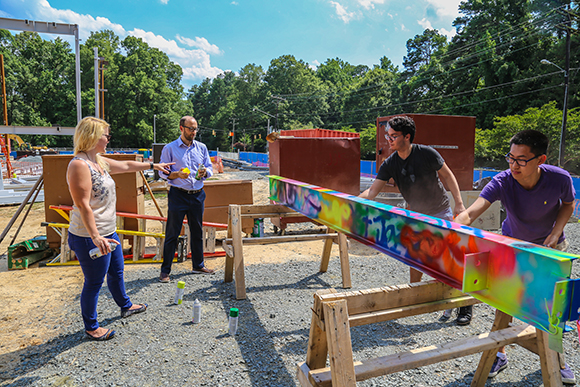 On Friday, construction workers installed an abstract, colorful I beam to the frame of the new arts center, at the corner of Campus Drive and Anderson Street. People involved in the project say it's been a construction tradition at Duke to involve the Duke community in painting or signing a beam that will be installed in a new building. The beam was spray painted in late June by four students and three staff members, and will be exposed when the arts center is completed -- a visible marker of the student-centered collaboration and artistic expression to take place throughout the building. The arts center is scheduled to open in the fall of 2017. 
The student painters were sophomore Ernesto Morfin Montes de Oca, seniors Meghan Fox and Mike Wang and graduate student Sylvia Herbold.
Assisting on the project were Bill Fick, DukeCreate coordinator in the Office of the Vice Provost for the Arts; Dan Scheirer II, staff assistant for Fraternity and Sorority Life; and Ali Shumar, program coordinator in the office of UCAE Student Involvement.
Below: Watch the installation of the beam.  Bottom, an interview with Ali Shumar about the project.