Enroll in Professional Development Courses
Online registration is open for new Learning & Organization Development classes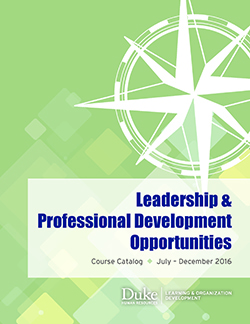 Learn how to introduce mindfulness and relaxation techniques during the workday or how to communicate effectively with colleagues with a Duke professional development course.
Read More
"Resilience: Building Skills to Endure Hardship and Prevent Burnout" and "Communicating with Diplomacy and Tact" are among about 100 classes being offered by Learning & Organization Development (L&OD) in July through December. Employees should speak with their supervisor or manager if they want to sign up for a professional development class. Online registration is now open.
"Registering for a course is one way that an employee can intentionally focus on their individual professional development journey," said L&OD senior practitioner Joy Birmingham.
Here are some course highlights:
Conflict Resolution: Learn how to handle conflict in a respectful and positive way to maintain and enhance relationships in the workplace.July 28, Sept. 21 and Nov 29. Cost: $130
Managing Multiple Priorities: Improve your ability to manage competing demands, such as deadlines and expanding workloads, and discover practical tools for meeting goals.Aug. 9 and Oct. 6. Cost: $130
Leading with Emotional Intelligence: Explore five emotional intelligence competencies – self-perception, self-expression, interpersonal, decision-making and stress management – that can help managers take a mindful approach to leadership.Aug. 30, Oct. 25 and Dec. 14. Cost: $150
L&OD also offers a Professional Development Excellence Certificate Program, which allows employees to take core and elective classes to explore a particular topic such as training, customer service, supervisory, leadership and technical excellence. About 200 Duke employees are currently working toward earning a certificate.
Visit the Learning & Organization Development website for a list of available courses and registration information.