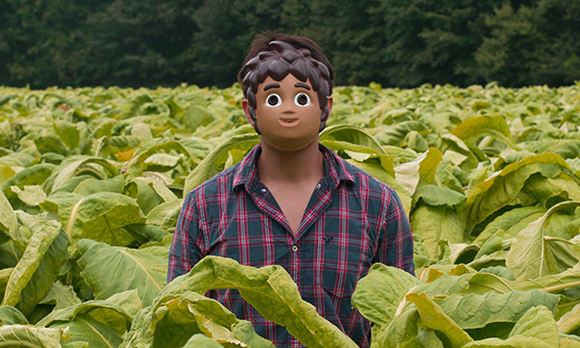 Photo art by Diego Composeco, one of the highlights of the upcoming exhibit catalog "Southern Accent: Seeking the American South in Contemporary Art"
Read More
From corporate crime and punishment and the U.S. drone war to the cultural impact of role-playing games, a wide range of topics is examined in recent and forthcoming books by Duke faculty and staff.
Here, we offer a roundup of titles for your consideration for summer reading. Many of the books, including new editions of previous titles, can be found on the "Duke Authors" display shelves near the circulation desk in Perkins Library. Some are available as e-books for quick download. Most can also be purchased through the Gothic Bookshop.
[Duke Today will provide similar updates in the future. If you are a member of the Duke faculty or staff who will be publishing a book of interest to a general audience, send us a message about it along with your publisher's brief description.]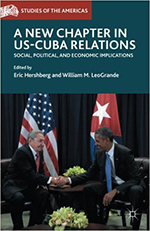 Holly Ackerman, contributor: "A New Chapter in U.S.-Cuba Relations: Social, Political and Economic Implications" (Palgrave Macmillan)
Ackerman, librarian for Latin American, Iberian and Latino/a Studies, is among the experts exploring the diverse consequences of the rapprochement brokered by Presidents Obama and Castro after more than half a century of estrangement.
Matthew Adler, co-editor: "The Oxford Handbook of Well-Being and Public Policy" (Oxford University Press)
Law professor Matthew D. Adler and his co-editor, Princeton professor Marc Fleurbaey, provide interdisciplinary approaches to assessing and improving governmental policy in light of well-being.
Curtis A. Bradley, editor: "Custom's Future: International Law in a Changing World" (Cambridge University Press)
Bradley, a professor of law and public policy studies, has edited a collection of essays by international law experts that address the development of customary international law over time, the way it is applied by international and domestic tribunals, and the challenges that it faces in the future. The book had its genesis in a yearlong school-wide project at Duke Law on custom and law that Bradley coordinated with Professor Mitu Gulati in the 2011-2012 academic year. Several Duke Law faculty members contributed essays. Bradley's chapter contends that the application of customary international law by an international adjudicator "is best understood in terms similar to judicial development of the common law." Gulati and co-author Stephen Choi offer an empirical examination of what international tribunals like the International Court of Justice cite in support of their rulings regarding customary international law. And law professor Laurence Helfer, with co-author Timothy Meyer, apply principal-agent theory to examine a shift by the U.N.'s International Law Commission in recent years away from codification efforts to "principles, conclusions, and draft articles that it does not recommend be turned into treaties."
Hal Brands: "Making the Unipolar Moment: U.S. Foreign Policy and the Rise of the Post-Cold War Order" (Cornell University Press)
Brands, associate professor in the Sanford School of Public Policy, uses recently declassified archival materials to tell the story of American resurgence, weaving together the key threads of global change and U.S. policy from the late 1970s through the early 1990s.
Samuel Buell: "Capital Offenses: Business Crime and Punishment in America's Corporate Age" (Norton, August 2016)
In his forthcoming book, law professor Samuel Buell makes the case that "corporate America prefers being prosecuted to being regulated." He recently talked about the book with Corporate Crime Reporter.
Linda Burton, co-editor: "The Oxford Handbook of the Social Science of Poverty" (Oxford University Press)
Burton, dean of the social sciences and a professor of sociology, examines poverty from a worldwide, interdisciplinary perspective. Contributors discuss the leading theories and conceptual debates regarding poverty, the most salient topics in poverty research and the far-reaching consequences of poverty on the individual and societal level.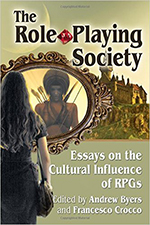 Andrew Byers, co-editor: "The Role-Playing Society: Essays on the Cultural Influence of RPGs" (McFarland & Company, Inc., Publishers)
This collection of new essays illustrates the broad appeal and impact of role-playing games (RPGs) over the last four decades. Andrew Byers is a visiting assistant professor in the Department of History. Topics range from a critical reexamination of the Satanic Panic of the 1980s, to the growing significance of RPGs in education, to the potential for "serious" RPGs to provoke awareness and social change.
Vincent Conitzer, co-editor: "Handbook of Computational Social Choice" (Cambridge University Press)
Computer scientist Vincent Conitzer, Kimberly J. Jenkins University Professor of New Technologies, takes readers to the intersection of computer science and economics with this handbook, written by 36 prominent members of the growing computational social choice community. Topics include voting theory (such as the computational complexity of winner determination and manipulation in elections), fair allocation (such as algorithms for dividing divisible and indivisible goods), coalition formation (such as matching and hedonic games), and more.
Harris Cooper: "Ethical Choices in Research: Managing Data, Writing Reports, and Publishing Results in the Social Sciences" (American Psychological Association)
Cooper, a professor in the Department of Psychology & Neuroscience, goes beyond the proper treatment of human research subjects to examine frequently neglected ethical issues that arise after the subjects have left, including interacting with the media and the scientific community after publication. He teaches students and researchers how to avoid ethical issues through early planning that begins in the early stages of a project's inception.
Andrew Field, co-author: "Shanghai Nightscapes: A Nocturnal Biography of a Global City" (University Of Chicago Press)
Andrew Field, a historian at Duke Kunshan University, explores the history of the Shanghai jazz and nightlife scene in his new book, recently featured on NPR. Over two decades of research -- which included a lot of bar hopping -- Field and co-author James Farrer, a sociologist at Sophia University in Tokyo, covered Shanghai night life from its colorful heyday in the 1920s and 1930s, to its resurgence, which began in the 1980s.
Chris Kennedy, editor: "Battlefield Surgeon: Life and Death on the Front Lines of World War II" (University Press of Kentucky, American Warrior Series)
Despite the success of the M*A*S*H franchise, there are still few authentic accounts of military doctors and medical practice during wartime. Chris Kennedy, associate athletics director and an adjunct assistant professor of English, has edited his father Paul Andrew Kennedy's journals and provided historical context to produce an invaluable firsthand account of his experiences as a medical officer in the European theater of operations in World War II. The book features a foreword by Pulitzer Prize–winning World War II historian Rick Atkinson.
Jiali Luo, contributor: "Campus Support Services, Programs, and Policies for International Students" (IGI Global)
The book explores best practices that have made study abroad programs beneficial for both the international student as well as the domestic community and host school population. Luo, an assistant director of institutional research in the Office of the Provost, wrote this book's ninth chapter, titled "Impact of International Students on Interactive Skills and College Outcomes of Domestic Students in U.S. Colleges."
Orrin Pilkey, co-author: "Retreat from the Rising Sea: Hard Choices in an Age of Climate Change" (Columbia University Press)
Professor emeritus Orrin Pilkey, writing with his daughter and son in a new book on climate change, details the specific threats faced by Miami, New Orleans, New York, and Amsterdam, and the drastic actions needed to remove vulnerable populations. A Miami Herald reviewer says the book is "clear and authoritative and for South Florida, it is urgent."
Charles Piot, editor: "Doing Development in West Africa: A Reader by and for Undergraduates" (Duke University Press, August 2016)
Piot, a professor of cultural anthropology, and Duke students explore the range of challenges, successes and failures that come with combining international study with small-scale development projects. Undergraduates recount their experiences in Togo working on projects that established health insurance at a local clinic, built a cyber café, created a micro-lending program for teens and started a local writers group. The essays show students putting their optimism to work while learning that paying attention to local knowledge can make all the difference in a project's success. Read a Duke Today story on the project here.
H. Jefferson Powell: "Targeting Americans: The Constitutionality of the U.S. Drone War" (Oxford University Press)
Law professor H. Jefferson Powell focuses on the legal debate surrounding drone strikes, the use of which has expanded significantly under the Obama Presidency as part of the continuing war against terror. Powell, who took sabbaticals from teaching during the Clinton and Obama administrations to serve as a Deputy Assistant Attorney General in the U.S. Department of Justice's Office of Legal Counsel and Principal Deputy Solicitor General, offers an insiders perspective from lawyers and policy makers involved in national security decision-making. A fundamental theme of the book is that the decision that an action or policy is constitutional is separate from claims about its wisdom, morality or legality under international norms. Read more here.
Carlos Rojas and Ralph A. Litzinger, editors: "Ghost Protocol: Development and Displacement in Global China" (Duke University Press, Aug. 2016)
Two Duke professors, one an expert on Chinese cultural studies and the other a cultural anthropologist, present a theory of contemporary China's hybrid political economy, "Ghost Protocol" situates China's development at the juncture between the world as experienced and the world as imagined.
John H. Sampson, editor: "The Duke Glioma Handbook: Pathology, Diagnosis, and Management" (Cambridge University Press) 
Sampson, professor and chair of Duke's Department of Neurosurgery, provides an authoritative, multi-disciplinary summary of glioma biology, genetics, management and social issues, based on the program at Duke's Preston Robert Tisch Brain Tumor Center, one of the world's largest centers to offer brain cancer treatment and translational research. The text is written by specialists at the center.
Trevor Schoonmaker, co-editor: "Southern Accent: Seeking the American South in Contemporary Art" (Duke University Press, Sept. 2016)
Featuring the work of 60 artists and including 330 illustrations, the catalog "Southern Accent" accompanies a major contemporary art exhibition that questions and explores the complex and contested space of the American South. Schoonmaker is the chief curator and curator of contemporary art at the Nasher Museum of Art, where "Southern Accent" will be on display from Sept. 1, 2016, to Jan. 8, 2017. Contributors, in addition to Schoonmaker, include Duke professors Mark Anthony Neal, Richard J. Powell and Tom Rankin.
Kristine Stiles: "Concerning Consequences: Studies in Art, Destruction, and Trauma" (University of Chicago Press)
Art historian Stiles has played a key role in establishing trauma studies within the humanities. Assembling essays on everything from Paleolithic paintings to the Bible's patriarchal legacies to documentary images of nuclear explosions, Stiles explores in her new book how art can provide a distinctive means of understanding trauma and promote individual and collective healing. Stiles has also contributed essays to three recently published exhibition catalogues, detailed on her Scholars@Duke profile page, and is a contributor to "Textures of Thought: Geta Bratescu, Ion Grigorescu, Dan Perjovschi," a landmark book on the three most significant Romanian artists of the last 50 years.
Daniel Vallero: "Environmental Biotechnology: A Biosystems Approach" Second Edition. (Academic Press)
Vallero, an adjunct professor in the Pratt School of Engineering, shows how biotechnology has acted as a buffer among people, pollution and the environment. He presents case studies on new technologies, such as nanobiotechnologies and green engineering, and includes information on the topics researchers must evaluate to develop further tools.
Will Wilson: "Stormwater: A Resource for Scientists, Engineers, and Policy Makers" (University of Chicago Press)
Associate professor of biology Will Wilson writes the first expansive guide to stormwater science and management in urban environments, where rising runoff threatens both human and environmental health. Often this runoff discharges directly into waterways, uncontrolled and untreated, damaging valuable ecosystems. Detailing the harm that can be caused by this urban runoff, Wilson also outlines methods of control, from restored watersheds to green roofs and rain gardens.
Joseph R. Winters: "Hope Draped in Black: Race, Melancholy, and the Agony of Progress" (Duke University Press)
Winters, an assistant professor of Religious Studies, responds to the enduring belief that America follows a constant trajectory of racial progress. In place of these narratives, Winters draws on the work of intellectuals, writers and artists such as W. E. B. Du Bois, Ralph Ellison, Toni Morrison and Charles Burnett and advocates for an idea of hope that is predicated on a continuous engagement with loss and melancholy.