3 Ways to Keep Summer Vacation Sustainable
Suggestions on how to be an "eco tourist" in Durham and abroad
The summer travel season is here, offering getaways near and far.
But as travelers plan vacations, there's an increasing interest in taking more trains and fewer planes or automobiles. That's because "sustainable" tourism, the idea of being as environmentally friendly as possible while traveling – is catching steam. 
In a 2015 survey by hotel and travel site Booking.com, 52 percent of respondents said they would favor options that can offer reduced impact on the environment. "Green" tourism is even included in the Sustainable Development Goals of the United Nations, which has already declared 2017 as the International Year of Sustainable Tourism for Development.
"With everyone being more educated about the impact of their actions, I can't really relax if I'm flying halfway around the world and think about the pollution left behind by my airplane," said Rebecca Hoeffler, program coordinator with Sustainable Duke. "If we want to preserve vacation spots, reducing our footprint is important."
As you plan summer vacations, from staying in Durham to leaving the confines of North Carolina, consider these sustainable tips. 
Staycation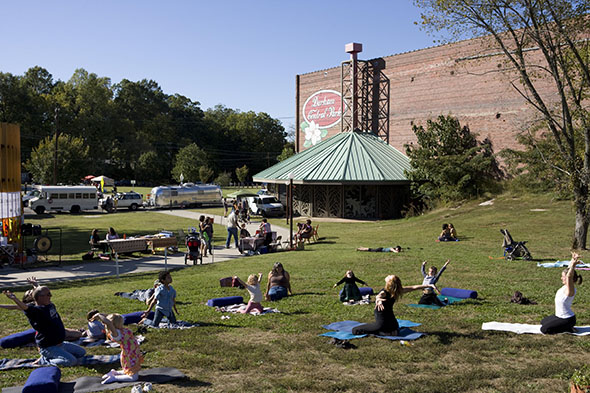 Spending a "staycation" in Durham offers a slew of activities downtown, especially during the spring and summer. Photo courtesy of Durham Convention & Visitors Bureau.
Whether family and friends are visiting or you're taking a couple days off to recharge at home, there are sustainable ways to explore the Bull City.
For transportation, the Bull City Connector offers a fare-free route along Main Street, allowing you to hop on and off at your leisure while visiting local businesses. Within walking distance of stops, farm-to-table restaurants include dining options like Local 22, Piedmont, and Bull City Burger, the first restaurant in North Carolina to earn B Corporation status, which acknowledges the business' standards of social and environmental performance, accountability, and transparency.
A visit to Durham's DIY District near downtown offers stops at Fullsteam, a brewery that focuses on local ingredients for a "plow to pint" experience, and stores like The Makery, which exclusively sells North Carolina-made and curated items.
Out of town, in North Carolina
Public transportation options via train or bus can get you out of Durham, but even if you decide to carpool with friends or family, there are plenty of environmentally friendly options waiting, including nearly 50 state parks, recreation and natural areas.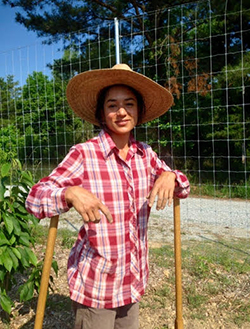 Saskia Cornes traveled the world "WWOOFing" and learning about agricutlure. Photo courtesy of Saskia Cornes.
Another option recommended by Hoeffler is to "WWOOF" – volunteering through Worldwide Opportunities on Organic Farms organization. "WWOOFers" can travel to one of dozens of farms spread across the state, from the Triangle to the Tennessee border, where they receive free room and board in exchange for spending about half a day doing hands-on work and learning about organic agriculture.
"I found all my WWOOF hosts to be warm, kind, happy to share their love for what they do, and eager to connect with people outside of their rural, often quite isolated communities," said Saskia Cornes, the farm and program manager at Duke Campus Farm whose WWOOFed in Spain, India and the United Kingdom. "For me, it was a great way of visiting more off–the-beaten path parts of these countries that I might not have seen otherwise, and of connecting more deeply with the people I met there."
Out of the Tar Heel state
Even with the best intentions, not every vacation will be at home or close by. Duke community members can still be sustainable, however, thanks to a unique Duke program.
Students, faculty, staff and even departments are eligible to buy carbon offsets through the Duke Carbon Offsets Initiative (DCOI), which invests in local, state and regional projects that reduce carbon emissions and benefit sustainability and the environment. An FAQ about how to calculate how many offsets to purchase can be found on the Initiative's website and credits can be bought in $10 increments. 
"The money raised from the sale of the offsets then goes to fund the DCOI's current and future carbon offset projects," said Jason Elliott, program coordinator with DCOI. "Projects include the Loyd Ray Farms swine waste-to-energy project, employee programs in residential solar and energy efficiency and urban tree plantings."

A Duke Carbon Offsets Initiative project at Loyd Ray Farms captures methane. Duke employees can help fund the effort buy buying offsets for their own behaviors. Photo courtesy of Duke Carbon Offsets Initiative.
If you're looking to be sustainable on a trip out of North Carolina, tips, tricks and ideas can be found online from the International Ecotourism Society, a nonprofit that promotes environmentally friendly tourism.