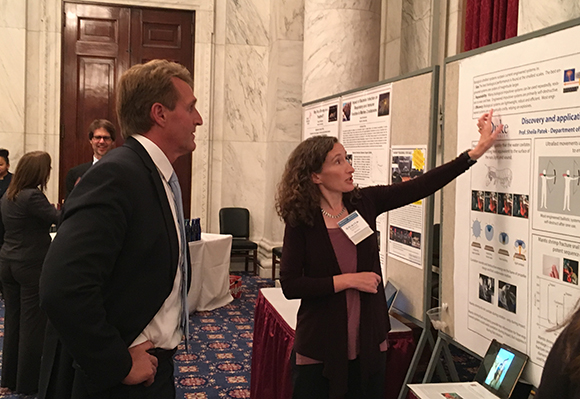 Duke Professor Sheila Patek explains her research on mantis shrimp's powerful punch to Sen. Jeff Flake. Photo by Alyssa Dack.
While the Washington, D.C., science community was focused Wednesday on the White House Science Fair, another scene was playing out down the road on Capitol Hill. The event was lower-profile than at the White House, but arguably more significant.
Inside a Senate office building, the Coalition to Promote Research hosted approximately a dozen university faculty members with some unusual sounding research projects. These projects were so unusual, in fact, that they had garnered the attention of members of Congress and the media by being pejoratively featured in "wastebooks."
Among those presenting their work was Sheila Patek, associate professor of biology at Duke. This past December, Senator Jeff Flake's (R-AZ) Wastebook, which attempts to highlight "wasteful federal spending," singled out Patek's research on mantis shrimp.
At the time, she released a statement defending her work. Her research investigates how a tiny shrimp is also one of nature's most powerful punchers, capable of using its small appendage to smash with lightning speed a clamshell – something humans need tools to do.
As a result of her willingness to publically support her research, she was invited to present her work at Wednesday's event, during which she interacted with association members, Hill staffers, and Sen. Flake himself.
Patek discussed the usefulness of her research to the military and other national defense organizations. She also took the opportunity to clarify a portion of her Wastebook entry, which overstated the actual cost of her research.
All of this was well-documented by The Huffington Post's Sam Stein in his article about the event which features extensive quotes from Patek.