Library Staffing Goes to the Dogs
New program hires canines for Perkins and Bostock libraries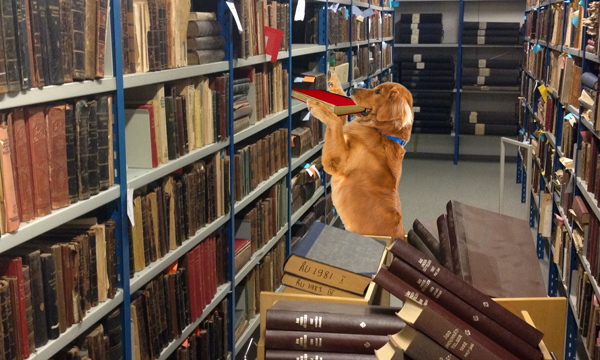 Puppy playtime is going full-time at Duke Libraries.
For several years, the biannual "Puppies at Perkins" events have been favorites of students, faculty and staff alike. So much so, the service dogs traditionally invited before finals week into Perkins Library to play with Duke community members will now take on a regular role. 
Instead of brief visits twice a year, Duke Libraries is adopting several dogs from local shelters to act as full-time staff to greet visitors, roam stacks to replace wayward books and curate a new reading section called "Tails from the Archives," which chronicles the university's historic pets. 
Duke has vetted all of the applicants, and to start, Braxton, a 2-year old Corgi; Brodie, a 4-year old Golden Retriever; and Trigg, a 5-year old German Shepherd; will join the staff. Each dog will have its own collar and nametag identifying him or her as official "empawees" of Duke.
In addition to the initial three full-time canine staff, the libraries are considering seasonal help as well: Dachshunds for the spring and summer months and Huskies during the fall and winter.
Aaron Welborn, director of communications for Duke Libraries, said demand among students for more "Puppies" events had increased exponentially in the past two years, so utilizing dogs year-round made sense. 
"We weren't going to fur-get the many phone calls and emails we received asking for more time to hang out with the animals," Welborn said. "These dogs will definitely breed more excitement. We expect the libraries to become one of the most fetching places on campus, so watch out, Cameron." 
Welborn added the Libraries are also considering a pilot program to let students and employees "check out" a dog for walks in order to avoid finding any "Catch-20 poos" among the classic literature stacks.
---
April Fools! 
Duke Libraries won't be hiring dogs any time soon, but you can visit the Libraries' blog to see upcoming events, which may include real "Puppies at Perkins" programs.