President Brodhead's Message to Duke Community
Academic Council members applaud President Brodhead following his announcement Thursday. Photo by Les Todd/Duke Photography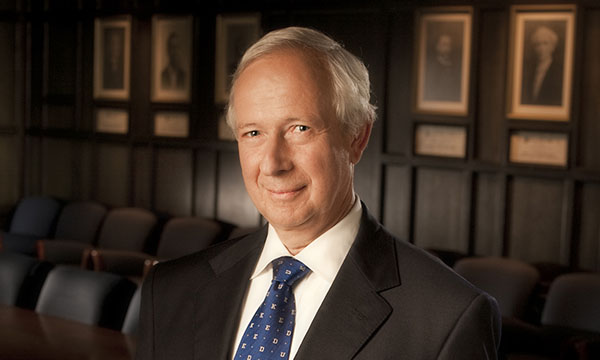 Dear Members of the Duke Community,
This afternoon, I shared word with the Academic Council that I will be stepping down as president at the end of the next academic year, in June 2017. For the past 12 years, leading this great university has been an extraordinary honor and a daily pleasure. In time, Cindy and I will find occasion to thank the hundreds upon hundreds of you who have enriched our personal lives while helping to advance this great school. This has been an unforgettable chapter in our lives.
When I first came to Duke, I encountered a school that was clearly in the top rank of universities but that had a distinctive spirit within this group. Duke has an unusually strong sense of community, and what binds people together is a vision that Duke is still being created, still reaching for the further thing it could become. I appreciated all the things that had been achieved under President Nan Keohane, but I had to wonder: how can this momentum possibly be sustained? I need not have worried. It is Duke's nature to keep pressing to live up to its highest potential, and we have made striking progress in the past 12 years.
Every school at Duke has strengthened its academic profile, and virtually every day brings word of some astonishing research accomplishment that has taken place in our midst. We have seen massive enrichment in the quality of the undergraduate experience, promoting the engaged, integrative version of education for which Duke is known. Faculty and students across the university have helped build the signature programs that bring the fruits of academic inquiry to bear on real-world problems in fields ranging from global health to energy and environment policy, with our innovation and entrepreneurship program as a key component. In recent years Duke's physical campus has been extensively rebuilt in a way that preserves the beauty of traditional Gothic while adding 21st century functionality for core activities of the university. Duke has projected itself internationally in a way that has made global connectedness an integral part of what it means to "be at Duke." Closer to home, Duke's work as first-mover investor and good partner has helped promote the revitalization of our host city of Durham, with deep mutual benefits to both sides.
Throughout this time, alumni, parents and others have continued generously to support the advancement of university priorities, including the university's first priority:  ensuring that Duke quality education will continue to be available to the most talented students irrespective of family circumstances. June 2017 will mark the close of the Duke Forward campaign, which has already raised more than $3 billion for the university's mission.
With many critical initiatives nearing completion, it seems the right time for Duke to recruit a new leader to guide the next chapter of its progress. Meanwhile, there will be plenty to do in the year ahead. Nothing in a university is the work of a single person, and in the year to come, I'll look forward to chances to thank and celebrate with each of you who have helped build the Duke of today. After a year's sabbatical, I expect to return to teaching and writing, the passions that  lured me into the academic life in the first place.
With profound gratitude for the opportunity I have been given,
Richard Brodhead
Ninth President of Duke University