Always Asking 'Why?'
Sherilynn Black, drawn to science at an early age, is a leader in neuroscience and diversity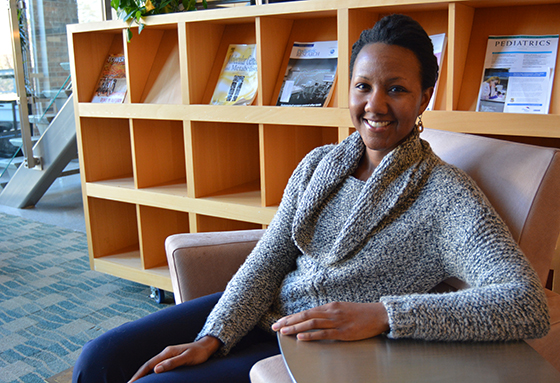 Name: Sherilynn BlackPosition: Director of the Office of Biomedical Graduate Diversity; assistant professor of the practice in Medical Education; co-principal investigator in the Duke BioCoRE programYears at Duke: 15
What I do at Duke: As the director of the Office of Biomedical Graduate Diversity, I work extensively with the underrepresented trainees in the biomedical science Ph.D. programs and also with the faculty and administration to cover the bases with all initiatives relating to diversity in the basic and biomedical sciences. I'm one of the principal investigators for the Biosciences Collaborative for Research Engagement (BioCoRE). The goal of BioCoRE is to take the fundamentals my office established of promoting excellence in science, scientific leadership and broad participation in the sciences, and expand them to the wider campus community. I'm a professor of the practice, and in that role I do research. I've become more interested in the social aspects of neuroscience, such as human behavior and social dynamics in higher education.
My first ever job: In  ninth grade, I worked in a lab in Carolinas Medical Center as a volunteer. I got into a program that let kids with an aptitude for science shadow doctors. I worked with a group who saw patients that had liver disease and did pathology assessment of liver tissue.
The best advice I ever received: Dona Chikaraishi (Duke associate dean for Biomedical Graduate Education and Leadership Services) told me that I have good instincts and that I always need to follow them. You can't really be paralyzed by fear that something won't work or that something is not a good idea. You have to try it out and get down in the trenches and not be afraid to fail. 
Sherilynn Black, center, speaks about BioCoRE at a School of Medicine event. Photo courtesy of Sherilynn Black
When I'm not at work, I like to: I am a huge foodie. I love to cook, and I also like to try different restaurants and explore food from different cultures. I also love to travel and try to take a trip abroad each year. I love nature and I do a lot of hiking. I am also involved in my church and like to volunteer. I've been involved with the Durham Rescue Mission, Catholic Charities and the juvenile detention facility called the Durham County Youth Home. I also love music and am really active in The Art of Cool, which is a jazz nonprofit.
Something most people don't know about me: I do podcasts on pop culture. A friend of mine and I have podcasts on different TV shows and it is a cool, fun way to blow off steam.
An interesting/memorable day at work for me: In 2002, I was the first African American Ph.D. student in the neurobiology department to pass the qualifying exam.  Some of the people who supported the labs, like the housekeepers, animal handlers and equipment staff, were so proud of me. I'll never forget that. I had a break midway through my exam, and I found all of the housekeepers standing outside of the room. They had all been outside of the room praying for me the whole time I was taking the test. They told me, 'You don't know how much it means to us that you're about to pass this test.' Throughout graduate school, they would bring me leftover food and invite me to their homes for holidays when I was away from my family. They were such an important part of my experience here at the university, and they were such a great reminder that we all play an important part in each other's successes.