Renowned, Resourceful Lakes Researcher Daniel Livingstone, Dead at 88
Field work in Africa yielded insights into climate, human origins, as well as hair-raising stories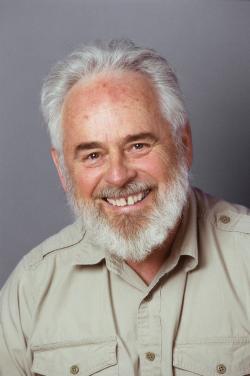 Daniel A. Livingstone, 88, James B. Duke Professor Emeritus of Biology and Geology at Duke University, died on March 6 at his home in Raleigh, NC, with his wife, family members and devoted caregivers and hospice workers close by.
The cause of death was Lewy Body Disease, a devastating cousin of Parkinson's Disease.
Dan, as he was known universally to family, friends, scientific colleagues and the many graduate students he mentored, studied the ecology of lakes, focusing primarily on Africa. The often surprising findings of his field research were relevant to scientists in freshwater ecology, biogeography, geology, paleoanthropology, climatology, and evolutionary ecology, resulting in a world-wide list of correspondents and collaborators and some hair-raising tales of adventure.
Once, on a lake in Africa, a large crocodile attacked and shredded the small rubber reconnaissance raft he and his field assistant were using to map and sound the depths of the lake before deciding where to core. The boat was lost, but the two men made a miraculous escape. The next day, Dan hired a pair of dugout canoes from local fishermen and lashed them together to fashion an improvised catamaran from which he successfully drilled a long sediment core.
On returning to America he designed a novel, lightweight skiff to replace the ill-fated rubber raft on future African expeditions. This new, pontoon-stabilized craft was built of Styrofoam wrapped in fiberglass sheeting and was unsinkable even by the largest croc.
While still a graduate student, he invented and published a description of the now widely used Livingstone piston sampler, a lightweight coring device for sampling the undisturbed sediments of remote, difficult-to-access lakes. Undisturbed lake sediments can be rich repositories of detailed, datable records of past climatic and environmental changes as fossil pollen and plankton become preserved in layers that accumulate over many thousands of years.
Dan's data from tropical lakes in Africa was important to anthropologists studying the evolution of early man in Africa and to students of global climatic change. The first sediment cores he obtained, in July 1960 in the Ruwenzori Mountains in Uganda, provided convincing evidence that the great ice sheets that covered much of the northern hemisphere until about 15,000 years ago had an equatorial equivalent: colder, drier climates had produced much larger glaciers than exist today on the high mountains of East Africa. The ice sheets of the northern hemisphere could now be understood as part of a climatic cooling of the whole globe.
Daniel Livingstone was born on August 3, 1927 in Detroit, MI to Canadian parents, Harrison and Elizabeth Matheson Livingstone. The family soon moved back to eastern Canada where Dan grew up a proud Canadian citizen, devoted like his father to his Nova Scotian and Scottish ancestors and to their maritime traditions and music.
The first of his family to complete college, Dan briefly attended McGill University before moving to Dalhousie University in Halifax for his Bachelor's and Master's degrees and then to Yale for his Ph.D. After a postdoctoral year at Cambridge, he began his teaching career with year-long appointments at Dalhousie and the University of Maryland before accepting a tenure-track appointment in the Zoology Department at Duke University, with a focus on Limnology (the study of lakes) and Ecology.
Arriving in 1956, Dan stayed at Duke for the rest of his career and on into retirement, maintaining his research lab until the final year of his life. He was recognized with major honors including a Guggenheim Fellowship, the G. E. Hutchinson Medal of the American Society of Limnology and Oceanography and the Kilham Memorial Lecture from The International Society of Limnology.
Dan is survived by his wife, Patricia Palmer, as well as his former wife, Bertha Livingstone; by his sister Betty (Jay) Smith of Edmonton, Alberta, Canada; by his children: Laura Livingstone (Anthony Benson); Mary Livingstone Farrell (David); Malcolm Livingstone, Beth Livingstone (Joe Halby) and Christine Livingstone; by grandchildren Ian Farrell, Erik Farrell, Sam Van Oort, Luke Van Oort; by stepchildren Patrick Palmer, Michael Palmer (Meredith); by step-grandchildren Zach Palmer, Brooks Palmer, Tyler Palmer and Grace Palmer; and by his beloved canine companion, Maggie. He was predeceased by his parents and by his sister Eva.
A private family memorial service will be held in Cape Breton, Nova Scotia at which time his ashes will be spread overlooking the Bras d'Or Lakes.
Dan's family would like to thank members of Transitions Life Care, Dr. Amy Shaheen, and caretakers Rufus Short and Debbie Williams for the kindness and care given to Dan in his final days. Memorials may be made to Transitions Life Care, 250 Hospice Circle, Raleigh, NC 27607.