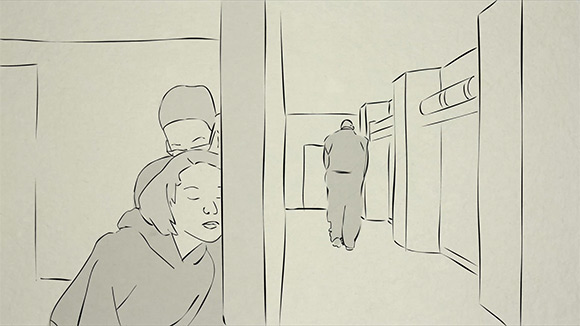 When they first met, C.E. Jordan High School student Destini Riley and then-Duke Master of Fine Arts (MFA) candidate Nick Pilarski had no idea they would make a short film together. The only thing on their minds was helping Riley's older brother, Carlos Riley, Jr., avoid a lengthy federal prison term.
But that meeting spurred an artistic partnership resulting in "I, Destini," a 17-minute, animated documentary exploration of the trauma of having an incarcerated family member. While Carlos, Jr., who was sentenced to 10 years in federal prison in August, is frequently referenced in the film, "I, Destini" is narrated by Destini, now 16 and a junior at Jordan high, and focuses primarily on her observations of her family life after her brother's arrest.
The film, which features Riley's animated sketches, will premiere at the Full Frame Documentary Film Festival April 9 at 10:10 a.m., alongside "Sonita," another short film. The joint screening will take place in Cinema 4 in the Durham Convention Center. Destini is an alumna of Full Frame's annual summer camp program, School of Doc, where DPS students learn all the ins and outs of documentary filmmaking and create their own documentary film.
Pilarski, whose credits include documentary theater in India and playing a Blue Man in the Blue Man Group, enrolled in the MFA/EDA program in 2013 hoping to produce a piece on soul food. His exploration of the food service industry in Durham took him to JC's Kitchen, a local soul food restaurant owned by Destini's aunt, Phyllis Terry.  
"It embodied this ethos that I was after, as a community center," said Pilarski, who received his MFA from Duke in 2016 and is now a Lewis Hine Documentary Fellow working in New York City. " Of course, at the time I wasn't like 'oh, this is going to be my documentary project.' I was focused on how I could provide bare-bones help to this family, so I made a few short documentaries to bring advocacy to the issue. Through that process, I grew to know the family well."
After attending several community meetings at JC's Kitchen, Destini's father, Carlos Riley, Sr., invited Pilarski to have dinner at his home. The meal—coupled with one of her sketches—served as the launching pad for her artistic partnership with Pilarski.
"Nick saw one of my sketches, I think of Obama, sitting [on top of the] TV while we were having dinner," Riley said. "He wanted to know who did it. Then he met me and I started showing him all the other work that I had done. Ever since then, we just clicked."
To capture Riley's thoughts as authentically as possible, Pilarski asked her to record herself reflecting on her visits with Carlos, Jr., her time at school and her home life. Destini said that from the beginning, her family encouraged her to be honest. 
"At first, I was a little nervous about what my family would think of the movie," Riley said. "My mom cried when she saw the scene [with the Riley family sitting in separate parts of the house]. I think it was hard for them to realize how [Carlos's incarceration] had affected us, but they have always been supportive."
In addition to her voice, Riley also provided the animated sketches that bring her narration to life. A complicated task at first, Pilarski said it ultimately strengthened the duo's collaboration as artists, allowing them to overcome differences in age and professional experience.
"We decided to put our powers together and do this in a different style," Pilarski said. "I think the animation fit really well with her imagination. She would talk about a lot of things that couldn't easily be filmed."
Riley is now interested in studying film or technical theater at either New York University or The Cooper Union, a highly selective arts and engineering school in Manhattan, after she graduates from Jordan.
"At first, it was a little intimidating because I didn't know anything at all about film," Riley said. "I didn't know what Nick's expectations would be. But once we started to work together, I started to trust him more and ever since then, he's taught me everything I needed to know. Now, he's like a big brother."
Riley's friends and family viewed rough cuts of the film last July.. Both Pilarski and Riley said the reactions were overwhelmingly positive. 
The pair now waits to see if the film gains entry to other documentary film festivals, which Pilarski said he hopes will lead to informal screenings of the film in local places in cities where the film is accepted.
We want to screen the film at libraries, community centers, churches and restaurants," Pilarski said. "For us, that is the best way to continue the grassroots discussion at the heart of the film."
And while the festival attention is exciting for Riley, her main focus was always on one viewer in particular.
"My brother Carlos has seen it twice," Riley said. "They played it for the jury during the citizens' part of the trial in court, and he loved it.
For more information on the Full Frame Documentary Film Festival and a complete list of the films featured in this year's festival, click here.