Employee Art Show Winners Announced
A Duke informatics educator wins "Best in Show" for his photo from the State Fair
The sun was setting over the North Carolina State Fair when Michael Palko noticed how rising smoke from crisping turkey legs curled in the twilight. Unnoticed by a nearby cook, Palko held up his iPhone and snapped a photo.
The black and white image, now framed in an Arts & Health at Duke gallery in Duke Hospital, won "Best in Show" Wednesday in the 37th Duke Employee Art Show.
"I was absolutely floored," said Palko, a Duke informatics educator with Duke University Health System Clinical Education & Professional Development. "The opportunity to have a forum like this and put your work on display, that's why I do it. It's not for the prizes. It's so people can enjoy it."
The Employee Art Show is organized by Arts & Health at Duke, which brings arts programming to the Health System. Duke employees, retirees, immediate family members of Duke employees, and Duke Hospital volunteers submitted artwork this year, ranging from paintings and photography to jewelry and pottery.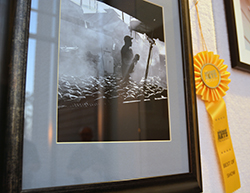 Michael Palko's "Best in Show" piece, "At the Fair."
All 141 entries are now on display through May 2 in four exhibit spaces across the medical campus. All participants received a certificate, and $2,400 in cash prizes was awarded to the winners.
The judges were former Duke Eye Center arts coordinator Betty Haskin, Durham photographer Eleanor Mills, and Raleigh painter Eric McRay. They spent five hours deliberating on who would take top prizes in the Best in Show, Professional, Intermediate, Amateur, Teen and Youth categories.
"It's amazing to see all of the various talents people have here, how many people submitted work and how varied the departments were that they came from," said Jennifer Collins-Mancour, Arts & Health at Duke's visual arts program coordinator. "It's fun to see the energy it brings to the participants and how they can be seen in a different light from their everyday work atmosphere."
Here are the winners of the 37th Duke Employee Art Show:
Best in ShowAt the Fair, Michael Palko
Professional1st – Jewel Trail, Michelle Minah2nd – Knit to Felted Gray Purse, Paul Figuerado3rd – Mountain View, Arienne C. PulliamHonorable Mention – FLICKERLAND (Series 1) #4360, Shawn RoccoHonorable Mention – Empty Word, Tedd AndersonHonorable Mention – Sad Crude Day, Joanne PenningHonorable Mention – Under Spokane, Ben Bridgers
Intermediate1st – Portrait of the Abbot, Marilyn Telen2nd- Woven: An examination of traditional woven textiles through quilting., Rebeka Branagan3rd – Tooled Leather Art Journal Cover, Robin KirwanHonorable Mention – Cactus, Yuliya LokhnyginaHonorable Mention – Playin It, Teresa FowlerHonorable Mention – Pomegranate in Bloom, Tulay Yilmaz-SwensonHonorable Mention – Deep Sea Symphony: A Study in Bioluminescence, Reneaue RailtonHonorable Mention – What a Time, to be Alive, Lauren SegallaHonorable Mention – Illusion, Suzette Ervin
Amateur1st – After the Quake in Nepal, Michel Landry2nd – Untitled, Megan Gillum3rd – Hidden Sun, Janice Thalman
Teen1st – Under the Big Top, Madison Railton2nd – A Mothers Love, Ashlyn Scoggins3rd – Ice Race, Alyssa Suhocki
Youth1st – Buzzy, Ava Ramsey2nd – Rex, Garrett Allison3rd – Painted Feathers, Leanna Tunney