A Niche Network
More than 450 alumnae returned to Duke Feb. 18-20 for the fifth Women's Weekend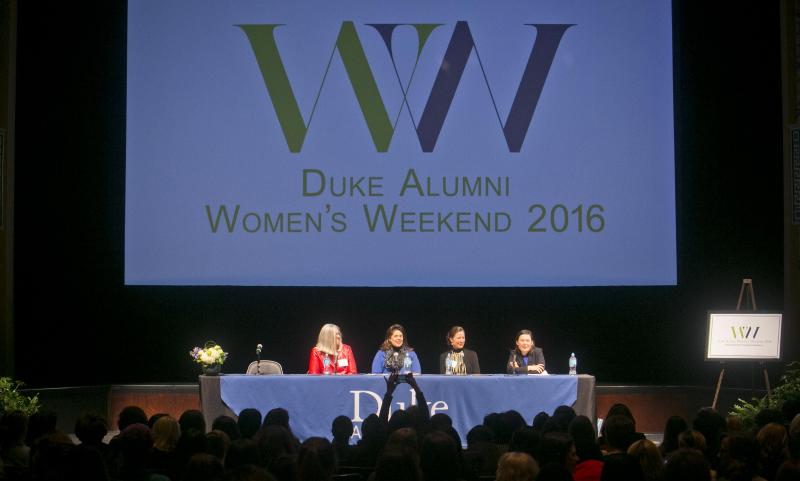 When Jacqueline Hampton '93 attended Women's Weekend two years ago, she used the opportunity to run her startup ideas by some of the most powerful women in the room. The former Time executive was working as CEO of Springpad, an app that acts like a digital notebook for projects and lists, but Hampton wanted buy-in about an idea for a new travel app that she couldn't get out of her head. 
She sought out Lesley Jane Seymour '78, the editor-in-chief of MORE Magazine, who was grabbing a bite to eat during a scheduled Women's Weekend dinner -- and a business partnership was born.
"I asked her if I could run an idea by her," Hampton says. "She gave me some great advice. She said: 'If you ever do that travel thing, let me know.'"
And so when Hampton was ready to pursue her travel startup full force, she emailed Seymour. They set up meetings, and Seymour became Hampton's mentor in the journey. 
It's those kinds of networking connections that make Women's Weekend worthwhile, Hampton says, who came back to Duke Women's Weekend Feb. 18-20.
"I was so impressed that she was very approachable and open. She's the editor of MORE Magazine. She's a very busy lady," Hampton says. "It shows the power of Duke women, and the connections you can make through Duke women."
Now in its fifth iteration, Women's Weekend is an event the Duke Alumni Association sponsors to deepen alumnae enagement with Duke and to each other. The 2016 Women's Weekend drew more than 450 alumnae from across the U.S. who heard from nearly 60 alumnae speakers, including keynote speaker Deborah Lee James '79, the secretary of the U.S. Air Force, on panels addressing topics such as diversity in the workplace, negotiating a salary and changing careers. 
Seeking out leads for a new job wasn't the aim of Valerie Rind '83 when she signed up for Women's Weekend. She was asked to be a speaker on panel of alumnae giving financial advice. But in January, Rind, who has written a book about financial ruin and recovery called Gold Diggers and Deadbeat Dads, was laid off from her attorney job at a tech company. 
Getting in front of her fellow Duke women was a no-brainer. Rind knew she had advice to give -- and that she would find alumnae who could help her out as well. 
Her advice for the room of about 50 women at the panel? Tell your story -- and let the people within your network know you are looking for new opportunities. You never know where your next job is going to come from, she told the group. For Rind, that may come from her Women's Weekend network.
"A woman who was at the panel offered to forward my resume to her tech company that is located near me," she says. "It shows the power of the Duke connection."
During a cocktail reception during this year's Women's Weekend, Carey McKearnan '93 spotted her former classmate Anjali Kataria. They hadn't seen each other in years.
Kataria, the CEO of Mytonomy -- a content company that provides explainer videos for patients preparing for surgery -- and McKearnan, who runs her own public relations and events marketing company, caught up over appetizers just as the reception was winding down.
"I'm looking for an events marketing company," Kataria told McKearnan and shortly after they exchanged business cards and promised to connect after Women's Weekend to see how they might work together. 
That kind of networking has staying power, Hampton says, because the Duke connection alumnae share provides common ground that can help accelerate new ventures with each other.
For Hampton, a repeat appearance at this year's Women's Weekend didn't disappoint. The weekend gave her the opportunity to pitch her new travel app, which will allow users to create and share travel itineraries, and she walked away with the names of 15 Duke alumnae who wanted to join her focus group.
"I think the Duke connection, it's just a starting point," she says.