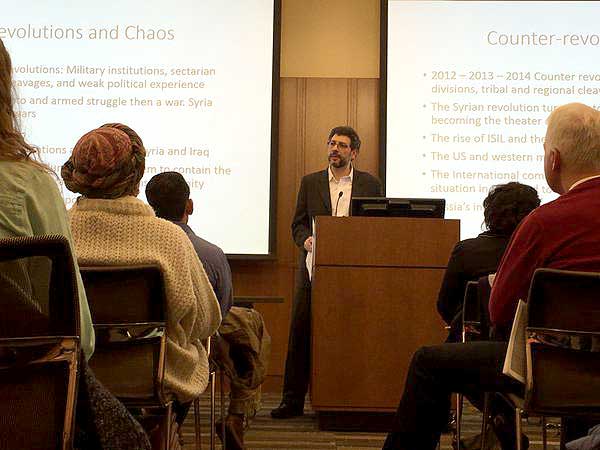 Ziad Majad presents the keynote speech at the two-day conference on the Arab refugee crisis.
The Syrian refugee crisis was decades in the making. The international community now has less time to try to resolve it.
That was the message from a series of scholars, journalists and artists who spoke at a two-day conference last week at the Rubenstein Library. The panelists looked at the historical, political and cultural roots of the current crisis across the Arab world. In Syria, half of the population has fled their homes.
All criticized the international response as inadequate, but many discussed how the international order is limited in its ability to respond to refugee crises.
"There's nothing worse than the Syrian situation today," said Ziad Majed, assistant professor of international and comparative politics at the American University of Paris. Majed delivered the keynote address Thursday.
"Syria is a new laboratory for injustice," said Majed, urging the international community, as they meet to negotiate a peaceful solution to the crisis, to pay attention to reports by groups such as Human Rights Watch and Amnesty International that have documented war crimes perpetrated by the Assad regime.
Majed said that the international community has instead prioritized fighting Daesh (ISIS) in recent negotiations in Geneva, and that "the main enemy is now seen to be ISIS, not Assad" -- much to the frustration of many Syrians.
He said that Syrians will return to Syria if they can but that many are now making new lives elsewhere -- resigned to the fact that they might not be able to return for years, if ever. Half of Syria's population is already displaced inside and outside its borders.
Majed believes that an international accord and political consensus is possible, but not as long as Bashar al-Assad remains in power. 
"Criminals can stay in power if powerful states support them," he warned. "Everyone is intervening in Syria. No one is seeing what the Syrian people want."
He said that revolutions across the Middle East had turned from peaceful movements to armed struggle to proxy wars, with Tunisia "the only success story" where there was "lots of hope for the democratic process."
Despite disappointment, it was that initial yearnings of the Syrian people that still gave him some optimism. "Will the Syrian people win in the end? I hope so," he said.
Faris Barakat addresses the audience at a conference on the Arab refugee crisis.
One powerful moment of the conference came when Faris Barakat, with his mother in the audience, presented an update on his late-brother Deah's plans for a dental aid project for Syrian refugees and showed Deah speaking on video with such hope.
Deah and his wife and sister-in-law were murdered in Chapel Hill a year ago over an apparent parking space dispute that many called a hate crime. Their shocking deaths received nationwide and worldwide attention.
But Faris, even in his grief, asked: "Why hasn't as much attention been paid to lives of Syrians as the lives of these three?"
At Thursday's panel discussions, UNC History professor Cemil Aydin outlined the refugee crises of the late Ottoman Empire and post-World War I period, which set in motion political problems confronting both the Middle East and Southern Europe today.
As the Ottoman Empire lost territorial control in the Balkans, Greece and the Caucasus, its collapse led to both massacres and mass migrations. An international order built on heterogeneous empires was replaced by a new order, Aydin said.
"The new nation-states were created on nationalist narratives of redemptions that tried to justify the suffering of the refugees," Aydin said. "The refugees had suffered so that a new nation could be born. The global norm throughout saw these refugee movements as necessary to create a stable international order."
But, these nations and the corresponding international order now find it impossible to respond to issues of long-standing minority groups and current refugee movements that challenge that homogeneity. 
"We are living the legacy of this assumption in Syria now," he said. "Contemporary Syria shows this was a big mistake, and the international order doesn't know how to respond and cope."
Duke Professor Robin Kirk added that the inept global response to the refugee crisis is leading some to suggest it's time to renegotiate the major international refugee treaty.  Written during the refugee crisis following World War II, the landmark 1951 refugee convention was the first-ever international agreement on refugee movement.
"But there's a reason why the refugee convention is so weak," said Kirk, director of the Duke Human Rights Center at the Franklin Humanities Center.
"The convention establishes the principle of refoulement, which prevents nations from returning refugees to a situation of danger," Kirk said. "But there's no requirement that any nation take them. The United Nations is supposed to care for refugees, but it is weak and underfunded."
In another panel discussion, David Graham, Duke '09, a reporter for The Atlantic, noted that many American media outlets have offered only politicized coverage of the crisis, covering it as it pertains to United States immigration policy, national security and party platforms rather than treating it as a humanitarian issue.
"These news stories turn a human crisis into just another brick in the wall of the 2016 presidential campaign," he said, "scarcely taking up more space" in news reports and the public mindset than Hillary Clinton's stance on campaign finance or Bernie Sanders' performance in the latest debate.
Graham said what's missing from this coverage -- coverage that represents refugees as "an undifferentiated, squalid, invading mass," he asserted -- is context, including an explanation of why refugees are being relocated in the first place.
Lebanese journalist Khaled Saghieh said reporters outside the U.S. face similar challenges in offering multidimensional representations that "change the negative perceptions of vulnerable groups," despite the often conflicting public sentiments about Syrian refugees and the pressures those sentiments bring to TV news stations.
But Ammar al-Ma'mun, a Syrian journalist based in Paris, argued that attempts to humanize refugees can also run the risk of reducing them to victims. "'Refugee' is a political status, not an identity," he said, noting that simplistic victimization narratives can influence public perceptions of Syrians for generations. 
Other panels explored cultural issues and identity challenges for the refugee community and presented oral histories of refugee stories documented by Duke students under a Mellon Humanities Writ Large grant.
Pictured below, the conference also displayed art by Syrian refugees on sale through the Amal Foundation. The artists come from the Za'atari refugee camp in Jordan and include work by art professionals and students and youth who developed their interest while in exile. All proceeds from the sale went directly to the artists.