Pauli Murray and Eleanor Roosevelt: A Friendship Built on Social Activism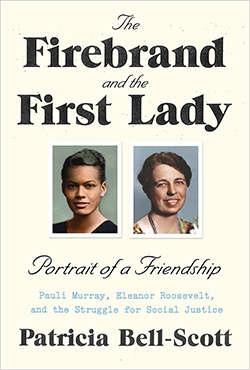 The surprising friendship between a leading African-American activist from Durham and the first lady of the United States has never before attracted a lot of attention from scholars. But now a new book explores how Pauli Murray and Eleanor Roosevelt helped alter the course of race and racism in Ameria.
Patricia Bell-Scott, professor emerita of women's studies and human development and family science at the University of Georgia, was on campus this week for two events discussing her new book "The Firebrand and the First Lady" and about her 30-year career as a scholar. 
The book has received positive reviews for showing how the friendship between the women advanced the cause of civil rights for women and blacks.
Pauli Murray first saw Eleanor Roosevelt in 1933, at the height of the Depression, at a government-sponsored, 200-acre camp for unemployed women where Murray was living, something the first lady had pushed her husband to set up in her effort to do what she could for working women and the poor. The first lady appeared one day unannounced, behind the wheel of her car, her secretary and a Secret Service agent her passengers. To Murray, then aged 23, Roosevelt's self-assurance was a symbol of women's independence, a symbol that endured throughout Murray's life, Bell-Scott said.
Bell-Scott discussed the friendship during a conversation Tuesday night at Smith Warehouse sponsored by the Pauli Murray Project, an effort of the Duke Human Rights Center at the Franklin Humanities Institute.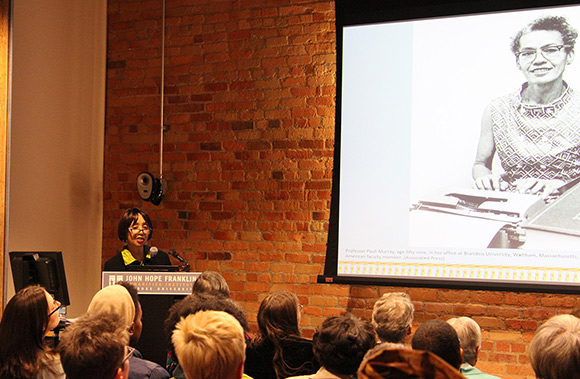 Patricia Bell-Scott speaks Tuesday at the Smith Warehouse about her new dual biography of Murray and Roosevelt.
Bell-Scott spent two decades conducting research for the book.  She talked about the friendship between Murray and Roosevelt on WUNC-FM. Reviews of the book can be found in the New York Times and the Wall Street Journal.
In a second talk, held Wednesday in Rubenstein Library, Bell-Scott addressed graduate students about lessons from her research career (below). Bell-Scott reflected on the challenges and rewards of doing life history research,  how one's relationship to the subject changes over time, and the factors that influenced her methodology for carrying out the research.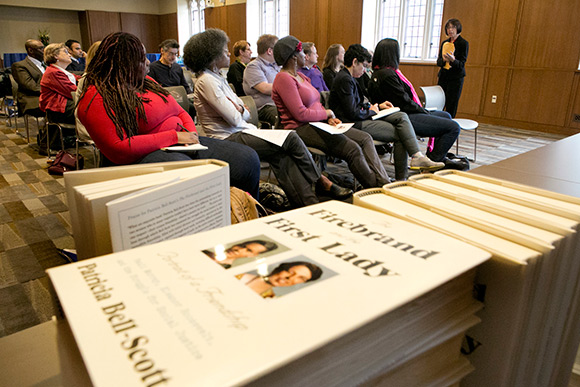 Photo by Les Todd/Duke Photography