UNC President Emeritus Ross Named Sanford Fellow at Duke
Will work with new center on politics, leadership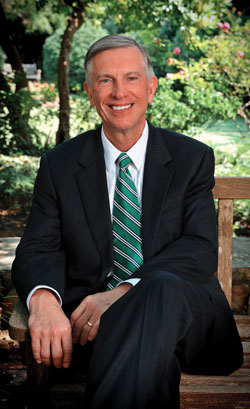 UNC system President Emeritus Thomas W. Ross has been named the first Terry Sanford Distinguished Fellow at Duke University's Sanford School of Public Policy.
The Terry Sanford Fellowship and Terry Sanford Distinguished Lecture were created to facilitate visits to Duke by "men and women of the highest personal and professional stature," such as presidents, prime ministers and cabinet members, chief executive officers of corporations, visionary artists and esteemed scholars. The fellowship and lecture are endowed by the William R. Kenan Jr. Charitable Trust. 
During his fellowship, Ross will focus on a variety of policy issues and will work with POLIS, Duke's new Center for Politics, Leadership, Innovation and Service, to launch a bipartisan project aimed at improving how political district lines are drawn in the United States. 
"We are delighted to welcome a person of Tom's stature and experience to Sanford," said Kelly Brownell, dean of the Sanford School. "The school is working on a number of projects to enhance our impact in North Carolina, and with Tom's decades of experience in public service, he will provide important guidance for that effort."
In addition to the redistricting project and working with Sanford School leaders to engage with policymakers, Ross will deliver a public Terry Sanford Distinguished Lecture and consult with faculty and students. His partnership with Duke and the Sanford School begins Feb. 1 and will continue at least through the spring semester.
"Tom is one of our state's most respected academic and civic leaders, and he is the perfect person to lead a project on districting processes across the nation," said Frederick "Fritz" Mayer, associate dean at Sanford and director of POLIS. "We are excited to be working with Tom on this important issue."
Ross, a graduate of Davidson College and the UNC-Chapel Hill School of Law, served as president of the 17-campus UNC system from January 2011 through January 2016. Previously he served as president of Davidson College, where he earned his undergraduate degree in political science; as executive director of the Z. Smith Reynolds Foundation; and as a North Carolina Superior Court Judge for 17 years. 
At UNC, Ross led the North Carolina public university system through difficult financial times while focusing on student success and increasing educational attainment. He worked with the UNC Board of Governors to develop and begin implementation of an aggressive strategic plan and selected chancellors at 11 of the 17 UNC institutions.
At Davidson, Ross implemented The Davidson Trust, making the college the first liberal arts institution in the nation to replace loans with grants in all financial aid packages, giving all students the opportunity to graduate debt-free. 
As Superior Court judge, Ross was appointed to lead a state Sentencing and Policy Advisory Commission. The commission developed a structured sentencing system that was adopted by the N.C. General Assembly in 1993 and considered a national model. 
Ross has received many awards during his career, including the William H. Rehnquist Award for Judicial Excellence (2000), given annually to one state judge in the nation; Governing Magazine's National Public Official of the Year (1994); The Echo Foundation Award Against Indifference (2015); and Distinguished Alumni Awards from both Davidson College and the UNC-Chapel Hill School of Law. 
In recognition of his service to the state, Gov. James B. Hunt Jr. named Ross a recipient of the Order of the Long Leaf Pine in 1999. 
"I am delighted to have the opportunity to work on important policy issues with the outstanding faculty, staff and students at the Sanford School," said Ross, a native of Greensboro, North Carolina. "It is particularly meaningful to me to serve as the first Sanford Distinguished Fellow and to be associated with such a great university."
Ross remains a tenured faculty member at UNC-Chapel Hill and plans to return to the School of Government there after a one-year sabbatical. 
Mike Smith, dean of the School of Government said, "Those of us at UNC are delighted Tom will be the first Sanford Distinguished Fellow and know he will add great value to the excellent work happening at the Sanford School. Both UNC and Duke will benefit from collaborative opportunities that will arise from this fellowship, and we are eager to welcome Tom back to our faculty after his sabbatical."