MLK Speaker Calls on Colleges to Fight Equity Gaps
Shaun Harper says colleges need to give white students historical perspective on race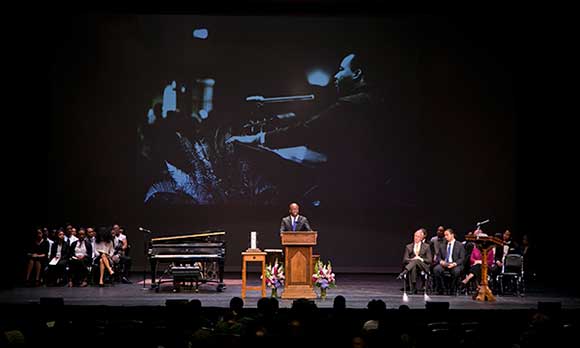 Shaun Harper speaks during Duke's annual MLK Commemoration in Page Auditorium. Photo: Megan Morr/Duke Photography
Read More
In a keynote address Sunday from the Page Auditorium stage where Martin Luther King Jr. spoke 51 years ago, race and equity scholar Shaun Harper reflected on the recent wave of campus activism around the country and called on colleges and universities to give their white students the historical perspective and diverse interactions they need to overcome racial biases.
Speaking during Duke's annual Martin Luther King Jr. commemoration service, Harper, founder and executive director of the Center for the Study of Race and Equity in Education at the University of Pennsylvania, told a rapt audience of several hundred people that he considered simply reading to them King's open letter from his Birmingham jail cell in April 1963 because of their "obvious relevance to our current situation."
Injustice anywhere is a threat to justice everywhere, King noted in his famous letter. "Injustice in the tragic deaths of Sandra Bland in Waller County Texas, Tamir Rice in Cleveland, Ohio, Trayvon Martin in Sanford, Florida, and so many others in so many other places is most assuredly a threat to justice here in Durham," Harper said.
Harper spoke mid-stage at a podium positioned just steps from a lectern and microphone believed to have been used by King when he spoke at Duke on Nov. 16, 1964. Benjamin Reese, vice president of institutional equity at Duke, remarked on the placement of the lectern on the stage and said that "even though the microphone is not live, his spirit is." (Listen to excerpts from King's 1964 talk here.)
"Dr. Martin Luther King Jr. was a drum major for justice," Harper said. "Our nation needs more like him -- we need Duke, North Carolina Central, UNC and N.C. State to better prepare them. We need many, many more of them to be critically conscious, well-prepared college graduates who understand that injustice anywhere is a threat to justice everywhere."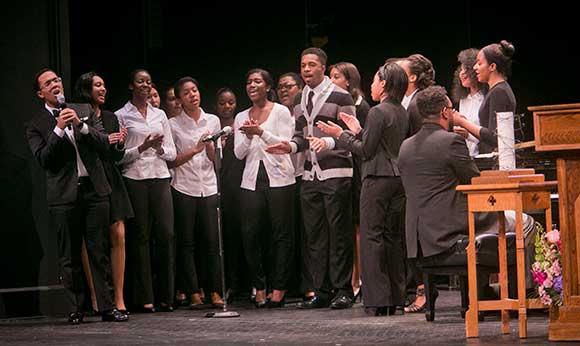 Duke student group United in Praise performs during the MLK commemoration. The podium to the right is the one used by Martin Luther King Jr. during his Page Auditorium address in 1964. Photo by Megan Morr/Duke Photography
Harper, who is president-elect of the Association for the Study of Higher Education, said universities set their students up to fail the nation if they don't teach them how to narrow racial equity gaps.
University leaders are partly responsible, he said, when "unexamined implicit biases compel white executives to promote only white people to key roles in the company, or when the white teacher disproportionately refers black students to the principal's office and they are suspended for doing many of the same things as their white classmates, or when the Supreme Court ultimately determines that race really should not matter in admissions because students of color now have an equal shot at making it to elite universities like Duke and UNC."
Harper shared several stories collected into a chapter, titled "The Mis-Education of White America," from his forthcoming book "Race Matters in College." He recalled meeting a white collegian from West Texas who grew up on a ranch, but was attracted to the promise of campus diversity he read about in his college's admissions brochure. "He said he didn't want to grow up to be a racist," Harper said. But once on campus the student Harper called Tyler "found no educational plan to make good on those promises, even though he wanted to be in deep dialogue with people of color."
It is quite likely, Harper said, that many students like Tyler will come to our elite universities. He said social scientists report that "K-12 schools in the United States are just about as racially segregated now as they were before the enactment of Brown v. Board of Education."
Harper said he knows from the campus racial climate research he has conducted on dozens of majority-white campuses across the country that students' frustration and disappointment did not emerge all of a sudden. "I have repeatedly explained to journalists and others that the issues students were protesting are intergenerational."
He said African-American students not only want more professors to look like them, but "they also they also want their white faculty members to be more culturally competent, more aware of their implicit biases, and more committed to equally developing the full potential of all students."
Students want black lives to matter on their campuses and in our larger society, Harper said, drawing applause. "Wanting and expecting this for so long explains why black students are so suddenly upset."
In his welcoming remarks, Duke President Richard Brodhead reflected on the progress since King spoke in Page Auditorium, including the eighth year in office of a black president and two successive black U.S. attorney generals. But he added that the work of Duke public policy scholar William "Sandy" Darity, who maintains a scorecard on the state of black America, shows that educational opportunities have been unequally realized in this country and the burden of ill health falls more heavily on African-Americans.
"We must accelerate our progress," he said, noting that MLK Day is a reminder that we're called to do the work that justice demands. He promised that Duke leaders will do all that they can to make sure all students feel welcome.
Durham Mayor Pro-Tem Cora Cole-McFadden urged the audience to take positive action to address a spike in homicides in the city -- 42 in 2015. "I hope this year that we dramatically reduce the number of lives lost to senseless violence," she said. "We need your help and we need your heart." She suggested the mentoring of youth. "Get involved. Do it now. We owe it to our children."
Henry Washington Jr., president of Duke's Black Student Alliance, echoed King words and asked the audience if they would do the work for justice, as previous generations did. "I desperately hope in the coming months you will choose to be a catalyst of change," he said.
Other MLK weekend events at Duke included a concert honoring King, titled "Sounds of Justice & Inclusion," at Page Auditorium that featured performances by the Durham Symphony, John Brown's "Little" Big Band, award-winning jazz singer-songwriter René Marie and actor Keith Snipes; and an event on Durham Tech's campus to package 100,000 meals for the United Way of the Greater Triangle. Volunteers from the Duke community and other local campuses participated.
Watch the full ceremony below.