No Place Like Home
Duke Homebuyers Club helps employees fulfill dreams of homeownership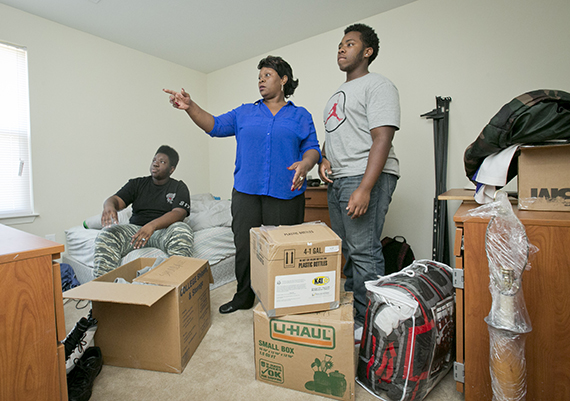 Duke senior housekeeping supervisor Sheriffe Blake and her two sons, Shondale Conley, on the left, and Mahlik Conley, on the right, settle into their new Northeast Durham home.
When Bridgit Holmes closes on her first house, her favorite room will be the TV room. It'll have plush chairs to sink into with a blanket and a good book. The TV remote will sit within reach, and everything will smell of lemons.
Holmes, a Duke Children's Hospital staff assistant, has spent the past two years in the Duke Homebuyers Club, working to repair her credit and monitoring debit card spending, all in hopes of becoming a first-time homeowner.
"I'm in a good place and I have to keep going and not give up," said Holmes, who turns 53 in December. "I'm cleaning things up in my financial past. If you have a goal, you have to make some sacrifices in order to meet those goals."
The Duke Homebuyers Club is a free program organized by the Duke Office of Durham and Regional Affairs that offers eight-week classes and monthly meetings for eligible Duke University and Duke University Health System employees. Class participants learn about budgeting, credit repair, and working with realtors and contractors.
About 30 employees have participated since fall of 2013, when the club began as a pilot to connect Duke employees who have certain income qualifications to home buying opportunities in the revitalized Southside neighborhood near the Durham Bulls Athletic Park. Duke offers a $10,000 forgivable loan to employees who meet income and work requirements and buy a home in the Southside neighborhood in Durham.
Since 2013, the Duke Homebuyers Club has expanded into a mentorship group and accepts eligible Duke employees who want to improve his or her finances and buy a home in the Triangle area.
"We are very pleased with the results to date of our Duke Homebuyers Club," said Phail Wynn Jr., Duke's vice president for Durham and Regional Affairs. "Nineteen employees have had positive outcomes including purchasing a home, qualifying for a mortgage home loan, increasing savings and improving credit scores."
So far, seven Duke employees have purchased their first home through the program, and in the next two years, seven more people are expected to be eligible to do so.
"Everyone deserves a stable home," said Mayme Webb-Bledsoe, who helps lead the Duke Homebuyers Club as a senior neighborhood coordinator with the Duke Office of Durham and Regional Affairs. "Everyone should have a place where they feel safe and allows their families to grow."
Breaking ground on a dirt lot
Sheriffe Blake enjoys her new kitchen and dining room with her sons, from left to right: Terrence Taffe, Shondale Conley and Mahlik Conley.
 Whenever Sheriffe Blake considered homeownership, her response was "not right now."
As a single mom living in apartments and funneling much of her income toward student loans, Blake never thought she would be standing in her own quiet backyard.
At 42, she fell in love with a dirt lot speckled with pine trees in a Northeast Durham subdivision. At the beginning of 2015, she watched builders break ground.
To keep on financial track to buy her first home, Blake kept a notebook to record her weekly receipts, and she cut expenses such as going to movies. She had never used credit cards but learned how to establish a positive credit record.
"I knew that I wanted it to be a fresh start for me, so the house had to be fresh," said Blake, a senior housekeeping supervisor at Duke. "It had to be new. I've pretty much seen it grow from the dirt to a beautiful home."
In September, Blake and two of her three sons moved into their new, two-story home. On a recent Monday, her sons, Mahlik, 17, and Shondale, 18, were upstairs, moving cardboard boxes amid dictionaries, sneakers and lamps in their rooms.
"I just couldn't even see this day two years ago," Blake said. "But it's amazing when things fall into place."
Fixing a credit score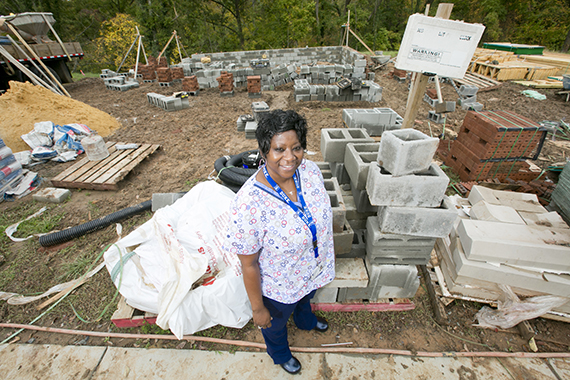 Lolita Guasp visits the construction site of her house in Durham's Southside neighborhood.
Lolita Guasp stood at the edge of her driveway, the pavement abruptly ending in a sea of overgrown weeds.
A new house began to take shape in October on this vacant lot in downtown Durham's Southside neighborhood, where she and her three children will live.
"To envision there's going to be a house here, I'm getting butterflies," said Guasp, 49, a certified medical assistant with Duke Orthopaedics. "It's really going to happen."
Since she picked a home in Southside, Guasp is eligible to receive the $10,000  forgivable loan from Duke, along with other forgivable loans from the city of Durham, to help with the purchase.
But Guasp also took steps to save money and repair her credit. She clipped coupons for laundry detergent and canned goods. She fixed her credit score in six months by applying for a credit card after years of not using one, then regularly making payments toward her balance. Guasp also looked for thrift store dresses and planned do-it-yourself hair styles for her children's prom and graduation.
"I told my kids this is something that I have to do and this is important to me and to us, to make life better for us," she said. "I had to get everyone on board."
A big yard for the family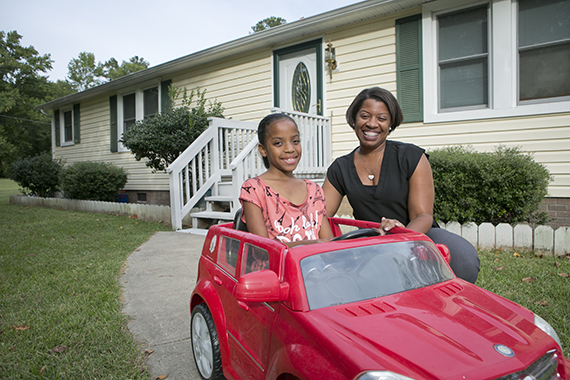 Tamika Craige and her 8-year-old daughter, Christina, play in the front yard of their Durham home.
Tamika Craige said she felt like Goldilocks when she bought her house along South Alston Avenue in Durham.
"It wasn't too big. It wasn't too small. It was just the right size," Craige said. "It has a yard for the kids to play outside. It was enough space if we want to invite family and friends over."
Craige has rented apartments for more than 20 years, and now, at 39, she is a homeowner. At Duke, she orders lab supplies and handles billing for Engineering's Shared Materials Instrumentation Facility. In the Duke Homebuyers Club, she's learned financial discipline, slowly paying off 10 maxed-out credit cards and compartmentalizing her spending into "need" and "want" categories such as groceries versus restaurant visits.
Her 16-year-old son, Jeremiah, 8-year-old daughter, Christina, and husband, Tony, live with her in the house she bought in 2014.
"The Duke Homebuyers Club got me to where we needed to be to actually purchase a home," Craige said. "There are going to be challenges in whatever you do. It's having that determination to make it happen."