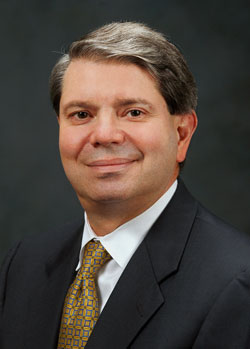 Detecting waste, fraud and blunders in government spending is the topic of a lecture by Gene Dodaro, comptroller general of the U.S. Government Accountability Office, Monday, Feb. 1, at Duke University. 
"GAO's Role in Addressing Major Challenges Facing Our National Government," a Terry Sanford Distinguished Lecture, is free and open to the public. The event starts at 5:30 p.m. in the Fleishman Commons at the Sanford School. 
Dodaro will speak with Sanford School of Public Policy Dean Kelly Brownell about the role of his agency, which is tasked with making government more efficient, effective, equitable and responsive. 
As comptroller general, Dodaro oversees the development and issuance of hundreds of reports and testimonies to various committees and individual members of Congress. Nominated by President Obama in 2010, Dodaro has led efforts to improve business practices at the Pentagon and in the Medicare and Medicaid programs. He also led efforts to fulfil new audit responsibilities under the Dodd-Frank Wall Street Reform and Consumer Protection Act. 
In 2014 alone, the GAO recommended 1,619 measures to improve government operations.  By the end of 2014, 78 percent of recommendations made in 2010 had been implemented.
"Mr. Dodaro plays a key role in guiding the agency's efforts to highlight emerging issues that warrant more attention from policymakers," Brownell said. "His visit to our school, which is focused on innovation in government and policymaking, and his perspective on moving policy officials forward on strategic priorities, will be a valuable contribution to our community here at Duke."
The Terry Sanford Distinguished Lecture, which brings notable leaders to speak on Duke's campus, is sponsored by the Sanford School of Public Policy. Event parking is available in the Public Policy lot. Tickets are not required, but seating will be available on a first-come, first-served basis.