Duke's Eric Oberstein Picks Up Two Grammy Nominations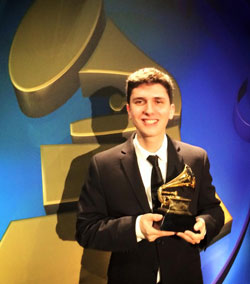 Eric Oberstein is back in the Grammy News.  The Duke alumnus and associate director of Duke Performances, who doubles as a music producer, received two nominations this week for his work with Arturo O'Farrill & the Afro Latin Jazz Orchestra and their album "Cuba: The Conversation Continues."
Read More
The album was nominated for Best Large Jazz Ensemble Album and O'Farrill's composition "The Afro Latin Jazz Suite" on the album was nominated in the Best Instrumental Composition category. (See all jazz nominations here.)
Oberstein already has some Grammy trophies on his shelves. He produced Arturo O'Farrill and the Chico O'Farrill Afro Cuban Jazz Orchestra's "Final Night at Birdland," which won a Latin Grammy Award for Best Instrumental Album in 2014. Just a few months later, the Afro Latin Jazz Orchestra's "The Offense of the Drum" took home the Grammy for Best Latin Jazz Album.
The most recent album came at a timely moment in history. Recorded in Havana 48 hours after US President Barack Obama announced his plan to normalize relations between the U.S. and Cuba, "Cuba: The Conversation Continues" is a symbol of cultural diplomacy, a juxtaposition of music and current events. The new album builds upon the musical dialogue conversation started by Dizzy Gillespie and Cuban percussionist Chano Pozo, which bridged the gap between jazz and Afro-Cuban music. 
A graduate of Duke's Class of 2007, Oberstein first encountered the Afro Latin Jazz Orchestra while interning at Jazz at Lincoln Center as a student in the Duke in NY Program. He started assisting with the orchestra's music production in 2009 and has been on board for every album since.
Oberstein served as Executive Director of O'Farrill's non-profit, the Afro Latin Jazz Alliance, from 2010-2012 before returning to Duke in October 2012 as associate director of Duke Performances.