Paul Modrich Receives Nobel Prize from Sweden's King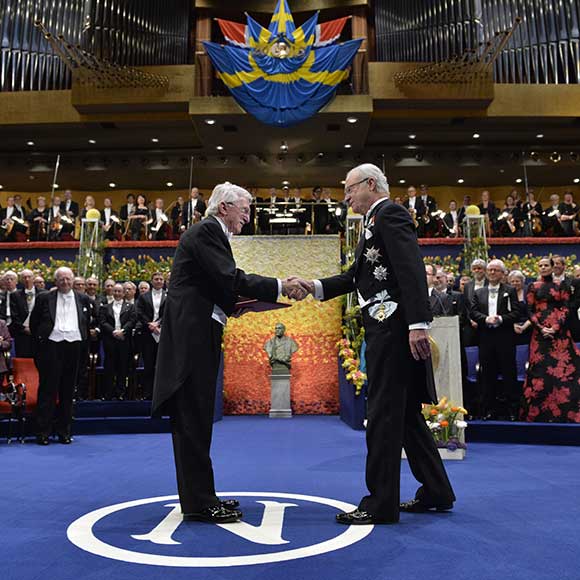 Duke Biochemistry Professor Paul Modrich receives the Nobel Prize in Chemistry from Swedish King Carl XVI Gustav Thursday in Stockholm, Sweden.
[Watch the full ceremony here.]
The lavish ceremony highlighted a week of events in Sweden for Modrich and the other Nobel laureates.  Joanne Bisson, Modrich's assistant, said the week had been a quiet one in the lab. Modrich's wife had texted a simple message Thursday morning, saying "Wish us luck!" 
About two dozen people from the Department of Biochemistry viewed the ceremony streamed live in the auditorium of the Nanaline H. Duke Building. Another half-dozen members of Modrich's lab watched the ceremony in Modrich's conference room. Cheers rose up when Modrich and the other laureates walked into the Stockholm Concert Hall. More cheers came when his research on DNA repair was cited as uncovering "an amazing set of repair mechanisms." Then came great applause when he rose to greet King Carl XVI Gustav, received his medal, then bowed to the King, to the Royal Academy of Sciences and finally to the audience, where his wife and a dozen friends were sitting.
Above: Photo by Jonas Ekstromer courtesy Associated Press. Below: Department colleagues watch Modrich receive the prize during the broadcast Thursday at Nanaline H. Duke Bldg. Photo by Geoffrey Mock