Race and Equity Scholar Shaun Harper to Speak at Duke for 2016 MLK Commemoration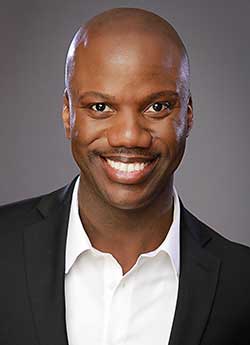 Shaun R. Harper, founder and executive director of the Center for the Study of Race and Equity in Education at the University of Pennsylvania and president-elect of the Association for the Study of Higher Education, will deliver the keynote address for Duke University's annual Martin Luther King, Jr. commemoration on Sunday, Jan. 17.
The keynote, which is free and open to the public, begins at 3 p.m. in Page Auditorium. Free parking is available in the Bryan Center Parking Garage (see map at http://myatlascms.com/map/?id=21&mrkIid=39570). 
This year's commemoration -- whose theme is "Justice or Just Us: Who Is Working to Create a More Perfect Union?" -- is also expected to include a spoken word program.
Harper's research examines racial problems in the United States, equity trends and racial climates on college campuses, black and Latino male student success in schools and social contexts, and college student engagement. One of his studies looked at educational inequity in Ferguson, Missouri. His forthcoming book, "Race Matters in College" (Johns Hopkins University Press), will address what needs to be done in response to "the persistent racism that people of color experience on most predominantly white campuses."
Harper said his keynote address "will definitely address the wave of recent student protests. "I will talk mostly about research I have done over the past decade on racial inequities and racism at dozens of colleges and universities across the country."
Harper, a professor in the Graduate School of Education, Africana Studies and Gender Studies at the University of Pennsylvania, said he thinks Duke's "Justice or Just Us" theme "perfectly captures the sentiment of many people of color at predominantly white institutions across the country."
Benjamin Reese, vice president of institutional equity at Duke and president of the National Association of Diversity Officers in Higher Education, said Harper's center recently put together a multiple-day training for university presidents and other senior leaders to help them better engage campus race issues. 
"Given what is happening nationally around issues of race, both in the streets of our cities and communities and certainly what is happening on college campuses including Duke, this will be an extremely relevant and important keynote address. Dr. Harper is one of the leading scholars around race issues, urban issues and the critical issues of education," Reese said.
Reese heard from a Duke student on the commemoration planning committee who was familiar with Harper's research and urged his selection as keynote speaker. Reese said he is working to provide a time when interested Duke students can sit down with Harper over dinner or brunch while he's on campus.
"I would hope he would provide his perspective into what he thinks are some of the salient systemic issues in our nation and how colleges can work in a systemic way to enhance campus cultures," Reese said.
Duke Law student and commemoration committee member Seth Pearson said he thinks Harper is the perfect choice for keynote speaker. Pearson says there was a desire "for someone who understands the current groundswell of campus activism that is moving across the nation and can bring it home to the work we are doing here at Duke."
Pearson, who is president of the Duke Black Graduate & Professional Student Association and Duke Law OUTLaw, a student organization dedicated to meeting the needs of LGBTQ students and allies, said Harper will be able to effectively address current issues and "touch on some recommendations for not only students, but faculty and administration."
Harper recently talked about his campus climate studies with Inside Higher Ed and said that on campus after campus, he and his colleagues interview black and other minority students and find what he calls "onlyness," the feeling of being one or one of a few members of a group, and of being misunderstood and frequently insulted and/or ignored.