Program to Broaden Access, Assist College Transition
Support offered for first-generation students and those from under-resourced high schools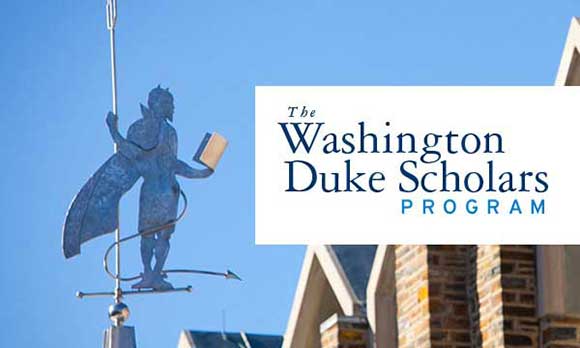 A new program will make Duke University significantly more accessible for first-generation students and those from under-resourced high schools and assist in their transition to college life.
The Washington Duke Scholars Program provides a financial, academic and cultural foundation for students who arrive at Duke with less experience with advanced coursework and networking opportunities than is common among many Duke incoming students. It comes as selective universities across the country seek new ways to support the most diverse, dynamic and broadly talented pools of students and ensure they have access to all of the benefits of higher education.
"With need-blind admission and a policy of meeting full demonstrated need, Duke is committed to ensuring that its education is affordable for all admitted students," said Duke President Richard Brodhead. "This new program will help Duke deliver on its promise of opening doors of opportunity, providing guidance as these students learn how to access the full measure of a Duke education and thrive on our campus." 
The program provides enhanced financial aid and a comprehensive suite of academic and social programs, such as a for-credit summer bridge initiative prior to the first year and seminars on wellness and networking. 
Officials expect to enroll 30 scholars when the program debuts in fall 2016, with plans to double that total.  The program will be administered by Duke's Office of Access and Outreach and included under the umbrella of scholarship programs associated with Duke's Office of Scholars and Fellows.
As with other scholarship programs, students will not apply to be Washington Duke Scholars. Instead, the university will identify candidates from its pool of accepted applicants based on multiple factors, including family income, the education level of a student's parents, and the level of resources available at the student's high school. Students will receive an invitation to the program when they receive a letter of acceptance to Duke.  
Students offered entry to the program will have met the same admissions criteria as the rest of the incoming class, said Stephen Nowicki, Duke's dean and vice provost for undergraduate education.
"This is not remedial," Nowicki said. "But students who come, for example, from a less-resourced high school may not have taken advanced placement classes, while most of their Duke classmates have, so some start the race a few steps behind."
First-generation students are particularly vulnerable because their families do not have a sense of what their children are experiencing and are thus less able to provide social and emotional support from home.   
"Understanding how to reach out to connect with resources is a skill that we find is unfamiliar to first-generation students," Nowicki said. "It's not that they can't do it. It's that they haven't had the opportunity to do it."
About 10 percent of Duke's roughly 6,400 undergraduates are first-generation college students.
The scholars will start Duke in the summer before their first semester with a one-credit bridge program intended to provide an early experience with the academic rigor of a Duke education.
Washington Duke Scholars will also have a faculty mentor and peer preceptor to offer guidance. Scholars will participate in two first-year programs -- one related to wellness, the other on professional readiness -- as well as another seminar the following year. The scholars will also have access to a series of faculty and alumni meeting events.
Financial aid will also be enhanced. The scholars will receive aid in the form of a grant rather than a loan, they will receive a laptop computer when they enroll and work-study requirements will be dropped for the first year, freeing them to take part in the professional and personal development programs. The program also provides funding for an internship or research experience and waives the expectation of earnings over the summer.
"We hope this program will provide some real support beyond financial aid for our students who may feel less empowered at Duke," said Alison Rabil, Duke's director of financial aid.
The program -- and Duke University itself -- is named for Washington Duke, a farmer from Orange County who became a prosperous entrepreneur and civic leader. His philanthropy in the late 1800s prompted Trinity College to relocate from rural Randolph County to Durham; in 1924, following a transformative gift from his son, James Buchanan Duke, the school was renamed in his honor.
The Washington Duke Scholars program's resources are broad and varied because students face myriad challenges early in their college careers, said Christoph Guttentag, dean of undergraduate admissions.
"For some students it's the pace and expectations in the classroom; for some it's the significant change in cultural or economic context; and for some it's being away from a supportive family," Guttentag said. "College can be tricky terrain to navigate even for those who are exceptionally well prepared. For those students who have to make more adjustments to a place like Duke, the support a scholarship like this provides will be invaluable."