The Trading Cards That Sold Tobacco
Digital collection showcases old tobacco advertising trading cards, other collectibles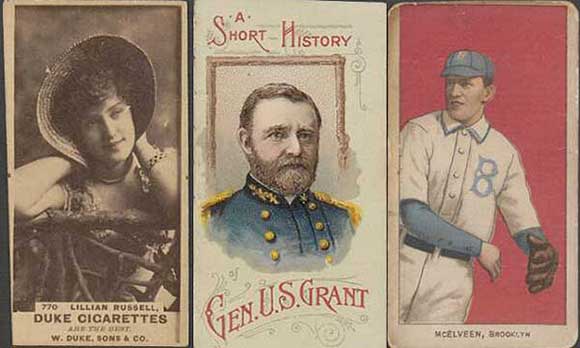 Alas, Honus Wagner, the "holy grail" of trading cards, is not in the collection, but otherwise the Rubenstein Library's new digital collection of advertising materials from W. Duke, Sons & Co. has trading cards of just about everyone else of note.
The great boxer Jack Johnson is in the collection, as are Benjamin Franklin and Martha Washington. There are actors and actress, now forgotten, but between the years of 1880 and 1910 they were stars. There are generals, flags and coats of armor. Browsing the collection of trading cards is diving into a time capsule of turn-of-the century celebrity.
Between 1875 and the 1940s, cigarette companies often included collectible trading cards with their packages of cigarettes. Cigarette card sets document popular culture from the turn of the century, often depicting the period's actresses, costumes, and sports, as well as offering fascinating insights into mainstream American humor and cultural norms.
The W. Duke, Sons & Co. digital collection features over 1800 individual cigarette cards, as well as two large scrapbooks that contain several hundred additional cards. The collection also includes images of other tobacco advertising ephemera such as pins, tobacco tags, silk, and souvenir albums. Companies represented here include W. Duke, Sons & Co., Allen & Ginter, Kinney Bros. Co., Liggett & Myers, and others.
Click here to the digital collection and start browsing.