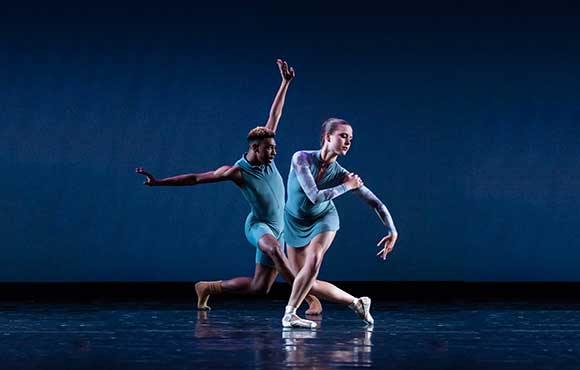 The Duke University Dance Program will present its fall dance concert, November Dances 2015, at 7:30 p.m., Nov. 20-21 in Reynolds Industries Theater, in the Bryan Center on Duke's West Campus.
Tickets may be purchased at the door or from the Duke Box Office (tickets.duke.edu or (919)-684-4444). They are also available online at http://tinyurl.com/nes6av9
In addition to new choreographic works in ballet, modern dance and African dance by Duke faculty and dance students, "November Dances" will feature for the first time a flamenco performance choreographed by Carlota Santana, artistic director and founder of Flamenco Vivo Carlota Santana.
The piece is Alegrias, a traditional flamenco dance from the city of Cadiz. The dancers will be accompanied by guest artists -- guitarist Kris Hill and singer Laura Peralta. Four new choreographic pieces by Duke Dance Program undergraduates will also be presented.
The Santana piece is part of the Dance Program's year-long celebration of flamenco, which began with performances last spring and will continue into 2016.
The performance on Saturday, Nov. 21 will be dedicated to Valerie Ashby, the new dean of Duke's Trinity College of Arts and Sciences.
For her modern dance piece, Professor Andrea E. Woods Valdés created "In Memoria/Amazing," a reflection on two tragic massacres -- the 1963 16th Street Church bombing in Birmingham, Alabama and the shooting earlier this year at the Emanuel African Methodist Episcopal Church in Charleston, South Carolina. With dance, eulogies and music, Woods Valdés asks the audience to remember, celebrate and reflect on the lives lost to violence and racism.
Professor Ava LaVonne Vinesett said her African dance "Breaking of the Storm," examines "how the weight of history and our choices shape each one of us." It features batá drumming by Beverly Botsford, David Font-Navarrete and Richard J. Vinesett.
For the ballet piece, Professor Tyler Walters and his dancers created a contemporary balletic response to Euclid's foundational text on the elements of geometry. It is called "Quartetometry."
In choreographing his solo piece, "Exit Here (an anagnorisis)" Duke senior Maurice Ivy Dowell was influenced by the thought and work of Malcolm X. The piece features original sound and music by D. Edward Davis. Dowell is a senior majoring in global cultural studies with a minor in dance.
Stephanie Joe, a senior studying dance and visual and media studies with a Markets & Management certificate, said her piece for six dancers, "[be]yond," was inspired by her experiences during her final year at Duke.
"The themes center on being in the moment, soaking in the present, and lingering in quiet moments of reflection, Joe said. "'[be]yond' is an expression of that – learning to find inspiration, beauty, joy, gratitude, compassion, humility, generosity in the present, but without taking life too seriously."
Eufern Pan, a junior in political science and dance, choreographed a solo piece, "Spiral" about her struggle with body image. Pan was funded by a duArts grant to take a six-week summer intensive experience with the American Dance Festival where she was able to expand her concept for the piece.
"It is my hope that as I tell my story through dance, I will also embody the message that we all each have struggles that we should acknowledge and embrace," she said.
Cindy Li, sophomore studying neuroscience and dance, said her solo piece, "woman study no. 2: body" is part of her on-going project called the Bodhi Movement Initiative, a performance art project that aims to integrate movement and social activism.
A preview of November Dances filmed, edited and produced by Duke students can be viewed at http://youtu.be/efiamV1dwAY