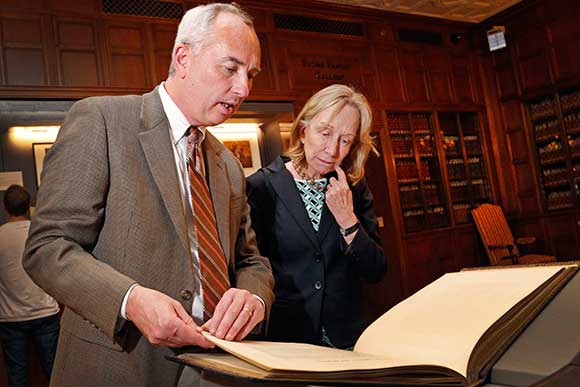 Doris Kearns Goodwin, author of several popular presidential histories, examines a book of Civil War photos with Rubenstein Library Curator of Collections Andy Armacost Thursday evening in the Rubenstein Library. Photo by Chris Hildreth/Duke Photography
"My love of history came from recording baseball games for my father," said presidential historian and best-selling author Doris Kearns Goodwin to a full house in the Reynolds Auditorium on Nov. 5.  She learned to record details and developed story-telling skills when she recounted the action for her father when he got home.
In a public conversation with David Rubenstein, chair of Duke University Board of Trustees, Goodwin delivered the seventh Weaver lecture, as part of events celebrating the renovation and reopening of the Rubenstein Rare Book and Manuscript Library.
Rubenstein, a noted lover of history, directed the conversation with questions about Goodwin's career and writing, leading to many behind-the-scenes stories of presidents.  His first question was about her experience as a White House fellow at the age of 23 during the administration of Lyndon B. Johnson.
"President Johnson did dance with me, since I was one of only three women out of the 16 fellows that year," at an event. Initially, Johnson wanted her to work in his office, but when The New Republic magazine published an anti-war article she had written. "Everyone was terrified to give it to him," she said.  She was reassigned to the Department of Labor. She later worked for Johnson during his last year in the White House and with him in Texas as he worked on his memoirs.
Johnson was deeply affected by the fact that he became president as the result of John Kennedy's murder in his home state. Johnson insisted that Jacqueline Kennedy be present when he was sworn in, to symbolically show that the Kennedys and Johnson were aligned.  Goodwin said Johnson "felt empty" when he took office and said, "I became president as a naked man."  
He withdrew from the 1968 election "because he felt paralyzed," haunted by dreams of being helpless while his cabinet divided up power in the next room. 
Johnson was able to push through the 1964 Civil Rights bill "because it drew on the deepest and best part of him," said Goodwin. He saw the effects of racial prejudice when he taught Mexican children as a young man, and he shared his father's populist feelings.  "It was what he cared about before he died," said Goodwin, adding she hoped he would be most remembered for that legislation.  
Her first book was on Lyndon Johnson and her first best-seller.
Goodwin won the Pulitzer Prize for her biography of Eleanor and Franklin Roosevelt. After Franklin's affair with Lucy Mercer, Eleanor was liberated to go beyond the marriage to find causes she believed in.  Eleanor fought for Franklin when he contracted polio, and as First Lady, became "his eyes and ears," traveling through the country.
While Eleanor traveled, several people ended up moving in the White House for extended periods to keep Franklin company, including Harry Hopkins, one of the architects of the New Deal, "who came to dinner and never left."  Winston Churchill stayed for months at a time, and once Franklin surprised Churchill just coming out of the bath.  Brushing off Franklin's apology, Churchill replied, "The prime minister of England has nothing to hide from the president of the United States."
After speaking about her curiosity about the characters who lived up on the second floor of the White House, Goodwin was invited to tour it by then First Lady Hillary Clinton. Godwin walked the floor, map in hand, figuring out who slept in which bedroom.
When asked how she chose her subjects, Goodwin said it had to be someone she could live with, since it took years to write each book. "I couldn't wake up with Hitler," she said.
Her most recent book is about Teddy Roosevelt and William Taft, who were great friends, until Roosevelt made the mistake of not running for reelection as president and persuading Taft to run. Taft "wanted to be a judge," she said, not president. Roosevelt felt betrayed when Taft did not continue his legacy, leading to a rift that was only healed a few months before Teddy's death.
Writing about Lincoln was "too scary" because there were so many books on him, until she realized that he spent more time with his cabinet than he did with his wife Mary.  
Lincoln went into the war more concerned about preserving the union at first, she said. If the South could leave, then "the experiment of democracy would be a failure."  But as the war continued, he realized that slavery must end, first out of military necessity, later out of conviction that it was the right thing to do.
She became friends with filmmaker Stephen Spielberg while working on the Lincoln book.  Even though Spielberg's film "Lincoln" ended up drawing little from the book, she said the film got one essential element right: "It showed Lincoln's political genius," Goodwin said.
Lincoln's humor and storytelling covered up "his deep melancholy," she said.  He is the president she would most like to have dinner with, she said, and she would ask him to "tell me a story, because I want to hear you laugh."